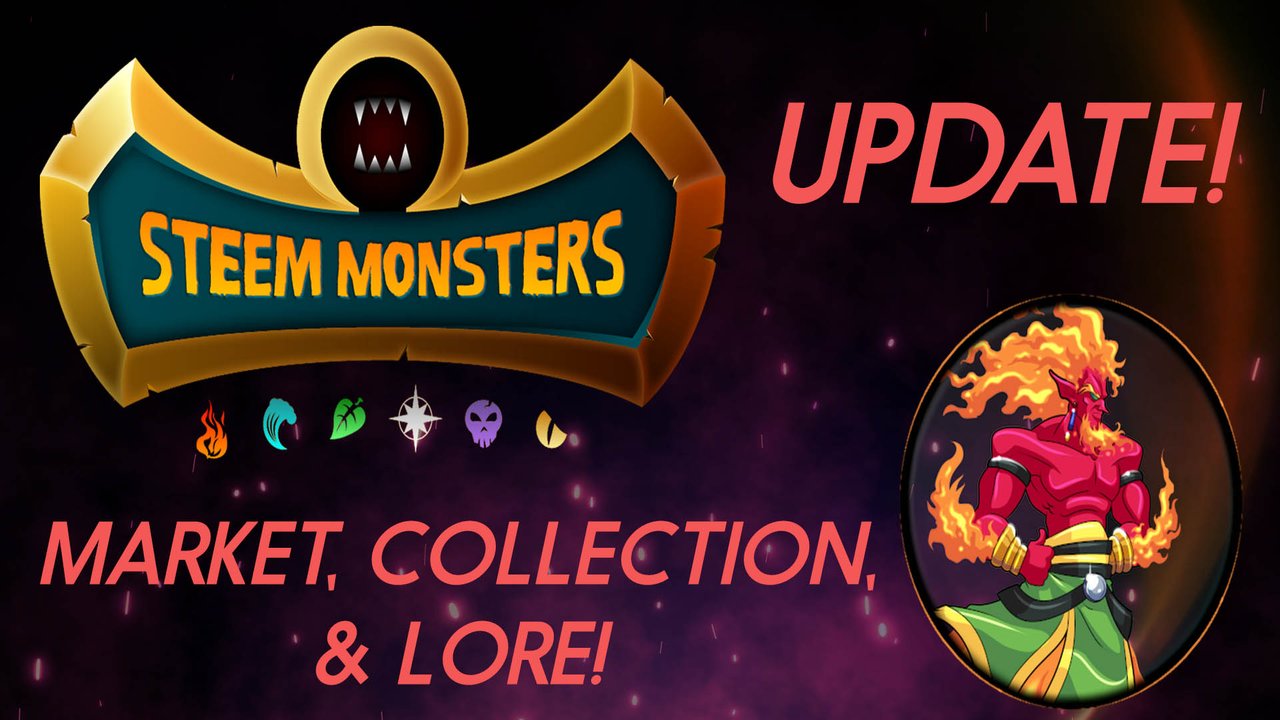 The Steem Monsters team is happy to announce that we've updated the user interface for Steem Monsters. We're trying to make it as easy as ever to buy, trade, and manage your collection, and as engaging as ever.

Market Screen
Through the new UI you can get some great convenience.
You can choose a single, multiple or all editions of a card to view.
You can choose to view standard foil, gold foil, or both foil types.
You can choose one, some, or all of the splinters.
You can choose summoners, monsters or both.
At the top left is the lowest price of a card. At the top right is the total circulating supply. Also in the top right of a card is how many are for sale on the market.
You can now view the 24hr volume. At the time of writing, we've had 2,637 sales for $1,500 in the past 24 hours.

Per card view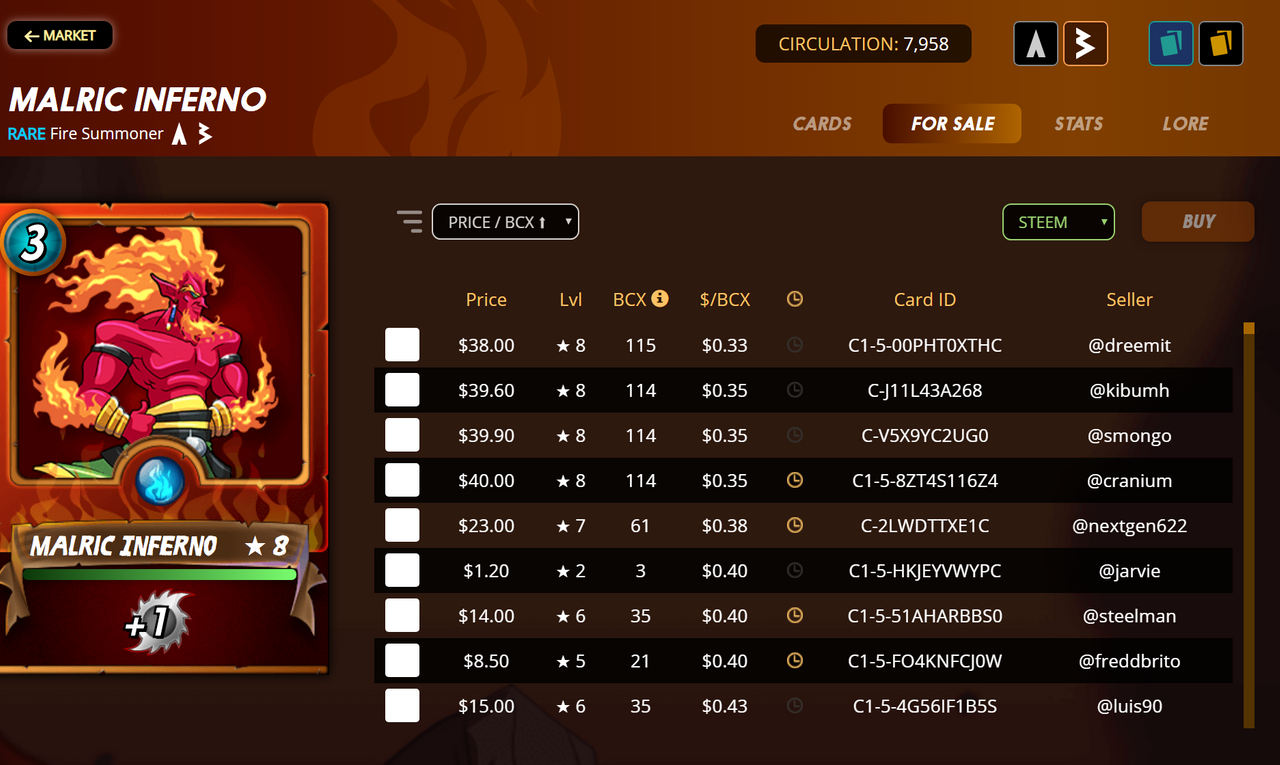 If you click into a card you can see more useful information.
You can see the total circulating supply. You can choose between edition type. You can choose between foil type.
You can sort between various ways to see the prices of cards.
You can choose which currency you'd like to pay.
YOU CAN NOW SELECT AND PURCHASE MORE THAN 1 CARD AT A TIME!!!
That's right! We've entered a new era for Steem Monsters where you can purchase more than 1 card at once on the market (without using 3rd party tools). Click into the first card and then shift-click further down to grab more. You can't get more than 45 cards. that's a blockchain limitation for transfer memo size limit and not just a UI fix we can roll out.

Stats
While looking at a card click into "Stats"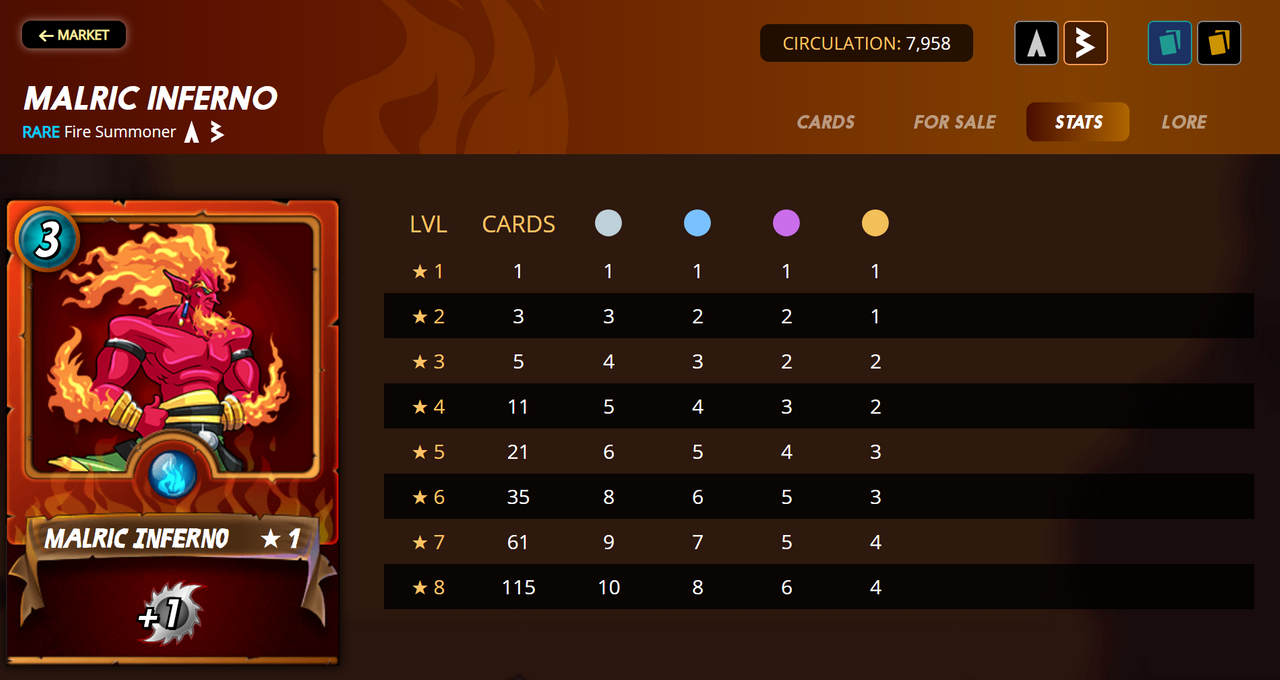 In this case, you can see a chart that shows the level of Malric, how many cards it takes to get Malric to that level, and then at that level how strong of a monster can he summon.

Lore!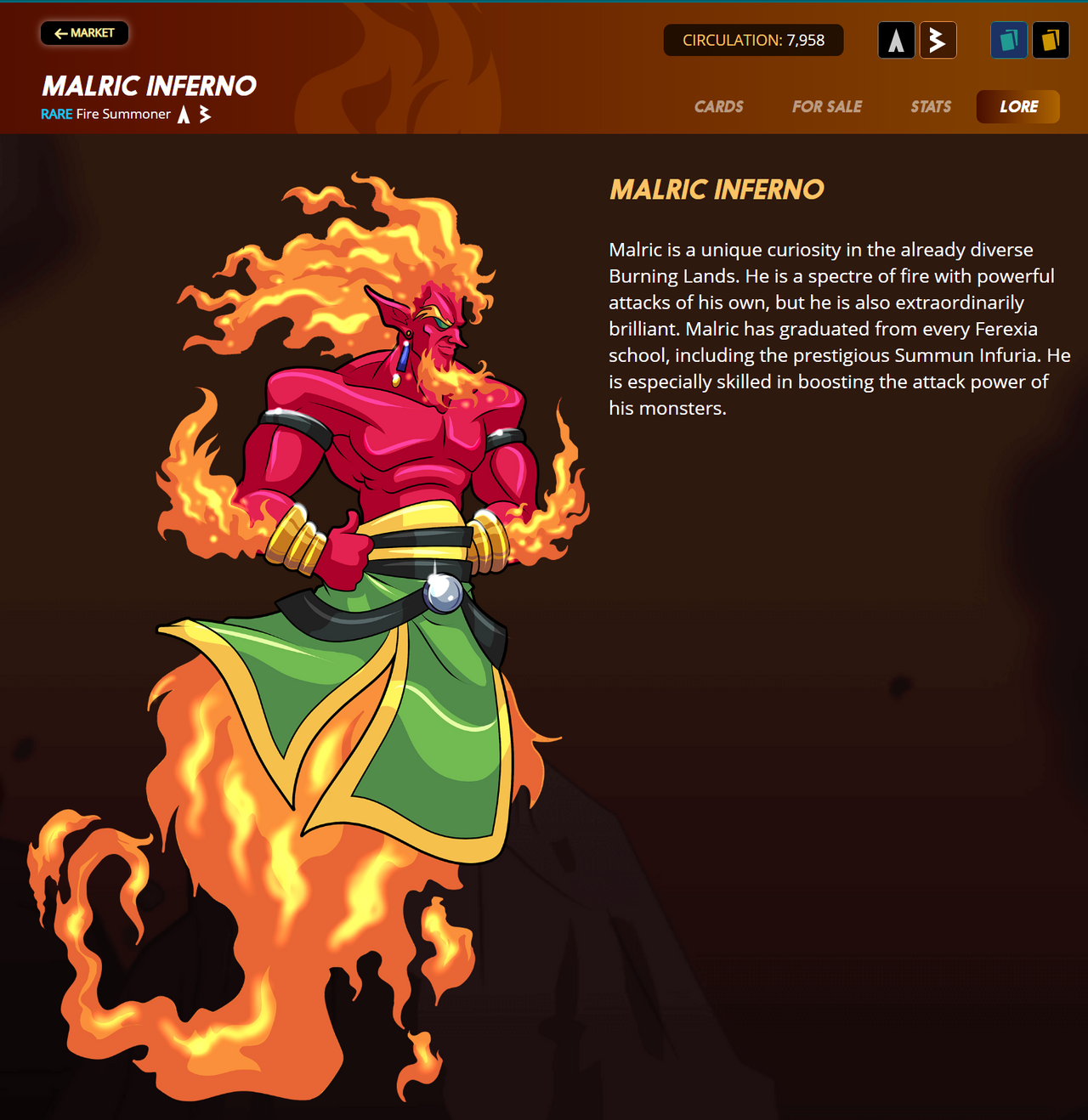 I can't tell you how stoked I am for this. I've thought for years that so many people just get sucked into the Lore of these games. The richer the history and the more that the players learn it all and immerse themselves in it. Expect a lot more to come from our amazing loremasters @carrieallen and @chrisroberts in the near future!

Collection Screen
The collection screen has a similar interface now.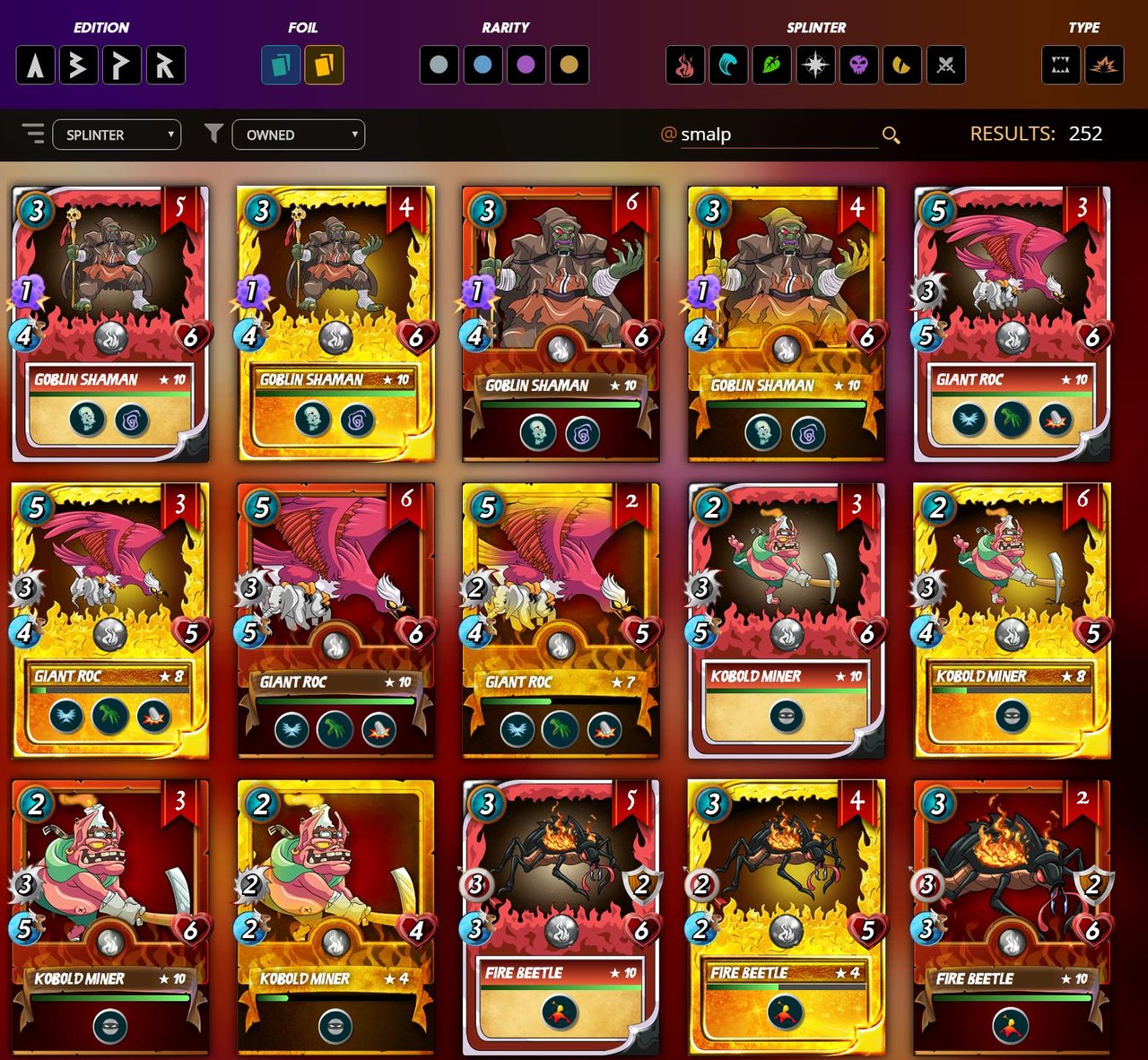 I can view all my types of cards separately based on edition, foil, rarity, splinter, and type.
I can sort them clicking through the Splinter drop down.
I can sort based on owning them or leasing them.
I can choose a different player and see their collection.

More granular into the Collection Screen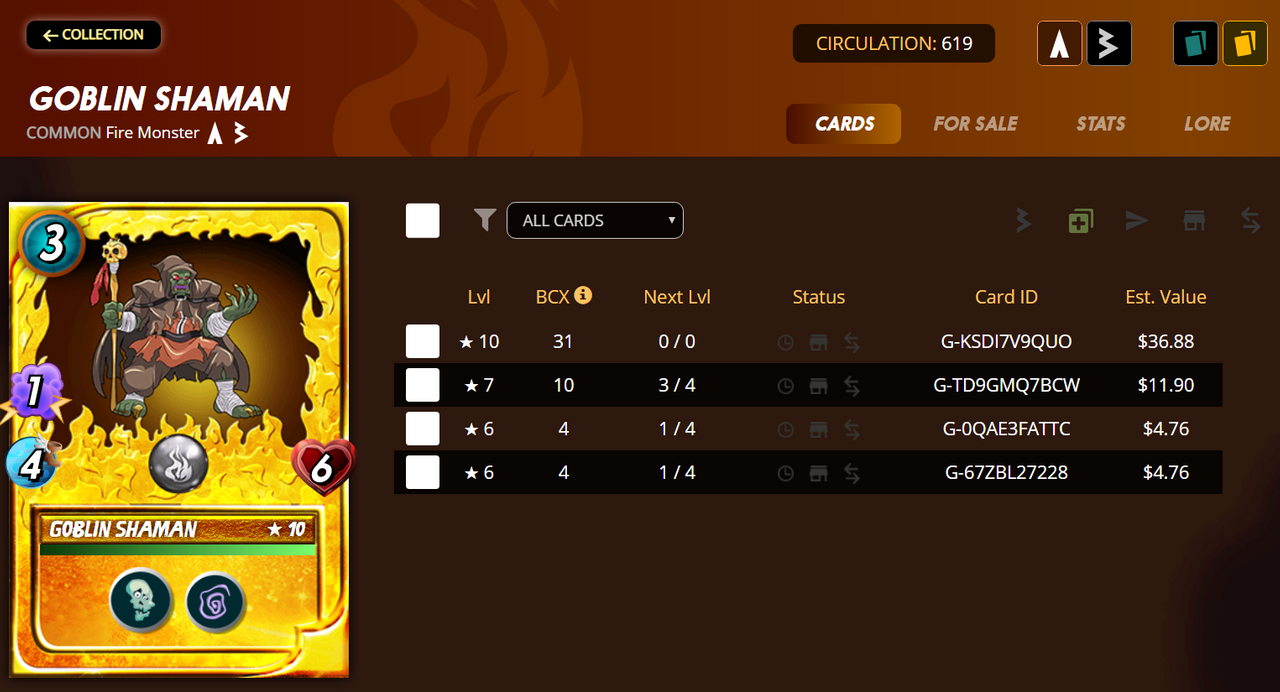 If I click into a card in my collection I can see the cards I own, easily combine them. See how many more I need to level them up, and see their estimated value based on recent market activity.
There are icons to convert alpha to beta, combine cards, transfer/gift cards, sell cards, or delegate cards.
If I click on "FOR SALE"
It'll show me a list of the cards for sale on the market and I can now easily buy them straight from the collection screen as well as the market screen!

We're constantly working on improving this game!
We hope you like these changes and that they make buying, selling, trading, leasing, and learning about the cards easier than ever!

Coming soonish!
We're working hard on harnessing the immense power of the Dark Energy Crystals. Soon (1-2 months) we expect to have an in-game currency token available for players. Each time you win a match not only will it help you complete your quest but you'll win DEC. Every match you win will earn you tokens. Stay tuned for more details about how DEC will work and what types of things you will be able to purchase with them!

Thank you for your continued support!
Steem Monsters Contact Info: