The purpose of this account is to take part in the Steem Monsters daily quests. These quests are great for winning beta booster packs. Each account can only win one beta pack per day.
Below are the results from the beta booster pack I received for completing my daily quest.
Beta Booster Pack Results
The image below represents all the cards received in today's beta booster pack opening. I have also included a detailed description of all the cards received as well as the dollar value per card.
All prices were sourced from the Steem Monster Marketplace at the time of writing this post. So please be mindful when prices are slightly different!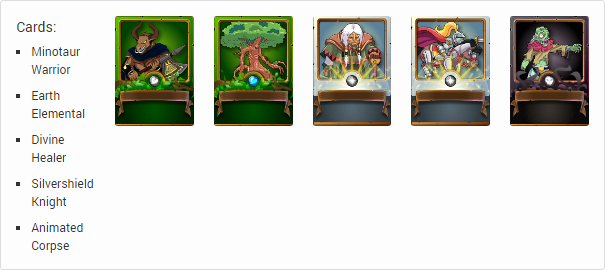 The results from today's pack opening was not that bad. I firmly believe the dollar value per beta card will increase over time as more people starts to play Steem Monsters.
| Card | Splinter | Rarity | Value |
| --- | --- | --- | --- |
| Minotaur Warrior | Earth | Common | $0.04 |
| Earth Elemental | Earth | Rare | $0.12 |
| Divine Healer | Life | Common | $0.09 |
| Silvershield Knight | Life | Common | $0.05 |
| Animated Corpse | Death | Common | $0.04 |
Start Playing Steem Monsters
If you're interested in playing tSteem Monsters but you don't have the cards then you might as well
buy a starter set
.
Buy now for only $10: https://steemmonsters.com/?ref=tatsumaki
All starter sets will include 30 pre-defined cards and a brand new Steemit account with enough resource credits for a few battles.
Steem Monsters Battle Playlist
Check out the latest battle preview playlist if you are interested in learning more about Steem Monster. The playlist will be updated on a regular basis now that the new season has started. Subscribe to the playlist:
https://www.youtube.com/playlist?list=PLIzPCrhIYTlz4P_eGKMVqoTkRsiXd8ys_

Please follow @tatsumaki for updates and don't forget to share some crypto love:
Bitcoin - 1G6U91jqH6CBEqeywpWnXQjNYeefcH91eL
Ethereum - 0x7aDe9b3810544Ec0c86E47C157f337acc35BDFAD
Litecoin - LPBJ5uCKb7zEz62arARDCRzHEfHz7o7YoS
DigiByte - DFtWh9xbJeEn3jgtyGmTuZdeJmarEPGxnn
Just in case you haven't read my previous post: Tatsumaki: Steem Monsters Beta Booster Pack Results 2018-11-22