With the recent release of the INVITE token and the ability to mine new Steem accounts through delegation I thought it would be appropriate to update the Steem.Ninja widget to provide an easy and flawless user experience.
Table of Content
Design Changes
Bug Fixes
New Features
Updated Design
To match our homepage (https://steem.ninja) I updated some colors and CSS. Important buttons now for example have the same color as on the homepage:

I also made the buttons bigger. This should make it easier to use our widget on mobile devices or small screens in general.
Many new users don't know that once you have chose your username you will not be able to change it. I got quite some messages about this in the past. To make it clear that the username can not be changed I added a few lines of explanation:

A similar problem lies in the fact that many new users did not understand or realised the importance of saving their keys. Every once in a while I receive E-Mails from frustrated people that lost their keys and are looking for the "Password Reset" button. A new big red warning above the keys now should catch every users attention and point out how important it is to save the keys:

Copying all your keys can be a hassle on mobile devices. You have to somehow mark the text and expand the selection. To make it easier I added a "Copy Keys to Clipboard" button for the mobile version of our widget:
Just tap it and all your keys are in your clipboard. A message is shown to confirm this:

Misc:
Checkboxes now use the same design.
Added some space between elements on the mobile version
Disabled auto "zoom-in"
Bug Fixes
Some users reported that one of the checkboxes on the widgets acted weird. Even if checked it would not show the typical checkmark.
Before:


And after the fix:


Previously it was almost impossible to scroll through the pricing table at the end of the widget on mobile devices.
This is now also fixed.
New Features
Every voucher created with INVITE can be used with a special version of the widget. This widget shows your avatar at the top: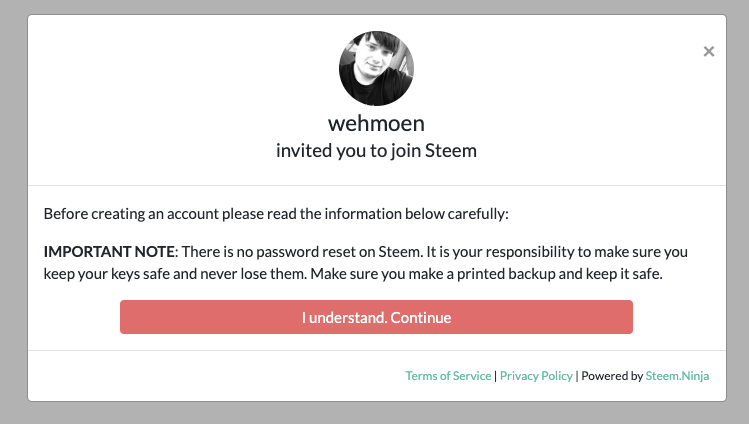 Personalised invites!
Do you want to try INVITE and the new widget?
A new Steem account normally costs 3 STEEM. At the moment there are plenty of INVITE for less than 3 STEEM on the market: https://steem-engine.com/?p=market&t=INV
Check it out and grab some as long as they are cheap!