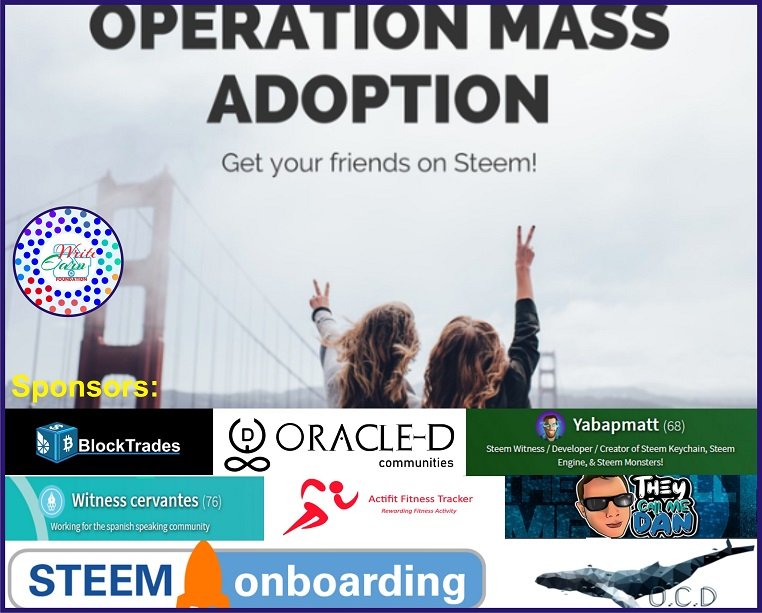 Getting more users to Steem has always been the ultimate goal of the blockchain, and the emergence of new DApps built on the Steem blockchain gave the impression that more new users will join the blockchain. Certainly, I believe each day, we have more people embracing the blockchain through the numerous DApps we have.
While, new users join the Steem platform on daily basis, we have to critically examine how many of those users actually stay on the blockchain and are actively involved in either content creation of curation. Certainly, very few stay. I might not be very accurate with the statistics, but we all know this to be true. It is likely that those who leave the blockchain immediately after signing up is their inability to understand how to operate.
The emergence of @Steemonboarding was meant to solve this problem by affording new users the platform to get acquainted with the Steem blockchain through dedicated videos and blogs created to guide the new users. I see Steemonboarding project as very unique that should earn the support of all communities on Steem as it seeks to integrate new users to all available communities and projects on steem.
However, my research and discovery has shown that some people are not "ready" to utilize an online help to grow their knowledge. It could be a make-up of their esteem, temperaments, etc. They prefer to have a "One-on-One"and "Face-to-Face" guide and they certainly do well in response. This is how I wish to support this "Operation Mass Adoption" contest through my @Writeandearn.
In summary, I will not just invite and refer my friends to join Steem, I will take a step further to give them a real-time help to start-up and get to know more about the blockchain. I will ensure they have a good make of their Introduction and maximize their first days to their best.
Details of the "Operation Mass Adoption" contest
1. Entry Qualification
The contest is only open for users on the Steem Blockchain with a reputation higher than 57 and whose account was created before March 2019.
The user must be an active member of any Steem community older than one month
2. Competition rules
The new Steemian invited, must create an account within the time limit of the contest. It doesn't matter what Account creation service they use.
The New (invited) user must make an introduction post before the end of the contest.
The introduction post must have a mention of the contestant's username and why they joined Steem,
The introduction post must use the tag "newonsteem".
Every Steemian who joined the contest, must make a post listing all the members they onboarded and linking to their introduction post so that the authenticity of both the competitor and the New Steemians can be verified.
The contestant must make his/her post from June 13th at 00:01 PST to June 14th at 23:59 PST using the tag "HelloMassAdoption" and "blocktradescontest"
3. Contest Prizes
4. Contest Deadline
This contest had started on Wednesday, May the 22th at 00:01 PST, and will run for 21 day to Wednesday, June the 12th at 23:59 PST.

@writeandearn Foundation conceived and created in October and December 2018 respectively is a writing-curation and support initiative that wishes to make the creative contents of the Steem blockchain tangible for offline readers in libraries, bookshops and reading clubs. @writeandearn seeks to give a tangible future for passionate writers.
We identified a problem which motivated the creation of @Writeandearn that though the blockchain surges amazing creativity and support for writers, many of writers are yet to reach some target audience who have need for their content but are not using the blockchain technology. To these set, printed works are best!
Having identified this problem, @writeandearn seeks to facilitate the printing (for offline reading and shelving in libraries), creative writes and arts (with author's permission) for offline audience. This initiative will take BLOCKAHIAN CONTENTS to the readers and libraries in Nigeria, Africa.
@Writeandearn is still in its formative age with great supports from @Ipixel (development) and @Steemchurch, @Sniffnscurry (funding).
How we will support new Steem Users
We earnestly believe that as we help nurture our invitees with "ONE-ON-ONE" and "FACE-TO-FACE"physical coaching in our local environment and as well provide for space with internet facilities to new users, such beneficiaries will be encouraged to stay on Steem. Moreover, as we forge further to make their content available in libraries, bookshops and reading clubs, the users will be able to see more value in their content.
Moreover, the users will see Steem as more tangible than being a virtual "internet" platform. Identifying with new users will also help them create new friends which can spice powerful steem projects.
---
---
Finally, I am very much interested in the "Operation Mass Adoption" contest not just because of the prize, but as well for the future sustainability of Steem and Steem contents. Thanks to @Coruscate and @anomadsoul for putting this up.