It's now been a year since Photofeed has started, and we've had 365 round-ups!! The year feels somehow both shorter and longer than that. We've seen a lot of changes to the Steem platform, both good and bad. Steem has a lot of great things going for it, but it also has it's shortcomings as well. We've been watching different projects coming about that have been improving the overall sphere, which we hope keep going so Steem can improve and be a true social media powerhouse one way or the other down the road. As you know, @photofeed is interested in promoting and rewarding the best photos and photographers on Steem. All of us (@jrue, @yumyumseth, @cryptoctopus, @derekkind and @aweber) want to grow this community, we've seen the potential for a new blogging sphere that is decentralized and doesn't flirt with algorithms. We think Steem can be that...but it does need some help. . . which is why.....
We want to give out our "Photofeed's Innovation of the Year Award" to @steempeak.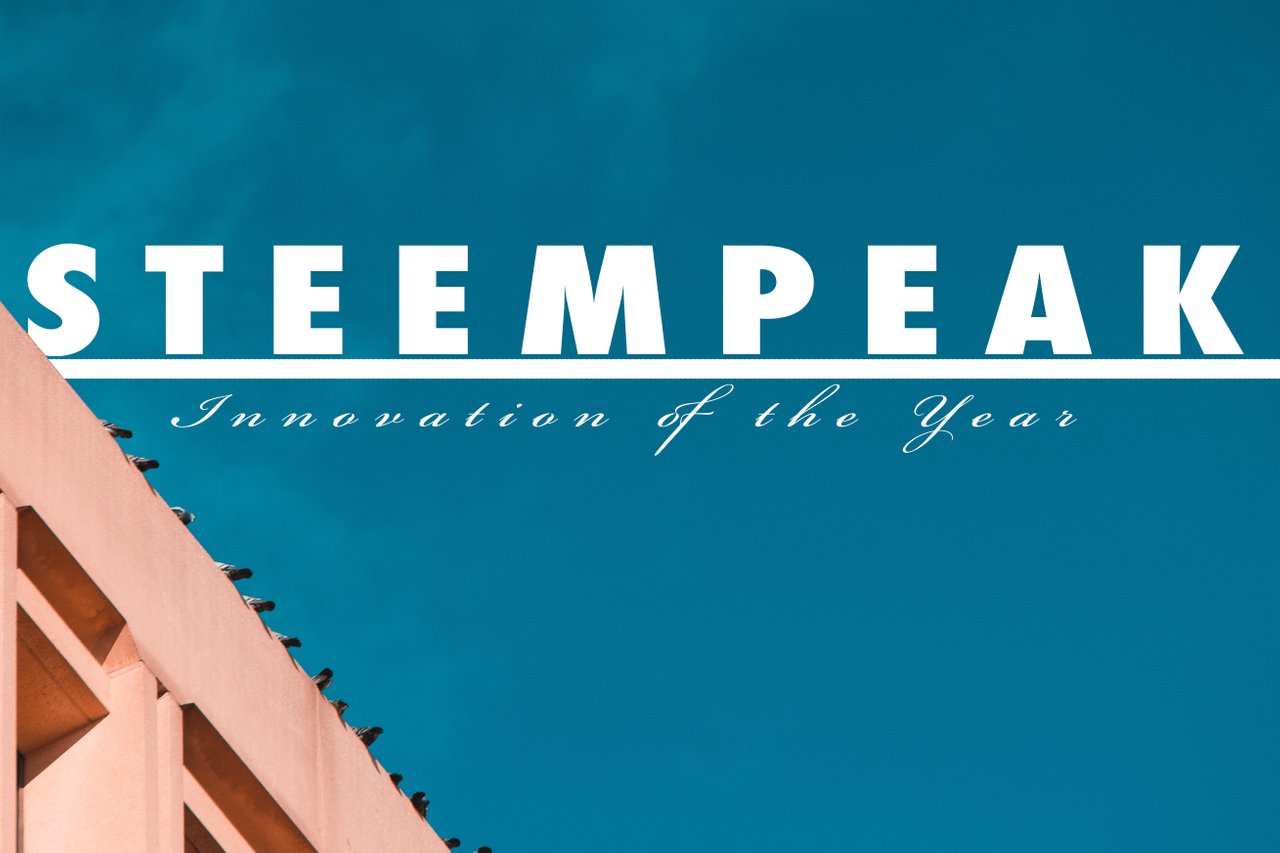 Steempeak has revolutioned Steemit for us, as both photographers and founders/runners of @photofeed. Period.
When I (@aweber) go on Steemit.com, I am reminded of how much better Steempeak.com has made the Steem universe, especially for photographers. A small team of developers and marketers (shoutout to @jarvie, @asgarth, @r00sj3 and @dmytrokorol) saw the issues with Steemit and made a front-end of their own, thus resulting in Steempeak.
Why is Steempeak so much better for photography?
First off, it just caters to visual media so much better than Steemit does. Look at this.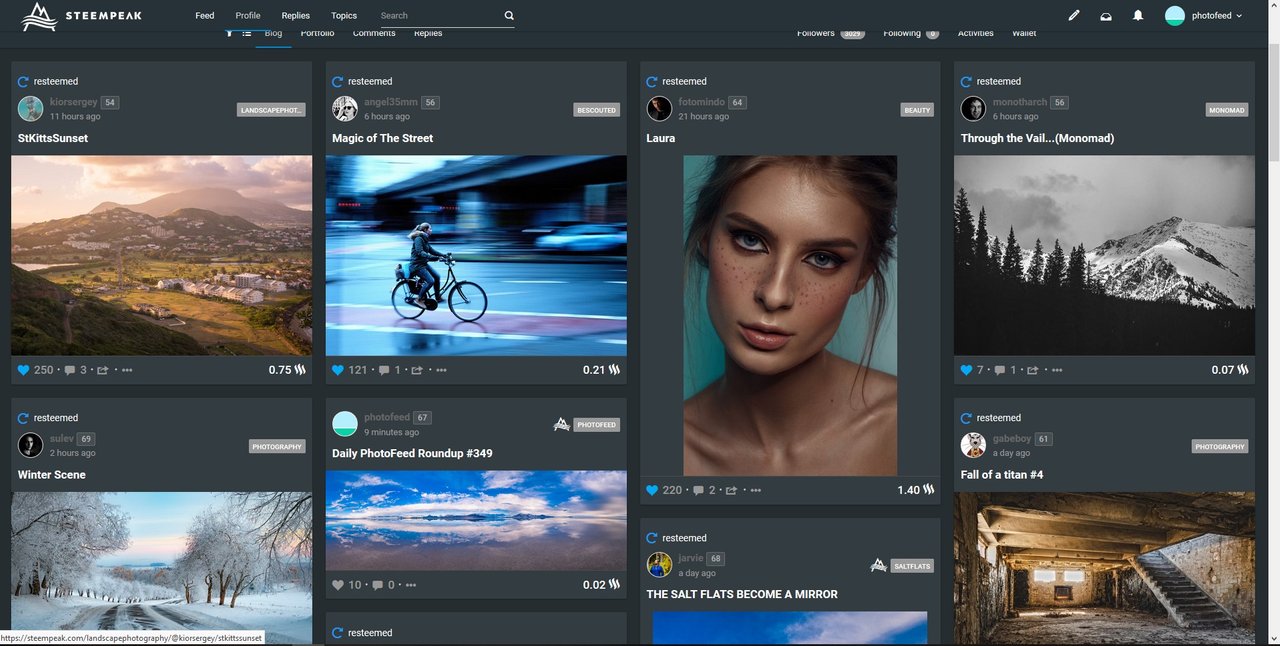 Better yet? Steempeak offers a "portfolio" view (go to settings to toggle). Just check out @jarvie's along with our portfolio below.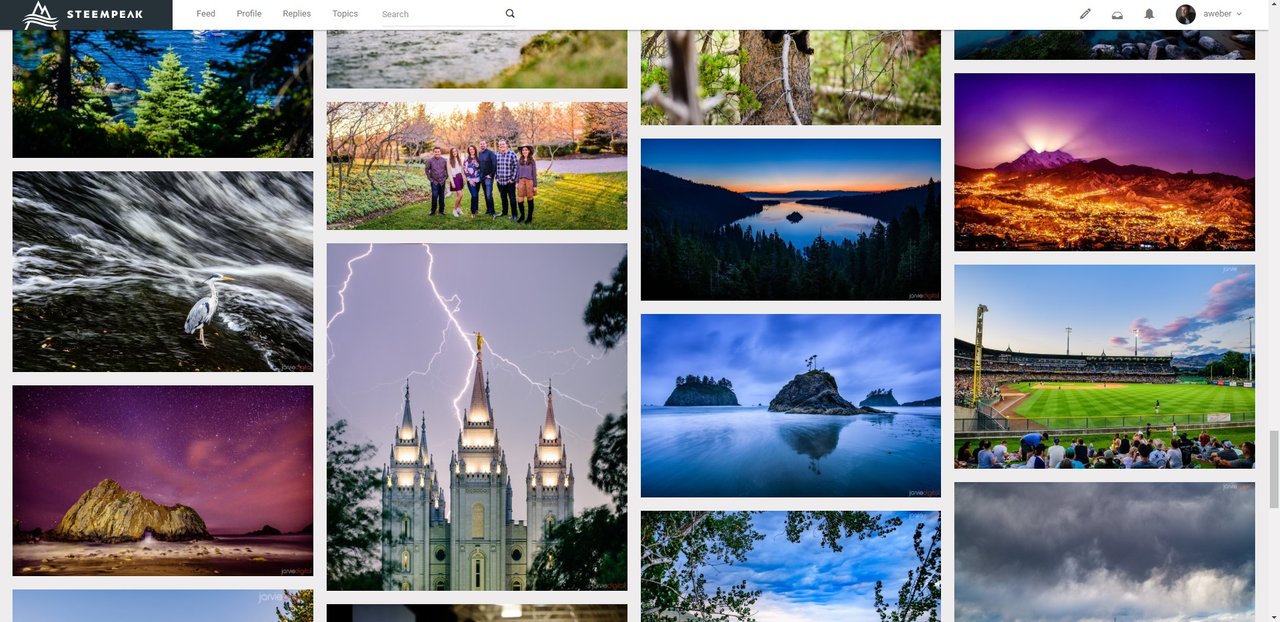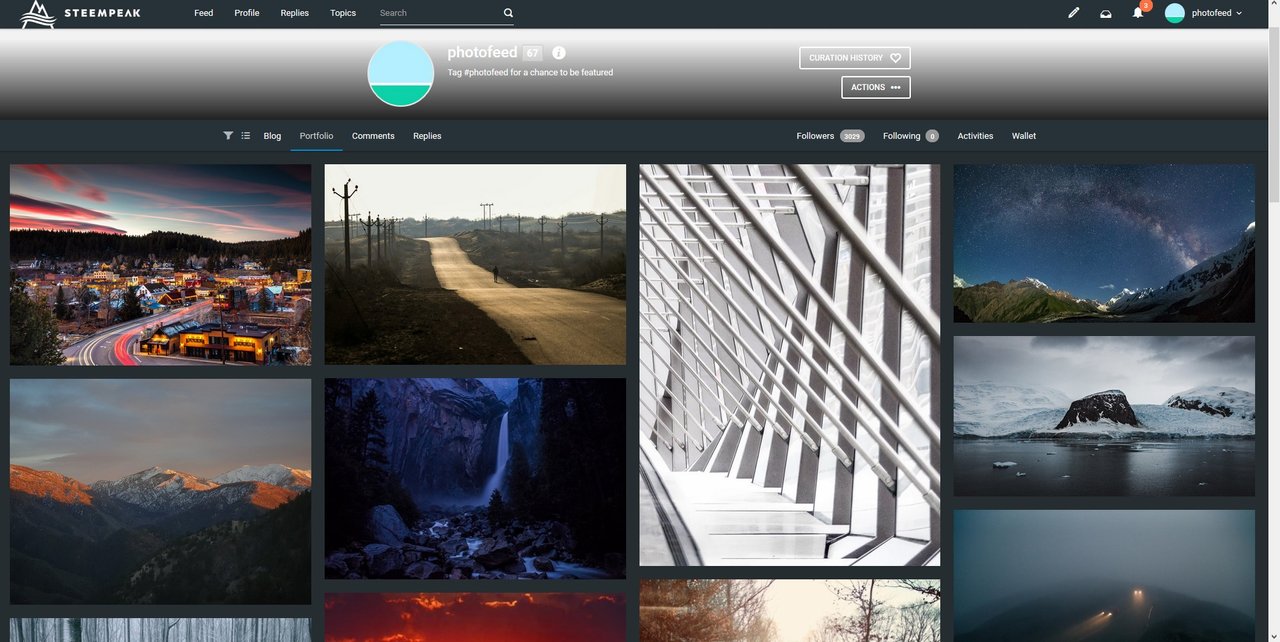 That's just purely the visual stuff. For brevity's sake, we won't delve into all the features of Steempeak, just the ones that cater to photographers.
If you wish to view a layout where you can read a bit more about the posts, no need to actually go to a new page now! Once out of the "grid" viewing mode, Steempeak offers a "read more" option that automatically extends the blog onto the current webpage! Talk about convenience!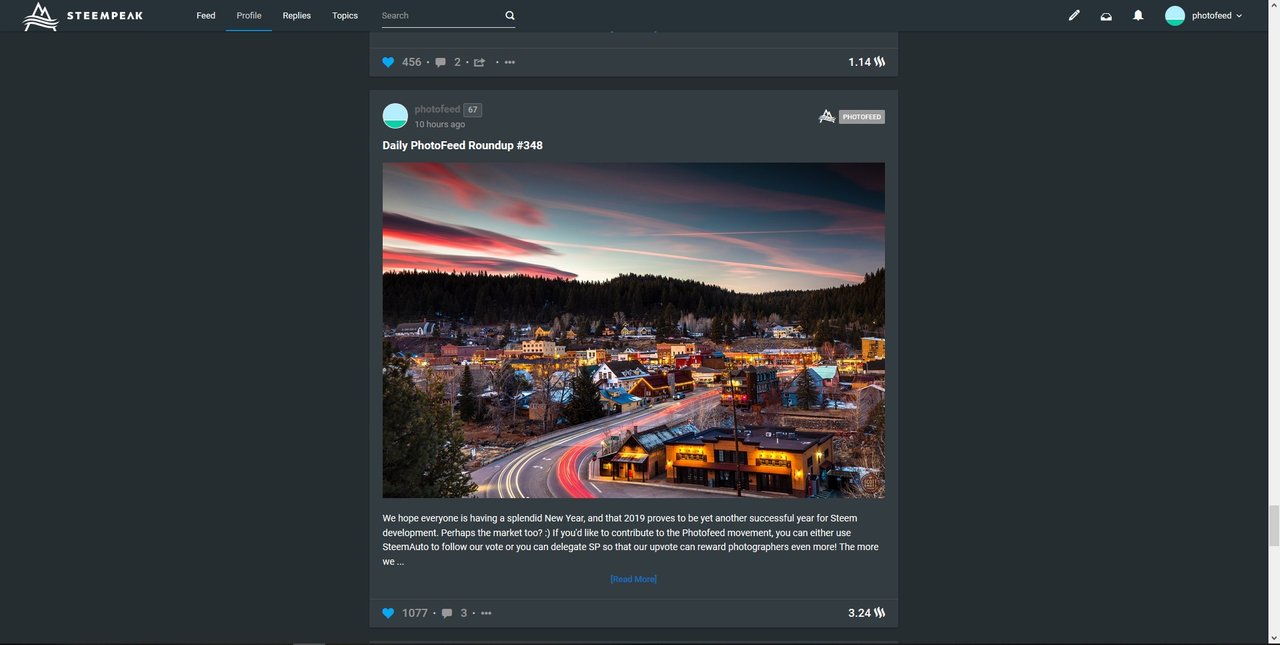 Another amazing thing about Steempeak is the addition of BENEFICIARIES. This has saved the @photofeed team tons of time paying out photographers, since now we don't have to pay artists a week later while doing equations making sure everyone is getting their fair share. It used to be a task none of us wanted to do, but now we can easily give 17 percent to each photographer featured in the daily round-up when making the post and then we are done with it. This has also come in handy for me personally (@aweber) when either borrowing camera equipment or taking a picture of a fellow steemian. Just give them a portion of the proceeds right then and there, and you're all set. That's one of my favorite additions.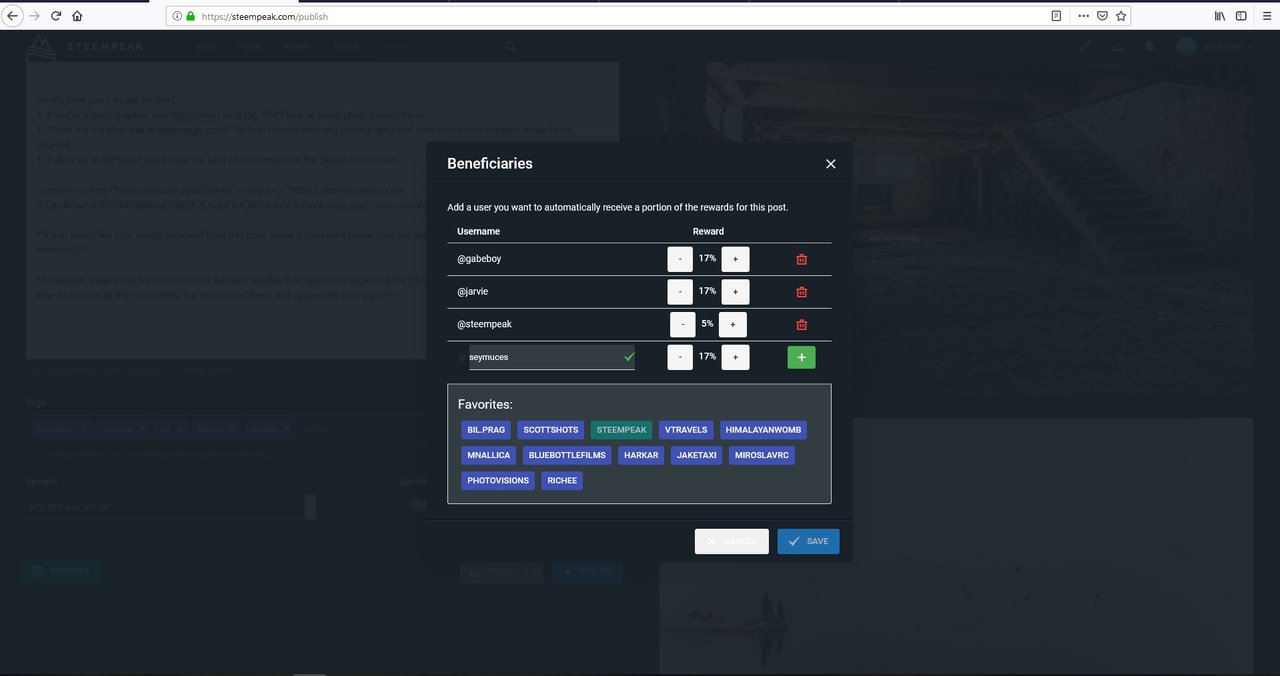 Another thing we love is for others to be able to see our curation trail, along with adding their vote to it. This way, if you wish to power @photofeed's vote a little more you can follow our voting trail quite easily.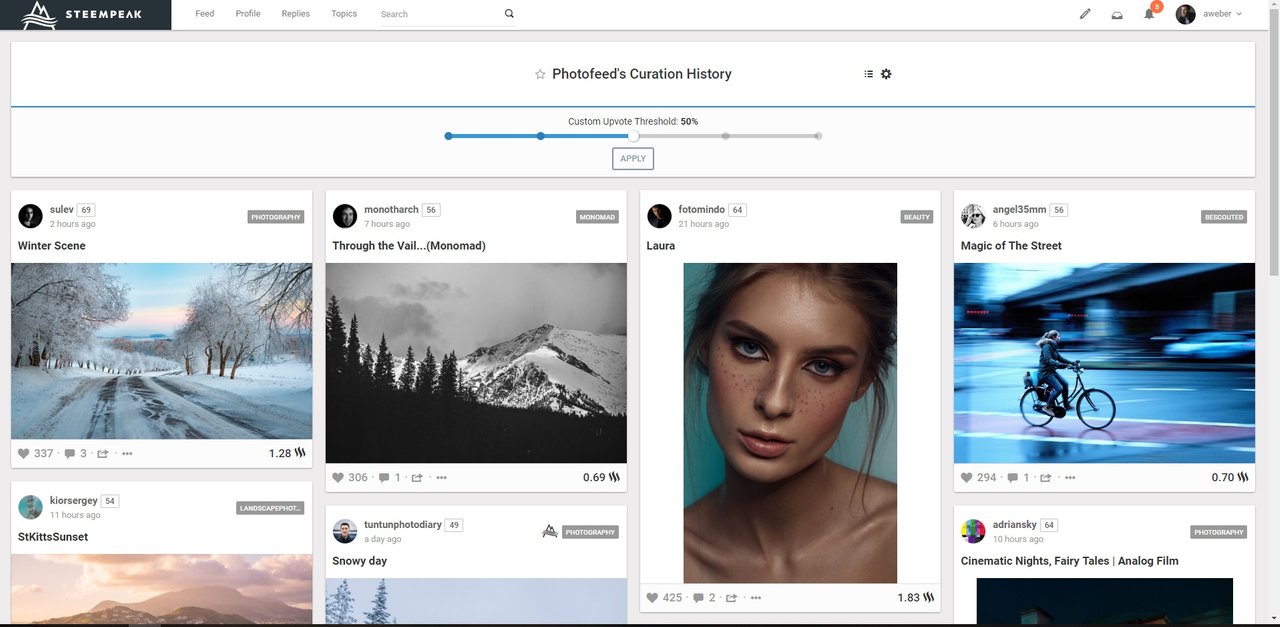 Ok. Get ready...Steempeak offers drafts, templates, and scheduled posts. In writing this post, I wrote it a bit earlier than our 365 anniversary, but just left it in our drafts until now. No fear of losing it, Steempeak automatically backs it up just in case something happens. So nice. Their implementation of templates has been incredibly time-saving for us, and scheduled posts have been very useful (especially for my personal account, so I can set up a few posts to release over the next few days).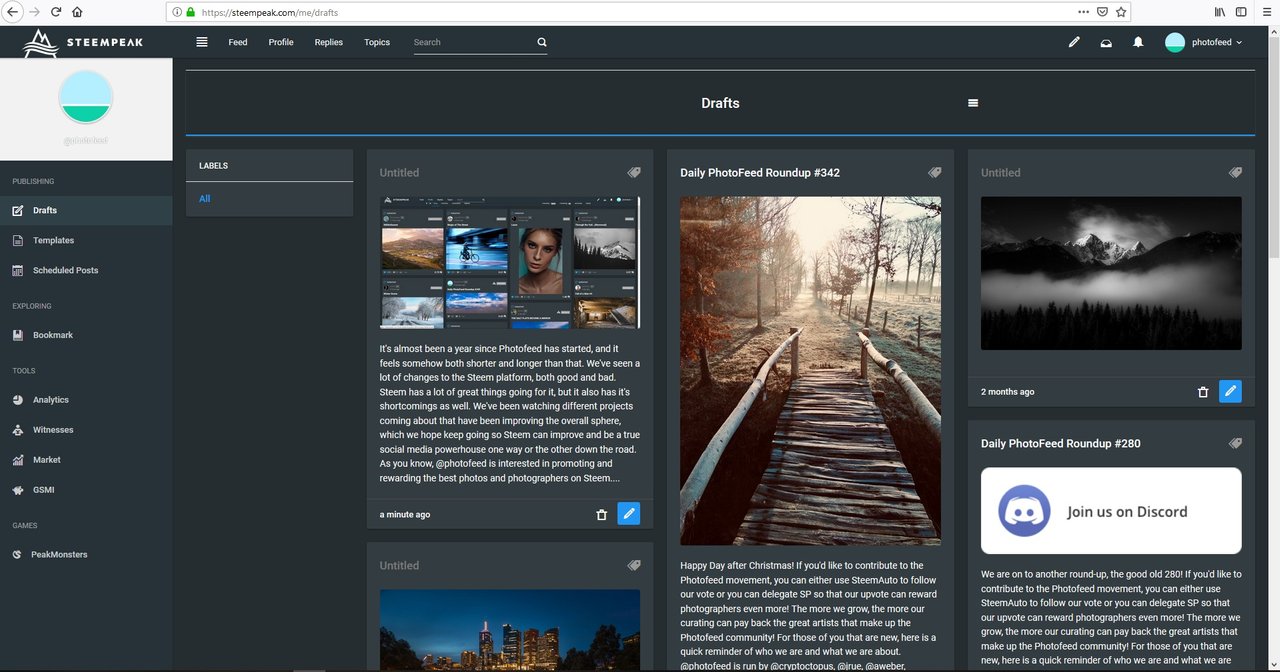 We haven't even covered the analytics, the GSMI, bookmarks, vote value display, text editor and many other intuitive changes. There are a ton more things that we love about Steempeak, but we will let you explore the front-end, if you haven't yet. Follow their page (@steempeak) for updates and tips, and if you feel so inclined add Steempeak as a beneficiary for your posts to help pay the costs of operating the page. Even a percent or five helps, I'm sure.
What do you think? Do you agree? Disagree? Let us hear your thoughts!