I Love SteemPeak - A Web Extension for SteemPeak Lovers
Post and Tools by @anarcist69
(Notice steempeak.com also has an author setting)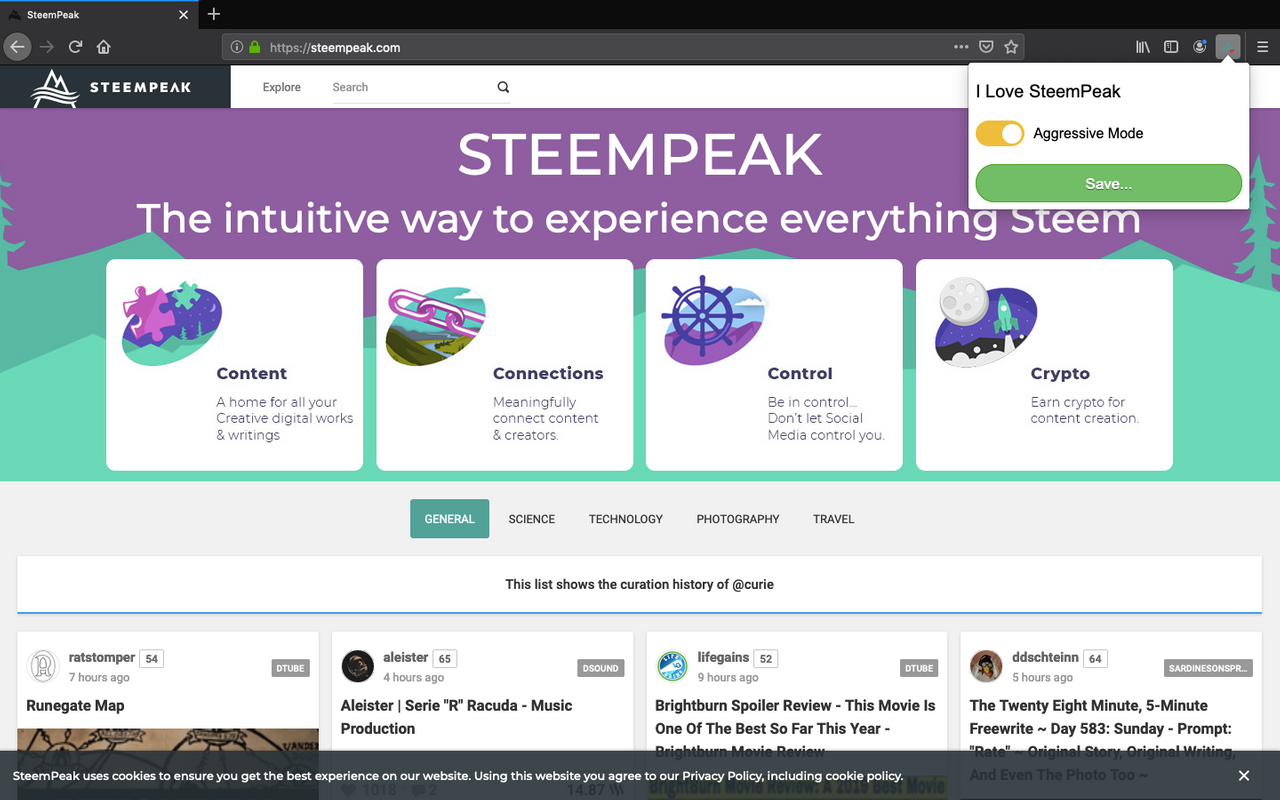 Since its inception, SteemPeak has been continuously evolving itself and the way we interact with the Steem blockchain. It is this fact that has made SteemPeak a popular front end for a rapidly growing community.
I had received feedback from a number of users for too long that went along the lines of: "Why does everyone post links from steemit.com" and "I wish I could just redirect all links to SteemPeak". So, the other day I got sick of people whinging and finally went and made a solution.

"I Love SteemPeak" was born
My first hurdle was coming up with a name, once I was certain of the name, I went to work and started coding.
There was a very exclusive alpha test between myself and two other Steemians. This lasted less than 24 hours as I was keen to get this out there. So in less than 48 hours, I had coded and released the first beta version to the Chrome Web Store which had both Passive and Aggressive modes working as you would expect them to.
More support please?
After I had released the Chrome version (which also works in Brave) I started getting requests for a Firefox version of the plugin.
So off I went to see how I would get the extension to work in Firefox, and lucky for me, most of the code was compatible with Firefox. So, a quick rework of some code (which also benefited the Chrome version) and I was ready to release the Firefox version to the Firefox Addon directory.
What is next?
So, even though the extension does exactly what it is made to do there will always be features to add and improvements to be made. Currently my list is as follows:
URL Whitelist

Some URL's do not exist on SteemPeak that Steemit has, these need to be whitelisted to avoid running into annoying 404's

More/Dynamic Sites

It has been requested to redirect more Steem frontends, so this could be a hardcode or simply an options list where the user can add their own sites to redirect.

Where do I get the Plug-ins?!
Chrome - https://chrome.google.com/webstore/detail/i-love-steempeak/hebihldooknlhpeebennnnddfofnjafo
Firefox - https://addons.mozilla.org/en-US/firefox/addon/i-love-steempeak/
---
WORD FROM STEEMPEAK:
If you have a tool or a post about SteemPeak you'd like to post here get a hold of us on discord about your idea, if approved we will add you as the author and make you a beneficiary. We've made @anarcist69 an 80% beneficiary and @jarvie for helping get it ready to post.