The new SteemPeak 1.10 release is now live at https://steempeak.com
Both me (@asgarth) and @jarvie spent a bit of time travelling during the past month, and @r00sj3 had been busy too, so some of the features included in this update have been slightly delayed. But hopefully they are ready now, so keep reading to see what is included in this release ;)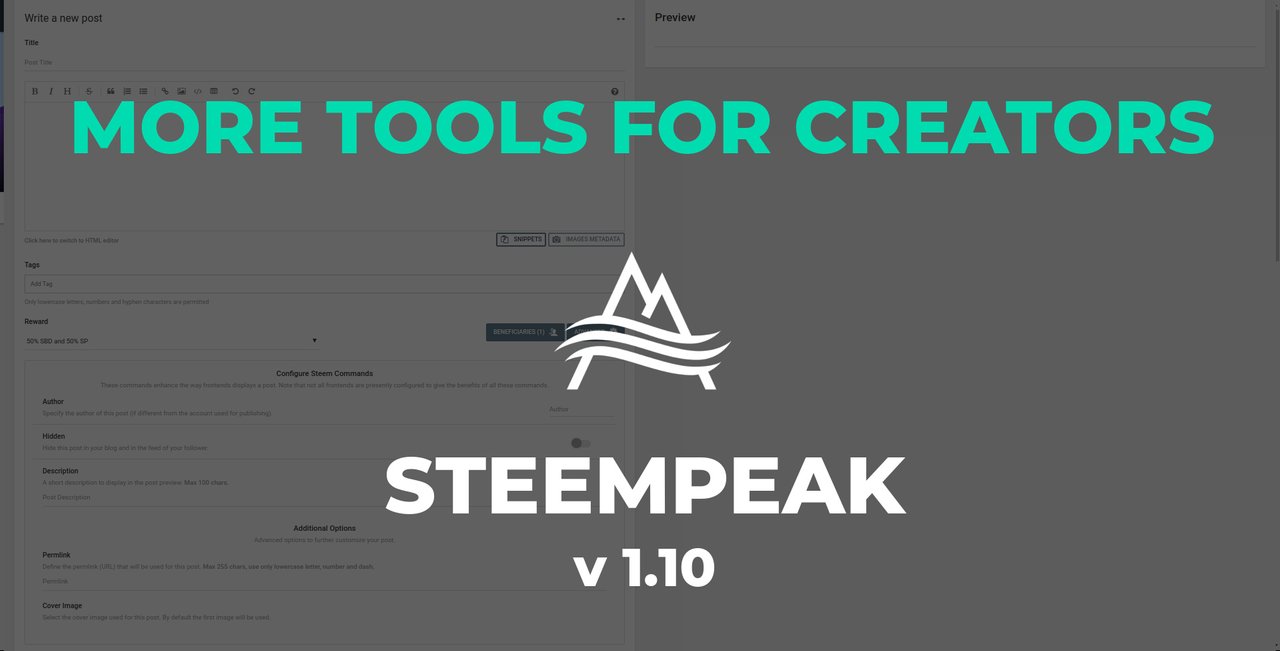 New Features:
A quick recap of the new features included in this release:
- You can now select the cover image when publishing (or editing) a post. This should work pretty well also when the post is viewed on other frontends
- Added a new commands is available to specify a short post description (right now this will be only used on SteemPeak for the post preview text)
- It's now possible to define a custom permlink when publishing a post
- Improve transfer/powerup popup with available balances
- Add power down details in the main wallet screen (you can check this on my wallet page)
- A new image gallery/preview plugin that is used when you click an image in a post
- When you open an external link there is a new warning popup (if you are used to Discord the behavior is similar, and the link can be added to a list of trusted domains)
- Add a blacklist for phishing links (similar to steemit list)
- Add post counter in Blog page topic filter
- Add @naturalmedicine to Explore page curators
- Switch to the new steem.ninja widget for account signup
- Optimized the image slider to be loaded a bit faster (most relevant on mobile)
- Use WEBP images when possible to reduce the bandwidth used to load the images
- Error details are now included in the alert tooltip to better understand the issue

... and as always some performance improvements and small bugfixes across the website :)

Unfortunately starting with this release the Steem News page is not available anymore (a huge thanks to
@pennsif
for all his work on this). And don't worry, we are working on an alternative to provide an alternative news page ;)
WITNESS
Now's probably a nice time to remind you that we run a witness server to help process the blocks for the Steem Blockchain. You can vote for our witness so we are in a position to process more of them.
Vote on out profile page: @steempeak
Vote on the witness page: https://steempeak.com/witnesses


This works for all witnesses BTW
Using Keychain: You just have to click and approve the transaction
Using SteemConnect: You'll need access to copy paste the Active Key at least
---
The SteemPeak Team
About us: https://steempeak.com/about
Join us on Discord: https://discord.gg/6hCAcVp