We are happy to announce a new release of SteemPeak. With this release you'll now be able to PIN post at the top of your blog. Also the Witnesses page now can display an additional description to better identify what each witness is doing for Steem. Hopefully most of the witnesses will fill the required details to enrich the page and help people how go to that page to vote ;)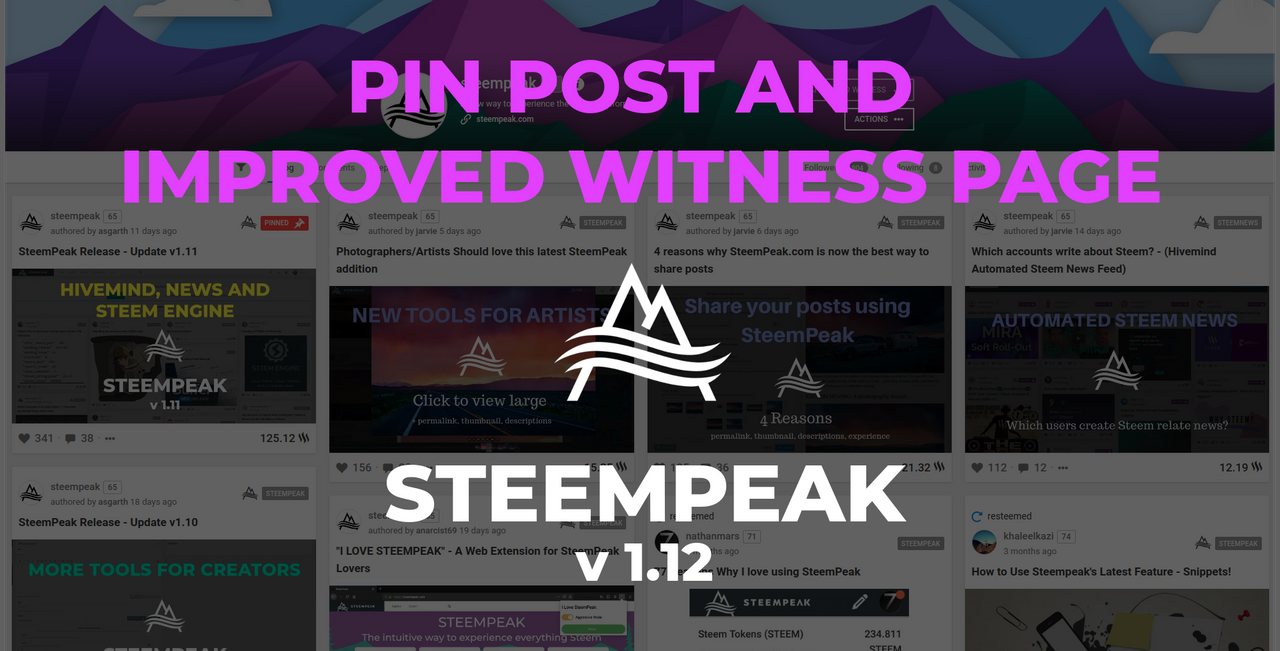 New Features:
A quick recap of the new features I (@asgarth) mentioned above and some minor improvements included in this new release:
- It's now possible to pin a post at the top of your blog page.
- Witnesses can now set an optional description that will be visible in the witness page. Hopefully this will help new users to understand what their witnesses are working on, but of course some witnesses have to write a description first :)
- There is a new setting to reduce the image thumbnail quality when using a mobile device (reduce the bandwidth used while browsing the feeds)
- When you select a custom permlink in the Publish page a preview of the final URL will be displayed
- The claim reward panel can now be dismissed in the Wallet page
- The original image (full quality) is now used in the image gallery viewer
- Fix the images order in the Portfolio page
- Fix a bug that prevent the latest transaction to show up in the Activity page
- Lots of dependencies on external library have been updated to the latest version (hopefully without breaking anything)
- As always some minor bugfixes and improvements here and there :)

WITNESS
Now's probably a nice time to remind you that we run a witness server to help process the blocks for the Steem Blockchain. You can vote for our witness so we are in a position to process more of them.
Vote on out profile page: @steempeak
Vote on the witness page: https://steempeak.com/witnesses


This works for all witnesses BTW
Using Keychain: You just have to click and approve the transaction
Using SteemConnect: You'll need access to copy paste the Active Key at least
---
The SteemPeak Team
About us: https://steempeak.com/about
Join us on Discord: https://discord.gg/6hCAcVp