We are happy to announce a new release of SteemPeak. With this release some exciting new features are available. I'll (@asgarth) try to do a quick recap of all the new features in this post, but maybe we'll create some more posts to highlight some specific updates in the coming days ;)
1. Scot powered Tribes are now integrated into SteemPeak
This is probably the most requested feature in the past 2 weeks. So I'm happy to announce that PALnet and Splintertalk are now available and you can view them on the Tribes landing page here: https://steempeak.com/tribes
At the moment only PALnet and Splintertalk are enabled, but others can be whitelisted by the owner and the Steem Engine team.
But the new rewards will be included in the post payout details in all pages, not just on the specific pages for those tribes. I've published some more details about this here.
2. A new Countdown Timer command on posts
This have been requested consistently (and @jarvie is a big fan of this command too) and it's now available. You can set a countdown timer when you publish a new post (check the advanced section to find it). If you want to view the result have a look at the latest post by @peakmonsters.
3. Switch to SteemConnect v3
With this release we started the rollout of the new SteemConnect v3 (final release will be ready in a few days). This is a new major version that brings some important changes and a new optional browser extension. You can read more about it here: https://steempeak.com/steemconnect/@fabien/steemconnect-3-beta-release-looking-for-testers
We'll keep improving the integration with the new SteemConnect library but please let us know if you find any issues.
---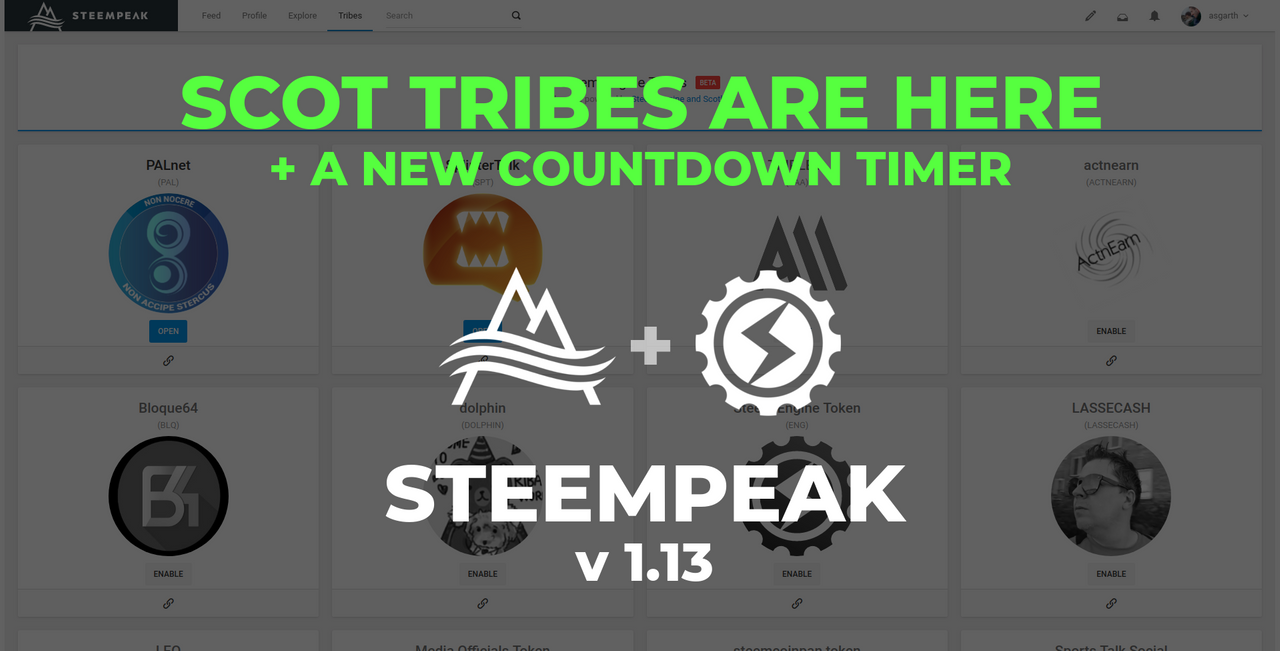 Full Release Note:
This is full list of the new features and improvements included in this release:
- Scotbot rewards are now included in the payout details of posts. This is available on all pages and not only on the specific pages for the new 'Tribes'
- A new landing pages where you can view all the tribes available
- A new customized 'My Feed' page specific to a tribe where only posts from that tribe will be included
- Two new customized pages for 'most rewarded' and 'recently published' posts specific to a tribe
- A new COMMAND is available on posts to set a 'Countdown Timer'
- Posts with a countdown timer are highlighted in the feeds and in the full post page
- Switch to the new SteemConnect v3 library.
- The Activities page has been improved to show more 'generic' activities that were previously not included. To view them a new filter has been added.
- It's now possible to 'unpin' a post from your blog
- Some changes to improve the website performance. This required some rework in the code I use to load and process new posts, hopefully everything will work well and ...faster :D
- As always some minor bugfixes and improvements

WITNESS
Now's probably a nice time to remind you that we run a witness server to help process the blocks for the Steem Blockchain. You can vote for our witness so we are in a position to process more of them.
Vote on out profile page: @steempeak
Vote on the witness page: https://steempeak.com/witnesses


This works for all witnesses BTW
Using Keychain: You just have to click and approve the transaction
Using SteemConnect: You'll need access to copy paste the Active Key at least
---
The SteemPeak Team
About us: https://steempeak.com/about
Join us on Discord: https://discord.gg/6hCAcVp