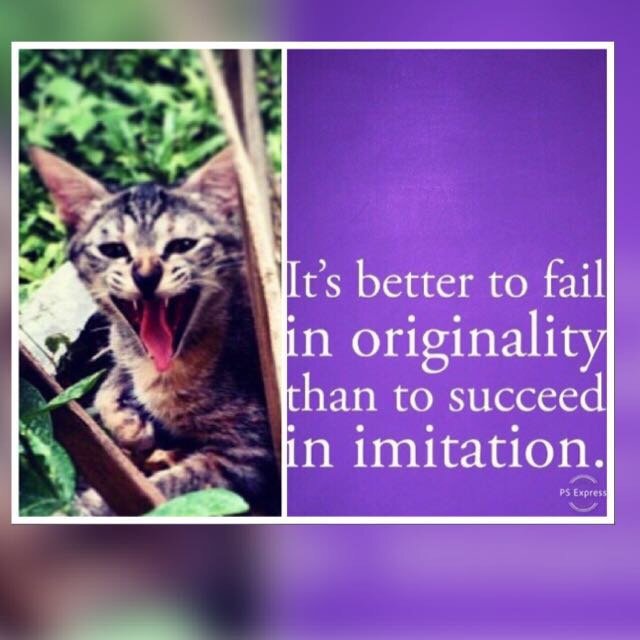 Enjoy your "purple" Sunday with a humble reminder if you are new on steemit!
Be an Original and authentic but first of all be true to yourself!
Ok! So, I cover a few topics in a short one photo article to remember my sweet but unique lost kitty kat ALOE.
Look at his expression and you know what it means to be an original. It was so hard to loose one of my babies caused by poison once again.
BEING, EATING AND BEING EATEN is the harsh rule of the "jungle"
I even lost one being swallowed by a python as you can read here.
https://steemit.com/baliohbali/@mammasitta/three-pythons-caught-by-the-famous-village-snake-catcher-in-bali-backstage-baliohbali-stories
I follow up on a couple of my articles where I am telling my new #BaliOhBali pet and other stories in this new blog @onartbali and would love to suggest to use those tags again.
steemutts
steemeow
steempets
https://steemit.com/steempets/@mammasitta/my-pet-stories-steempets-steemmeow-steemmutt
I dedicate this series "My Bali Pet Stories" in memory of all lost, so valuable companions who brought love in our lives and to show how important it is to experience the friendship of animals, help as many as you can. - Mammasitta
https://steemit.com/steemitphotochallenge/@mammasitta/the-enigmatic-loki-my-god-like-cat-3-entries-for-steemitphotochallenge
Loki was a very special and unique cat and lived up to his name. At the end he was fleeing from our new home and never returned. - Mammasitta
I write this article thinking of all my babies, awesome pets I had to leave behind after my abrupt island escape but they still guard the house and are very well taken care off.
Some I might never see again. 😭😭😭
Sometimes I think how many articles I actually wrote last 3 years, reread them and add just links to refresh my and even your memories.
I hope that new members will enjoy those articles and now I wish you a great time on the Steem blockchain.
💜💜💜
Yours
Mammasitta
Posted using Partiko iOS