Winners of Steemph.antipolo Contest Number 2 and announcement of contest Number 3
Steemph.antipolo contest number 2 is a massive success. We receive dozens of beautiful, informative entries. Upon reading the articles we didn't just get tempted by the food entries but also delighted by the trivia and new knowledge we acquired. It was correct decision to make this contest happen.Thank you everyone for heeding our call. We know a lot out there was still waiting for part 2. Well, who knows. Stay on following this account for more updates.
We would like to CONGRATULATE the winners of Steemph.antipolo Contest Number 2 Featuring Antipolo Foods and Delicacies.
You guys did a great job and the way you present your entries was way better than our past entries. You guys are improving so quick.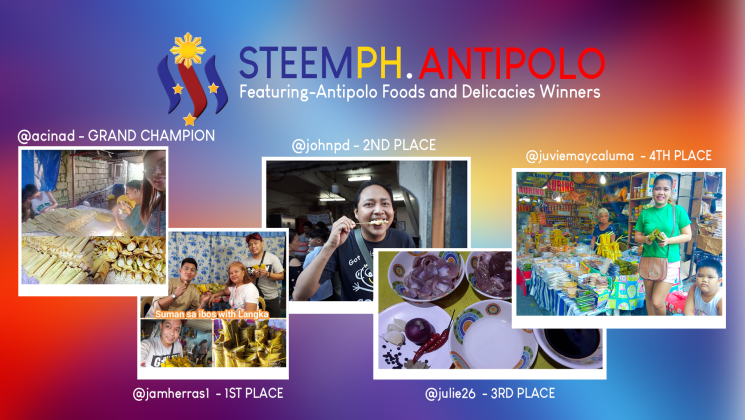 OUR WINNERS
CHAMPION WINNING 5SBD @acinad
https://steemit.com/feature-antipolo/@acinad/featuring-antipolo-the-classic-delicacy
This article is so enticing and very informative. It was given so much effort by the author with clear sharp photos. There are pieces of information that are unknown to fellow Antipolenos until this blog came into the contest. Amazing style @acinad. You deserve the top spot
I learned that in order to turn Kampil leaves in yellow they need to put the ginger while boiling the Suman sa Ibos.
1ST PLACER @jamherras1
https://steemit.com/feature-antipolo/@jamherras1/my-entry-in-steemph-antipolo-featuring-antipolo-food-and-delicacies-aling-mareng-special-suman-sa-ibos-with-langka
@jamherras1 made a different approach with his entry. He was able to include a Filipino TV celebrity on his blog. What about that huh! His entry, Suman sa Ibos was a great trick of putting a twist on the recipe, Suman sa Ibos with Langka. There are revealed secret ingredients in this article so better check it out. The photos where seemingly shot by a pro.
I am with Chef Jeremy Favia the new wellness chef of Healing Galing one of the Host in TV5 with my Aunty Chit Enriquez.
2ND PLACER @johnpd
https://steemit.com/feature-antipolo/@johnpd/bato-bato-natikman-mo-na-ba-to
This entry will really warm your heart. The vivid description of the fried "bato-bato" makes you feel you were actually eating it. A very informative article with a touch of humor on the side.Bato-bato is chicken gizzard but Antipolenos made a different way of cooking it temptingly. Curious? Read @johnpd 's entry :)
Kaya kung nais mo din matikman ang bato-batô, tara na at dumayo sa Antipolo. Madalas itong meryendahin ng mga taga-dito. Inihahain din ito hindi lamang bilang ulam, pwede rin itong pampulutan lalo na kung may birthday at handaan. Wag ka lang masosobrahan dahil kolesterol sa katawan ang kapalit ng sobrang pagkain nyan.
"Halika! Tusok tayo, kaibigan..." 🍡
3RD PLACER @julie26
https://steemit.com/philippines/@julie26/my-entry-of-food-delicasies-and-dishes-for-steemph-antipolo-adobong-bundok-liver-chicken-and-gizzard
Now this one is sure Antipolo delicacy which originated from a long time ago. Adobong bundok may look a bit scary but it really is sumptuous and you definitely splurge once you tasted it.
This is one of the dishes known here in Antipolo City Rizal. We had a lots of Delicasies here,some of them are Suman sa Ibos,Kalamay,Mangga at Kasuy! But I thought,it was all common here in Antipolo. So I decided to make a "Dishes" that certified Antipolo too!
4TH PLACER @juviemaycaluma
https://steemit.com/feature-antipolo/@juviemaycaluma/my-entry-of-steemph-antipolo-featuring-antipolo-food-and-delicacies
Suman yapos which is featured in this article makes someone drool. Suman yapos is just one of the varieties of Suman here in Antipolo
Isa din ito sa paborito ko dahil hindi siya nakakasawang kainin dahil meron siyang sawsawan na kuhang kuha ang panlasa nang mga pinoy.
So there you have it, everyone. Our Complete roster of excellent bloggers for this 2nd Contest of Steemph.antipolo
On behalf of all the founders, core leaders and member of this community our heartfelt Thank You.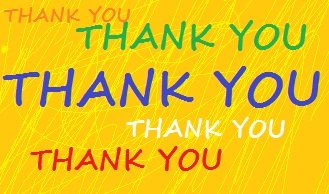 Keep on blogging and improving. Your rewards are already delivered to your wallets.

Steemph.antipolo contest #3: Featuring Restaurants and Bars
Filipinos are fond of eating. We have very adventurous taste buds. Lately here in our city, restaurants and bars spring out like mushrooms. Each of them claiming to be the best place to eat. All have their best sellers, offering different world cuisines and other attractions such as eat all you can promos, free parking or free dessert. Indeed, they do tell the truth. Food is great at very reasonable prices. Unfortunately, most restaurants and bars which offers quality service and enticing foods are not well exposed.
These food hubs deserve appropriate promotions. Not just for them to earn but for us customers to experience the gladness of caliber service and mouthwatering foods.
This is the main objective of this next contest. Guys welcome to Steemph.antipolo 3RD Contest: Featuring Antipolo Restaurants and Bars. Oh yes oh yes. This is probably the first contest here on Steemit which will feature local restaurants and bars. Ooh boy! This will surely be another hit contest.
****This is the competition proper:**
Mechanics
Upvote and Resteem this post so many Antipolenos will be informed and hopefully join the contest
Choose the restaurant, bar or eatery you desire to feature. Then make an article about this preferably 500 words at least but not
compulsory.
Tips on what to discuss in the article
check out the structure or appearance of the place
describe the ambiance
showcase the menu and the reasonable prices
have an observation of the parking
detail the location and if it easy to find
emphasize the best seller
if you will include a little history of the place it will definitely be a plus
how was the food especially the best seller
Factual and interesting details for your entry will be featured here in Steemph.antipolo
Back up your entry with your ORIGINAL photos. No limit on the number of photos.
Tips on what to photo to catch
a. have ashot of the menu
b. include a live photo of the bestseller
c. showcase the beauty of the place inside and outside
d. having a photo of other satisfied customers will be great
Copy the link to your entry and past it in the reply section of this post so it will be easier for us to find it
Don't forget to put the tags. Include featuring-antipolo as the first tag. Followed by steemph-antipolo, philippines, steemph and antipolo-foodhubs
Rules
Your article must be original. No copy paste from any sources. We will accept Tagalog entries if it suits you best.
Your photos must be original as well. It doesn't matter if it is an old photo as long as it clear and sharp
Upon joining you are giving us the rights to feature your article even if you win or not.
Not following the mechanics' section will automatically mean disqualification of your entry.
Prizes
The winners will be receiving
Champion: 5sbd
1st Placer: 4sbd
2nd Placer: 3sbd
3rd Placer: 2sbd
4th Placer: 1sbd
You and your article will be feature thus means additional exposure to the Steemit community
To all foodies out there, this is your chance to show the Steemit community all about your food adventures.
Join now, win and be featured.
All entry links which were posted in the reply section of this blog after seven days since this is posted are the only ones counted.
Prizes will be given after this posts payout and right after the announcement of winners
We will be waiting for your quality entries