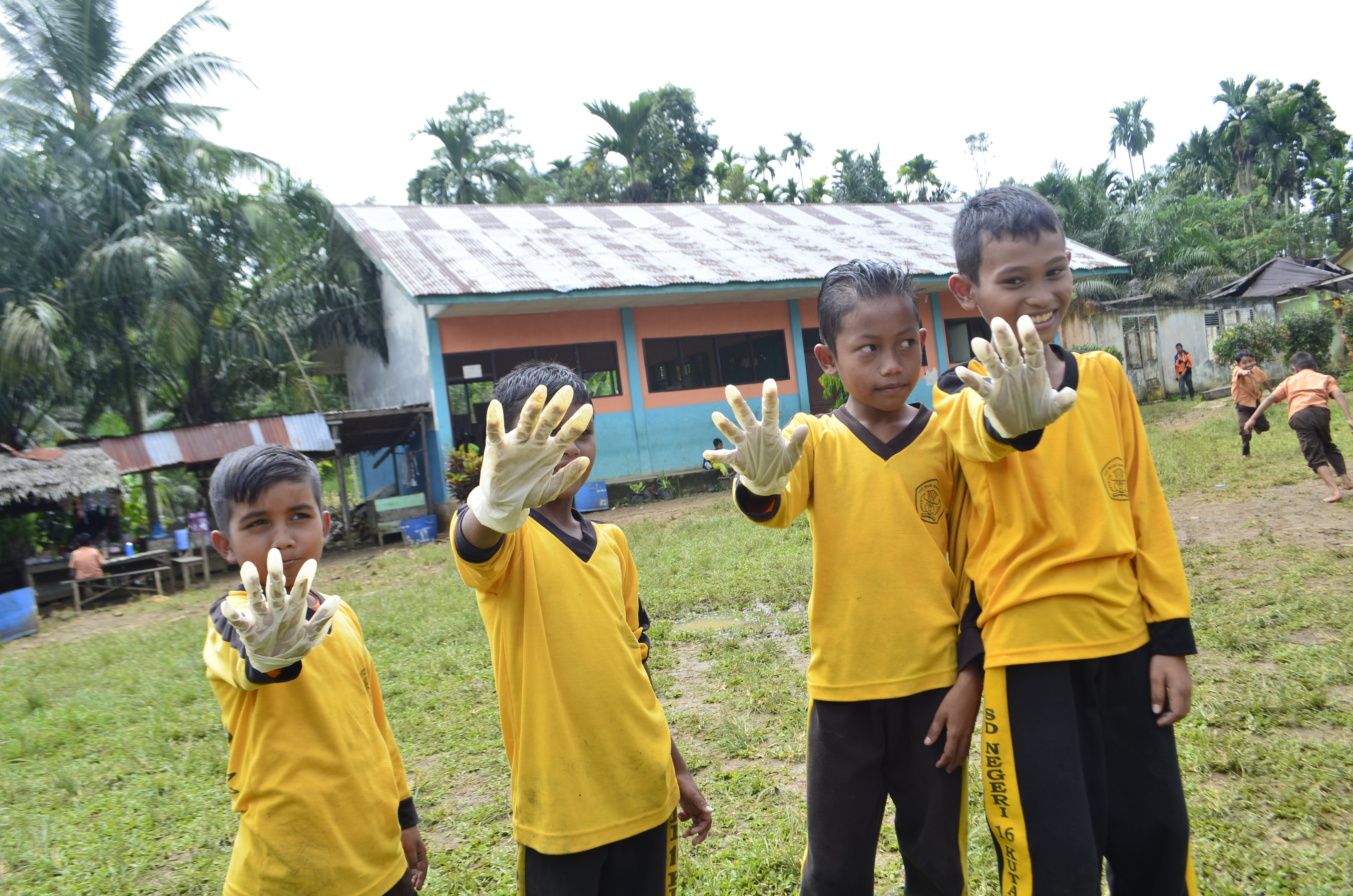 by:
@adilvakhri
---
---
Sabtu, 06 Oktober 2018 aku bersama teman-teman melakukan sebuah kegiatan yang berjudul "Two Hand Two Trash (dua tangan dua sampah)". Kegiatan ini kami laksanakan di SDN 16 Kuta Makmur, Kabupaten Aceh Utara. Untuk sampai ke tempat tujuan butuh perjuangan yang lumayan menguras tenaga, walaupun menggunakan sepeda motor. Pantat dan pinggang anda terasa begitu lelah karena jalan yang dilalui tidaklah semulus di kota-kota. Jalan berbatuan, apalagi musim hujan seperti saat ini sudah pasti jalan becek dan berlumpur. Namun keadaan jalan tersebut bukan penghalang untuk sampai di SDN 16 Kuta Makmur, karena semangat kami lebih besar untuk berjumpa anak-anak disana. SDN 16 Kuta Makmur ini juga pernah menjadi salah satu sekolah penempatan para pengajar muda beberapa angkatan (2010-2017).
---
---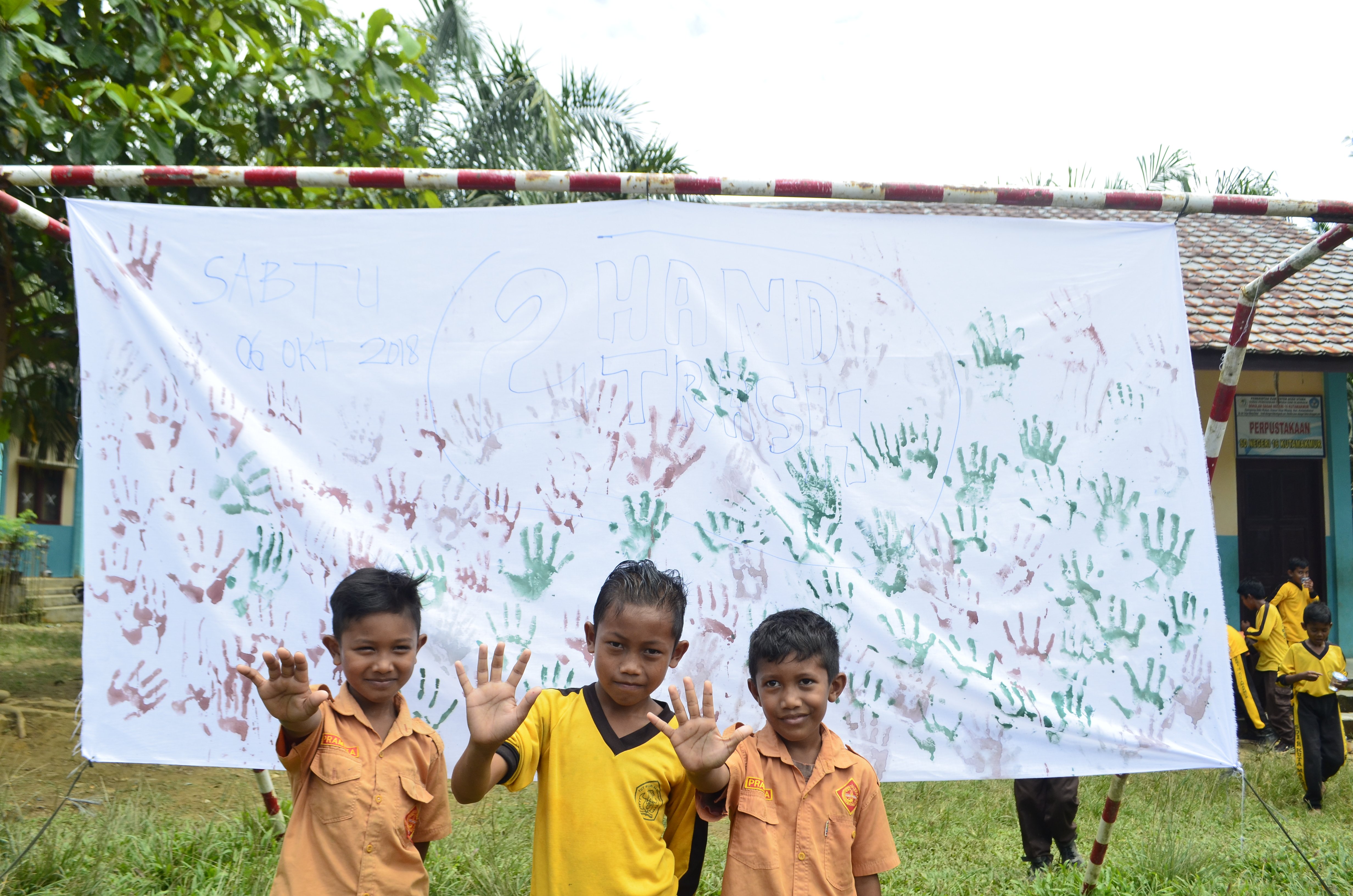 ---
---
Kegiatan ini memiliki tujuan yaitu membuat anak-anak peduli terhadap lingkungan, terutama permasalahan sampah. Sudah sepatutnya kita memberi pemahaman kepada anak-anak tentang pentingnya menjaga kebersihan lingkungan dari pada sampah.
Beberapa rangkaian kegiatan kami lakukan, yaitu mengutip sampah disekitar perkarangan sekolah, mengajari cara mencuci tangan dengan benar, dan deklarasi "Two Hand Two Trash". Siswa-siswi SDN 16 Kuta Makmur sangat antusias terhadap kegiatan ini.
Harapan kami tidak hanya pada sekolah ini dapat berjalan program ini. Semoga program ini dapat diterapkan pada sekolah dasar lainnya, karena program ini sangatlah bermanfaat untuk menciptakan penerus bangsa yang peduli terhadap lingkungan, terutama masalah sampah.
Seperti yang kita ketahui bersama, di Indonesia masalah sampah bukanlah permasalahan biasa tapi sudah menjadi permasalahan yang sangat luar biasa. Kebiasaan buruk masyarakat Indonesia membuang sampah sembarangan sangatlah jelas dapat kita lihat. Lantas, cara mengubahnya bagaimana? Salah satunya ialah itu, mengajari dan memberi pemahaman kepada anak-anak untuk peduli terhadap lingkungan.
Sudahkah mengajari anak-anak sekitar anda untuk peduli terhadap lingkungan? Jika belum, mari kita bergerak. Kini bukan saatnya untuk diam.
Saturday, October 6, 2018 I and my friends conducted an activity entitled "Two Hands Two Trash (two hands of two rubbish)". We carry out this activity at SDN 16 Kuta Makmur, North Aceh District. To get to the destination requires a struggle that is quite draining, even though using a motorcycle. Your buttocks and body feel very tired because the road the owner goes through is as smooth as in the cities. The road is rocky, heavy rain is now definitely muddy and muddy. Even so it was not a barrier to arrive at SDN 16 Kuta Makmur, because our enthusiasm was greater to meet the children there. SDN 16 Kuta Makmur has also been one of the schools for the placement of young teachers for several generations (2010-2017).
This activity has the aim of making children care about the environment, especially the problem of waste. It is fitting that we give understanding to children about the importance of maintaining environmental cleanliness rather than garbage.
Some of the series of activities we do, namely quoting garbage around the school yard, teaching how to wash hands properly, and the "Two Hand Two Trash" declaration. The students of SDN 16 Kuta Makmur were very enthusiastic about this activity.
We hope that not only can this school run this program. Hopefully this program can be applied to other elementary schools, because this program is very useful to create a nation that cares for the environment, especially the problem of waste.
As we all know, in Indonesia the problem of waste is not an ordinary problem but it has become a very extraordinary problem. The bad habits of the Indonesian people to throw litter is very clear we can see. So, how do you change it? One of them is that, teaching and giving understanding to children to care for the environment.
Have you taught children around you to care about the environment? If not, let's move. Now is not the time to be silent.
---
Posted from my blog with SteemPress : http://adilvakhri.com/2018/10/21/two-hand-two-trash-dua-tangan-dua-sampah-di-sdn-16-kuta-makmur/
---