In a few hours, we will officially launch Bloguable, it is an opportunity for us to give you a little insight into what this new platform will offer. This article is a simple teasing, so don't expect to read every detail of the project. We will simply fly over the project quickly but don't worry in a few hours you will know everything!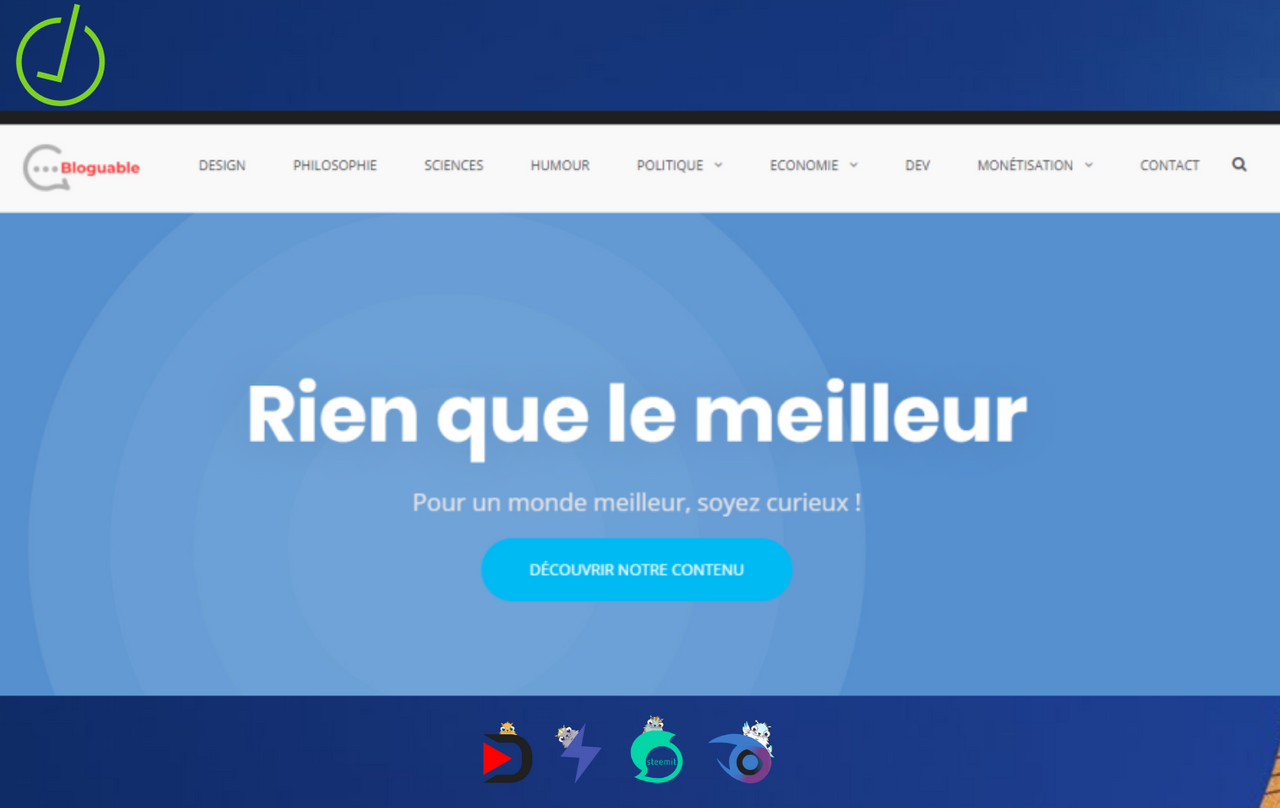 Forget everything you've seen so far in the Steem universe. We will completely change our paradigm and focus on what the authors and readers want. But not only that, we know that in our small Francophone community there are talents, people who just want to share their knowledge and skills.
Unfortunately, on Steem for the moment nothing is being done to allow them to flourish freely. They just have to publish content and communicate with Steemians, nothing more. The Steem ecosystem is closed, no one can react without a Steem account and yet the exchange is the first thing an author is looking for. What is the point of publishing content if it is only read without any feedback?
Giving without expecting anything in return is certainly an honourable thing, but giving and receiving strength through comments is another. We have therefore put online a website entirely designed to meet everyone's expectations.
How many projects currently exist that live almost exclusively on the volunteer work of certain committed authors? How many advise on a daily basis? How many produce content on a daily basis without creating real communities. The views are for Steemit.com (who doesn't even know how to take advantage of them) and the rewards usually go to project creators and the small hands are only very few (if any) paid.
It is time to change all this and offer a real alternative to allow everyone to flourish with respect for all. All work deserves a salary, not a vote is not worth a salary. Receiving a $30 vote and a $5 donation is not the same at all. Receiving a donation or being paid for work done is much more rewarding than obtaining a vote received for x or y reasons, because let's face it, votes are usually not given according to the quality or work done but according to more or less vague criteria.
Bloguable will be there to highlight the content of its authors, through targeted advertising on Facebook or Google, we will make sure to carry out effective campaigns to reach the desired audience. This will allow our authors to create a real community that they can grow. They will be able to sell their services and/or products there without having to pay us a single cent of commission. In agreement with the customers, their emails and data will be transmitted to the author who offers and sells his services/products.
What does Bloguable gain from all this? Well a community, simply more simply me @planetenamek also intends to publish and offer different services on our platform. Instead of earning rewards, commissions on a personal basis, we prefer to reinvest them in advertising to increase the impact of Bloguable on the web....
We won't tell you any more for the moment, just until we get to the final details of the website and once it's online, expect to see the explanatory articles scrolling down. We will detail all our actions and steps to be part of the adventure. Because yes, unlike other platforms, it is not intended to welcome everyone, at least not at first. We plan to start with a maximum of 4 or 5 authors and expand the team as we go along. We have many categories to deal with so we will try to find competent authors for these different categories, but before that we need our system to be well established and we need to have some convincing results.
We do not intend to use authors present exclusively on Steem, our approach goes far beyond that. We would like to introduce the little extras of Steem to a wide audience, but we will do so gradually and gradually. Because the few cents or dollars Steem brings in will not allow our authors to live, but we are aware that it is a significant plus. We will try to sensitize readers and authors to this gradually. By exchanging regularly, providing value, being present to answer questions with our highly responsive support, we are confident that our efforts will bear fruit in the near future.
See you soon and stay tuned so you don't miss anything!
---
Posté sur Bloguable avec SteemPress : https://bloguable.com
---