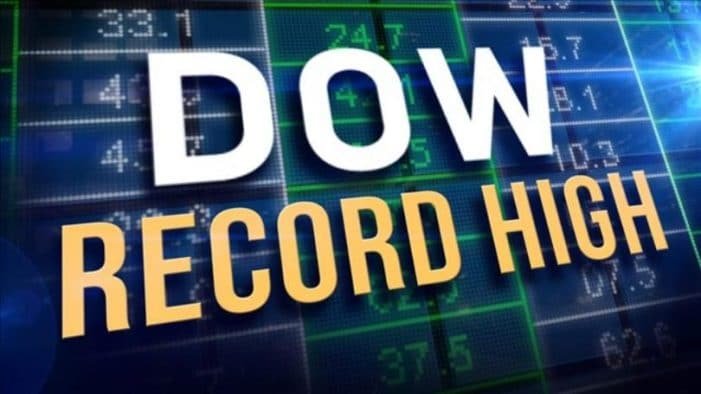 The blue-chip index Dow Jones Industrial Average achieved a new record on Friday after White House economic adviser Larry Kudlow said that China and the US were close to reaching a trade deal.
Dow Jones, which includes 30 companies, added 229.93 points to its value and ended the week at 28,004.89 points. The index crosses the threshold of 28,000 points for the first time in its history. The broader meter S&P 500 and the technology Nasdaq Composite also reached new record highs. S&P 500 advanced by 0.8% and reached a level of 3,120.46 points, while Nasdaq rose by 0.7% to a level of 8,540.83 points.
The CBOE Volatility Index, which measures the implied volatility of S&P 500 options, was down 7.66% to 12.05 a new 6-months low.
The main US indexes also recorded another weekly increase. The Dow recorded its fourth straight increase of 1.2% this week. The S&P 500 advanced by 0.9%, marking its sixth consecutive weekly jump. This is the longest streak for the broad meter since 2017 when it has been rising for eight consecutive weeks. The Nasdaq rose for the seventh consecutive week, advancing by 0.8%.
Trade-sensitive companies such as Caterpillar, Boeing, Apple and Micron Technology recorded growth of at least 1.2% on Friday.
The healthcare sector saw a 2% increase after the Trump administration released a plan that would force hospitals and insurance companies to cut prices they are negotiating. UnitedHealth, Humana and Danaher stock rose more than 4%.
White House economic adviser Larry Kudlow said Thursday that the US and China are nearing a deal, emphasizing constructive talks with Beijing. He made the statement after information emerged in the media that the two sides are in a deadlock under the terms of the first phase of the trade agreement.
Investors were also influenced by US consumer data. The US retail sales rose by 0.3% in October, exceeding growth forecasts by 0.2%.
In the bond markets, yields on 10-year and 30-year US Treasury securities rose to 1.834% and 2.306%, respectively.

Corporate stocks performance
The good news in the healthcare sector gave wings to the stocks of UnitedHealth Group, which rose by 5.30%. Meanwhile, Johnson & Johnson added 3.04%.
The top performers on the S&P 500 were Applied Materials Inc (+8.95%), Anthem Inc (+5.61%) and Humana Inc (+5.52%), while on the flipside were CenterPoint Energy Inc (-4.53%), Whirlpool Corporation (-3.74%) and Corteva Inc (-3.41%).

---
Posted from my blog with SteemPress : http://financeandmarkets.com/dow-jones-crossed-the-28000-point-threshold-for-the-first-time-in-its-history/
---