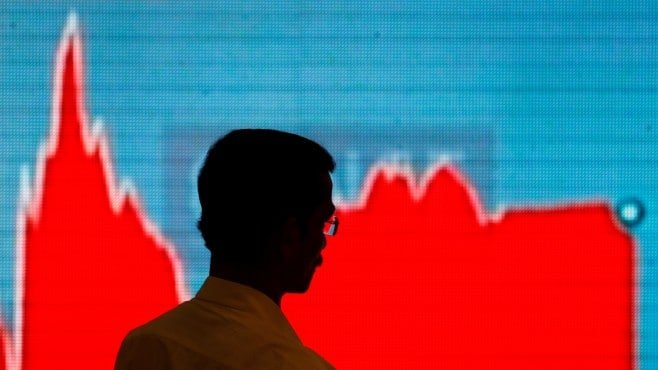 Global stocks are deep into the red on Tuesday, following the sharp drop in Asian markets. The sentiment has generally worsened amid the protests in Hong Kong and the crash in the Argentine peso, which drove investors to perceived "safe haven" assets such as US bonds, gold, and the Japanese yen. These assets are typically sought to limit one's exposure to losses in the event of a sharp market downturn.
Meanwhile, the People's Bank of China set the official midpoint reference rate for the yuan at 7.0326 per dollar on Tuesday, stronger than expected but above the psychological barrier of 7 per dollar for the fourth consecutive session.

Asian markets recap
Asian markets ended the stock market session on Tuesday in negative territory amid continued high tensions in Hong Kong due to the ongoing protests.
In mainland China, the value of stocks continues to decline. The Shanghai Composite index edged down by 0.63% to 2,797.26 points, while the Shenzhen Composite rose by 0.69% to 1,498.63 points. Hong Kong's benchmark Hang Seng wiped out 2.1%, reaching 25,281.3 points. Earlier today, it became clear that the city's international airport had resumed operations after being restricted on Monday for demonstrations. Due to the turmoil in Hong Kong, national carrier Cathay Pacific suffered decline by more than 2.5%. At the same time, Shenzhen Airport's stock rose more than 10%.
The grim mood in China has spread to other Asian markets. Japanese blue-chip index Nikkei 225 declined by 1.11% to 20,455.44 points, while Topix dropped by 1.15%, ending Tuesday's trading session at 1,486.57 points. The best performers of the session on the Nikkei 225 were Dentsu Inc (+3.50%), Daiichi Sankyo Co (+3.10%) and Marui Group Co (+2.76%), while on the flipside were Toho Zinc Co (-17.90%), Ebara Corp (-7.83%) and T&D Holdings (-6.83%).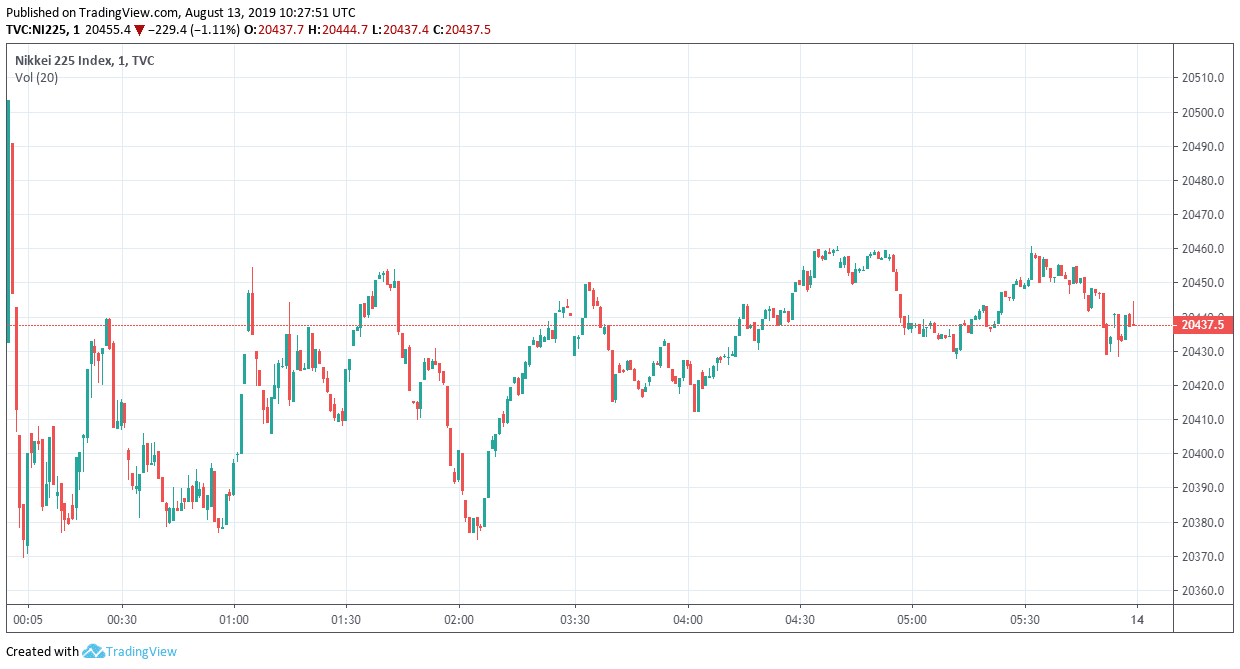 The South Korean benchmark Kospi fell by 0.85% to 1,925.83 points, while the Australian benchmark S&P ASX 200 fell by 0.33% to 6,568.50 points.

European markets mid-session recap
European shares fell on Tuesday, as a slew of economic and geopolitical worries including Italy and Argentina's political uncertainty and unrest in Hong Kong, compelled investors to take refuge in safe harbors like bonds and gold. The pan-European STOXX 600 index fell by 0.6% to 368.17 points.
German index DAX 30 declined by 0.98% to 11,565.56 points at 10:00 GMT. The lenders are leading sector declines with the stocks of Deutsche Bank falling by 2.8% and Commerzbank edging lower by 1.2%. The shares of the meal-kit delivery firm HelloFresh jumped by 7.5% on breaking-even for the first time since its trading debut. The shares of the carmakers are slightly lower with Volkswagen declining by 0.45% and Daimler dropped by 1.95%. The chemical and consumer goods company Henkel wiped out 6.7% of its market cap after lowered its full-year outlook for sales and earnings.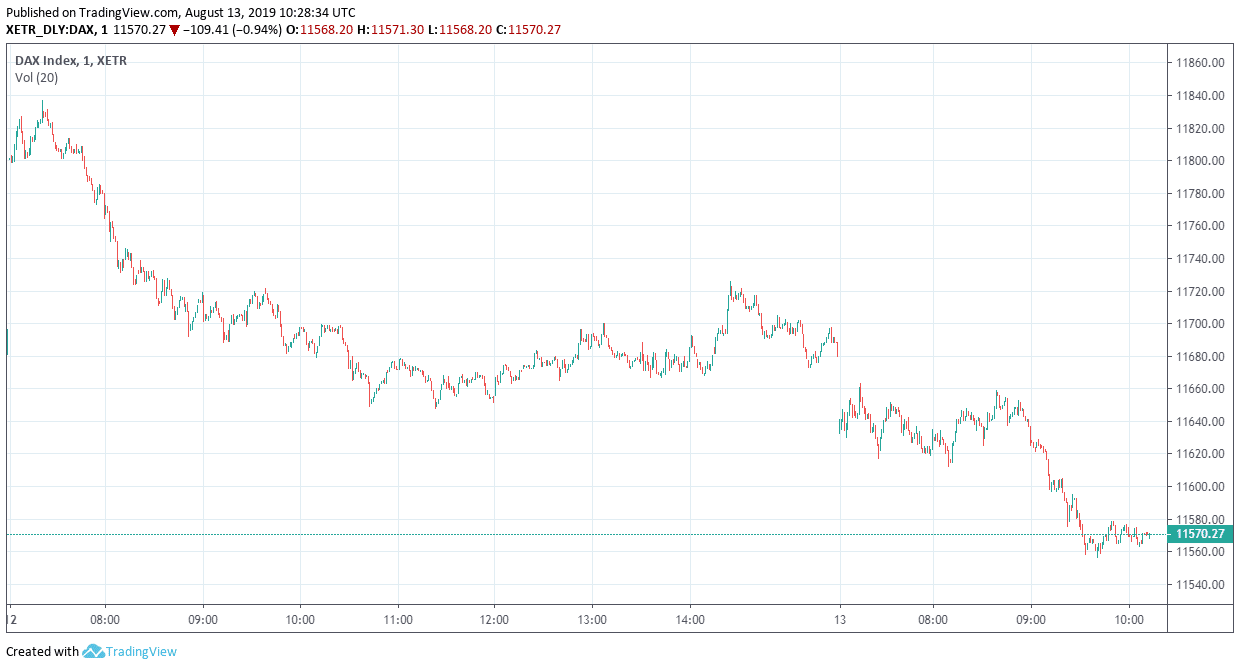 French index CAC 40 dropped by 0.59% to 5,278.84 points. The stocks of Societe Generale and BNP Paribas declined slightly by 0.4% and 0.3%, respectively. Carmakers are performing worse with Renault dropping by 2.8% and Peugeot edging lower by 2.6%.
British index FTSE 100 is down by 0.55% to 7,187.20 points. The UK employment rate for April to June was estimated at 76.1%, the joint-highest on record since comparable records began in 1971, the Office for National Statistics (ONS) reported. Package tours operator TUI AG was a bright spot, rising 1.35%, following its fiscal third-quarter results.

Wall Street pre-session recap
Wall Street stock index futures were lower Tuesday morning, after steep losses in the previous session fueled concerns about the state of the economy.
At around 6:10 a.m. ET, Dow futures indicated a negative open of more than 74 points. Futures on the S&P and Nasdaq were both lower, as well.
The investors will watch the latest National Federation of Independent Business small business optimism survey for July will be released at 6 a.m. ET. Key annualized and monthly Consumer Price Index (CPI) and core CPI data for July will be released at 8:30 a.m.
In corporate news, JD.com, Advance Auto Parts, and Elanco Animal Health are among some of the companies scheduled to report their latest quarterly results before the opening bell.

---
Posted from my blog with SteemPress : http://financeandmarkets.com/global-stocks-are-deep-into-the-red-on-tuesday/
---