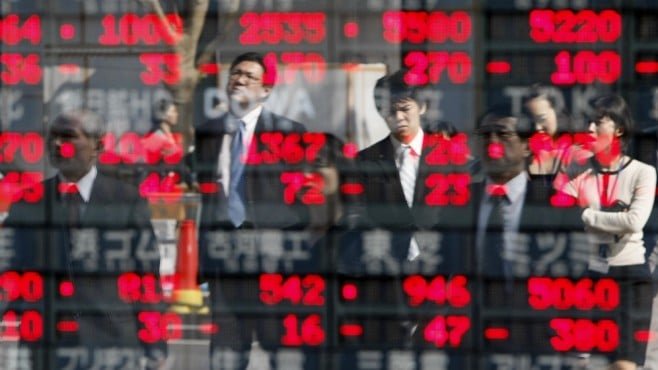 Global stocks erased solid overnight gains early Thursday after China vowed to take steps to counter US tariffs, rattling global equity markets and sending Dow futures lower. Asian stocks were mixed but at the start of the trading session in Europe the sentiment of investors deteriorated and the stocks fell sharply.
Markets were shaken by a pair of reports out of Asia. China has to take necessary counter-measures to the latest US tariffs on 300 billion USD of Chinese goods, the finance ministry said Thursday. The ministry also said the US tariffs violate a consensus reached by leaders of two countries and get off the right track of resolving disputes via negotiation.
That follows the Dow Jones Industrial Average's worst day of the year on Wednesday amid a recession signal from the bond market. The stock market took a huge hit in the previous session with the Dow plunging 800 points in its fourth-largest point drop ever to a two-month low. The Dow's 3% drop was the worst this year. The S&P 500 also fell nearly 3%.
The massive sell-off was triggered by a bond market phenomenon on Wednesday where the yield on the benchmark 10-year Treasury note briefly broke below the 2-year rate. The inversion of this key part of the yield curve has been a reliable indicator of economic recessions.

Asian markets recap
Shares in Asia were mixed Thursday afternoon as the main yield curve in US Treasurys inverted, triggering fears over the state of the US economy.
In China, the index Shanghai Composite rose by 0.25% to 2,815.80 points, while the Shenzhen Component rose by 0.48% to 9,009.68 points. There are chances that China's bond and stock markets could turn bullish with the help of domestic and foreign capital. Real estate firms also provided some support, after data showed a modest gain in the country's new home prices. China's new home prices rose in July as the property sector held up as one of the few bright spots in the slowing economy, although easing momentum in some markets took immediate pressure off regulators to unleash major new curbs to deter speculation.
Hong Kong's benchmark Hang Seng index also rose 0.72% to 25,495.46 points, as of its final hour of trading.
In Japan, the blue-chip index on Tokyo Stock Exchange, Nikkei 225, dropped sharply to a six-month low, declining by 1.21% to 20,405.65 points at the end of trading, its lowest level since February 8. All sectors reported declines, led by oil, coal, and retail. The best performers of the session on the Nikkei 225 were Trend Micro (+3.15%), Ricoh Co (+1.09%) and Tokyo Gas Co (+0.94%), while on the flipside were Marui Group Co (-4.97%), CyberAgent Inc (-4.63%) and Familymart Ltd (-3.51%).
In South Korea, the local index Kospi gained 12.54 points, or 0.65%, to 1,938.37 points.
Australian S&P ASX 200 tumbled 2.85% to close at 6,408.10 points, as data on Thursday showed the jobless rate unchanged despite employment numbers in the country soaring past expectations in July.

European markets mid-session recap
European stocks gave up early gains to slip into negative territory Thursday following a global sell-off as bond markets stoked fears of an impending recession. The pan-European Stoxx 600 fell by 0.8% to 363.31 points in mid-session trading. Weak economic data out of Germany and the Eurozone compounded fears within Europe, with the German economy contracting in the second quarter.
German index DAX 30 edged lower by 0.92% to 11,386.50 points at 10:00 GMT. The stocks of Deutsche Lufthansa fell by 4%, hitting more than 1-year low. The shares of carmakers are also into the red with Daimler declining by 2% and Volkswagen falling by 1%.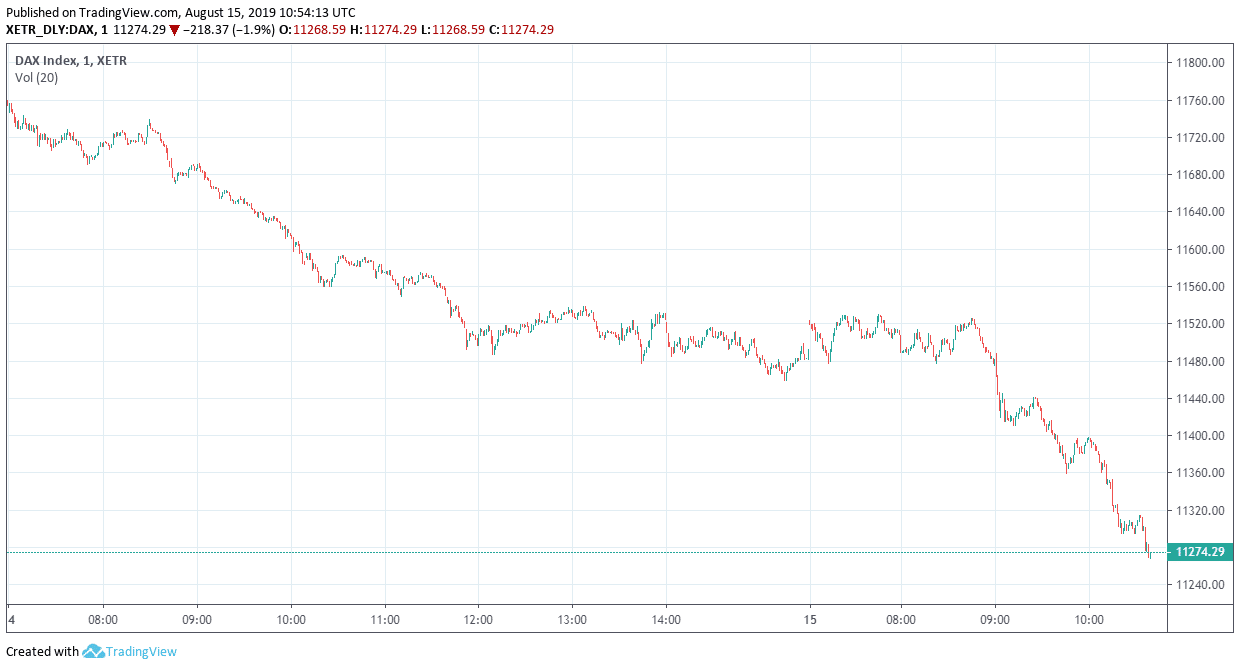 French index CAC 40 is down by 0.79% to 5,209.80 points in mid-session trading. The shares of Societe Generale and BNP Paribas were down by 2% and 0.75%, respectively.
British blue-chip index FTSE 100 wiped out 82.13 points, or 1.15%, to 7,065.75 points. Online trading platform Plus500 surged 9.2% to a four-month high after its chief executive officer and some other directors bought shares of the company. The stocks of GVC gained 3.7% after the Ladbrokes owner raised its annual core profit forecast after a better-than-expected performance in its UK retail business in the first half of the year. Shares of blue-chip consumer goods stocks such as BAT and Imperial Brands eked out gains, suggesting that some defensive buying could be at play.

Wall Street pre-session recap
The futures of the main Wall Street indexes are down on Thursday, erasing solid overnight gains early Thursday after reports out of China and Hong Kong rattled global equity markets.
Dow Jones futures slid by 88 points at 06:15 a.m. ET, indicating a negative open by 91.42 points. The futures of S&P 500 and Nasdaq Composite are also lower, indicating a negative open by 8.25 points and more than 60 points.

---
Posted from my blog with SteemPress : http://financeandmarkets.com/global-stocks-erased-solid-overnight-gains-early-thursday/
---