The news that the administration of US President Donald Trump is postponing the introduction of new tariffs on mobile phones, laptops, toys, and other products to December 15, softening the blow against China, shot Wall Street indexes at the stock exchange session on Tuesday.
The blue-chip index Dow Jones Industrial Average ended the trading session with an increase of 373 points, or 1.44%, to 26,279.91 points. At the start of the trading, the benchmark gained more than 529 points but later went into a correction.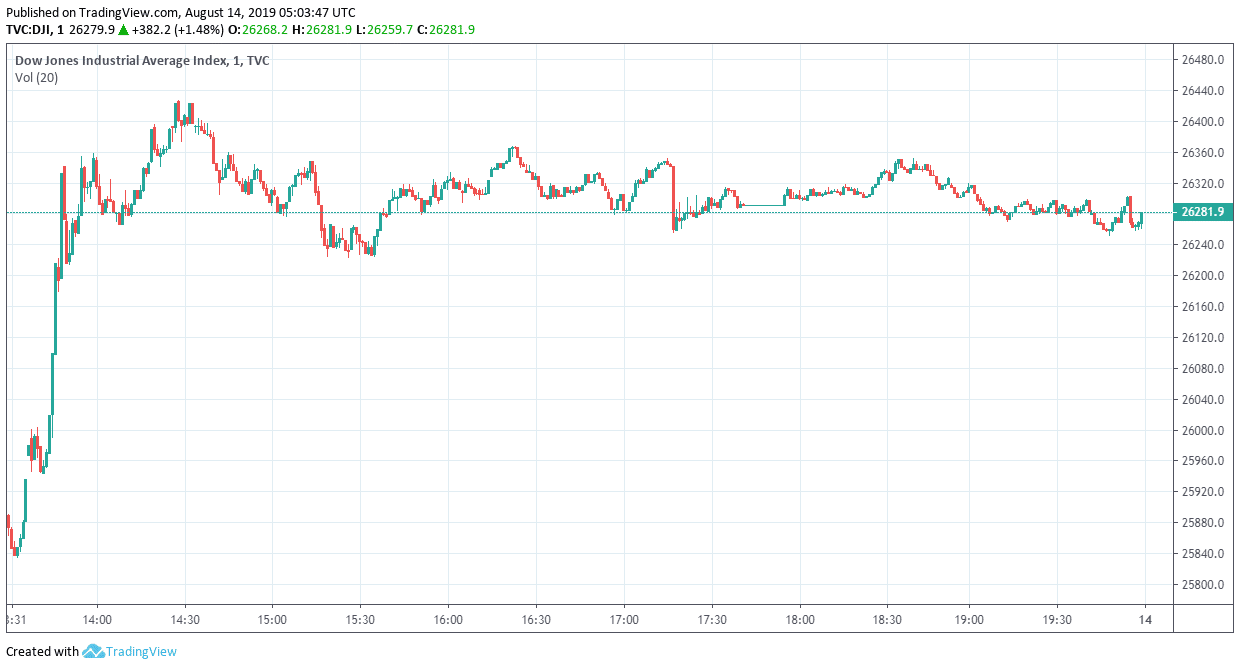 The broader S&P 500 rose by 42.57 points, or 1.48%, to 2,926.32 points, while the technology Nasdaq Composite closed the session with a gain of 1.95% to 8,066.36 points. The reason for the good results was the appreciation of Apple shares, which jumped by over 4%.
The CBOE Volatility Index, which measures the implied volatility of S&P 500 options, was down 16.60% to 17.59.
The US government will postpone the introduction of additional 10% tariffs on imports of certain Chinese goods, including laptops and cell phones, to December 15. This was reported today by the Office of the United States Trade Representative.
Initially, the duties were due to take effect on September 1. Other goods on which duties are deferred include computers, video game consoles, some toys, computer monitors, certain categories of shoes and clothing. The planned customs procedure will exclude a single product group altogether because of "factors related to health, safety, national security, and other grounds".
Earlier today, US President Donald Trump said that his administration has decided to postpone the introduction of the new tariffs to avoid a blow to US consumers ahead of the Christmas shopping season.
"We're doing this for the Christmas season, to avoid any adverse effects on US buyers", said Donald Trump.
Investors' sentiment was also influenced by US consumer price index (CPI), which rose by 0.3% MoM in July, pushed up by more expensive gasoline, healthcare and housing. The consumer price index rose by 1.8% YoY after reporting an annual growth of 1.6% in June. Excluding the highly variable categories of food and energy, the core inflation accelerated by 0.3% MoM and 2.2% YoY. The data indicate a slight increase in the indicator. The US economy is in its 11th year of growth, with low unemployment and moderate wage growth. These are trends that usually accelerate price increases. However, many companies refrain from appreciating their goods and services against the backdrop of online commerce competition. Most major categories of goods and services went up last month, with homes jumping by 3.5% over the past 12 months.
The protests in Hong Kong and the collapse of the Argentine peso have worried investors. The Argentine peso has fallen again, after recovering slightly at the start of trading today. The currency lost 3.01% of its value against the US dollar after the defeat of the current President Mauricio Macri in the primary election, which is seen as a test of the October elections. Yesterday the currency crashed by 18.76%.
Earlier today, the Chinese National Bank set a reference median exchange rate for the yuan against the dollar, setting a price of 7.0326 yuan for the dollar. Trade talks between Beijing and Washington are expected to continue in the US capital in early September.
Bond yields have plunged lately, although they moved slightly higher Tuesday as stocks rallied. The benchmark US-10 Year Treasury is now hovering around 1.69%, not far from its lowest level in about three years, while the 30-Year Treasury, with a yield of near 2.15%, is approaching an all-time low.

Corporate stocks performance
The stocks of the retailers appreciated amid the postponing tariffs on Chinese imports. Shares of Best Buy rose more than 6% and Nike jumped by 2%. Nordstrom's stock also rose by nearly 2%. The SPDR S&P Retail ETF also reported a 1.6% increase at the close of trading.
Tech stocks were among the market's biggest winners. Apple surged 4% while chipmakers Nvidia and Intel were up about 3%.
Chinese stocks that trade in the United States also skyrocketed. Online retailer JD.com was up nearly 13% after reporting better-than-expected sales and earnings. Rival Alibaba, which will report its results Thursday, rose about 3%.
Shares of CBS Corp and Viacom Inc rallied by 4.1% and 2.4%, respectively, after the media and entertainment companies announced a merger deal, creating a combined company, ViacomCBS Inc, with more than 28 billion USD in revenue.
Shares of Genworth Financial Inc rallied 15% after the insurer announced an agreement to sell a majority stake in Genworth MI Canada to Brookfield Business Partners LP for about 2.4 billion CAD (1.8 billion USD).
Shares of CIT Group fell by almost 4% after it announced that its CIT Bank N.A. subsidiary was in a deal to buy Mutual of Omaha's savings bank subsidiary, Mutual of Omaha Bank, for 1 billion USD in cash and stock.
The top performers on the S&P 500 were Symantec Corporation (+6.69%), Best Buy Co Inc (+6.47%) and Micron Technology Inc (+4.84%), while on the flipside were Southern Company (-2.47%), Cabot Oil & Gas Corporation (-2.07%) and United Dominion Realty Trust Inc (-1.97%).

---
Posted from my blog with SteemPress : http://financeandmarkets.com/wall-street-indexes-rise-after-us-delays-new-tariffs-on-chinese-tech-imports/
---