Hello, foodies!
Today i would like to share one of our Japanese Food Experience, this time in Yoshinoya. Yoshinoya's newest outlet has opened in Food Society Food Court, 5th floor Blok M Plaza - South Jakarta a couple of months ago. Since then, My mom and I often go there to have the dinner.
Maybe you ask me why to this outlet? Cause there were many yoshinoya's outlets around. First even they said they cooked it all from one source, the flavor could be vary, before the outlet in SCBD closed, the outlet was our favorite cause the flavor of their beef were delicious and luckily we found this outlet, which had the same oishii taste as in the SCBD old outlet. Even a larger outlet didn't guarantee the deliciousness of their food. Second, the ambience of the foodcourt was great too, comfortable and also not too crowded.
Once of the experience, a week ago, mom tempted by their newest menu, Spicy beef bowl with glass noodle.
Like we came here, then order the food on the food stall then paid. After that, waiting our orders in the pick up area, at the right side of this food stall.
Here was the food stall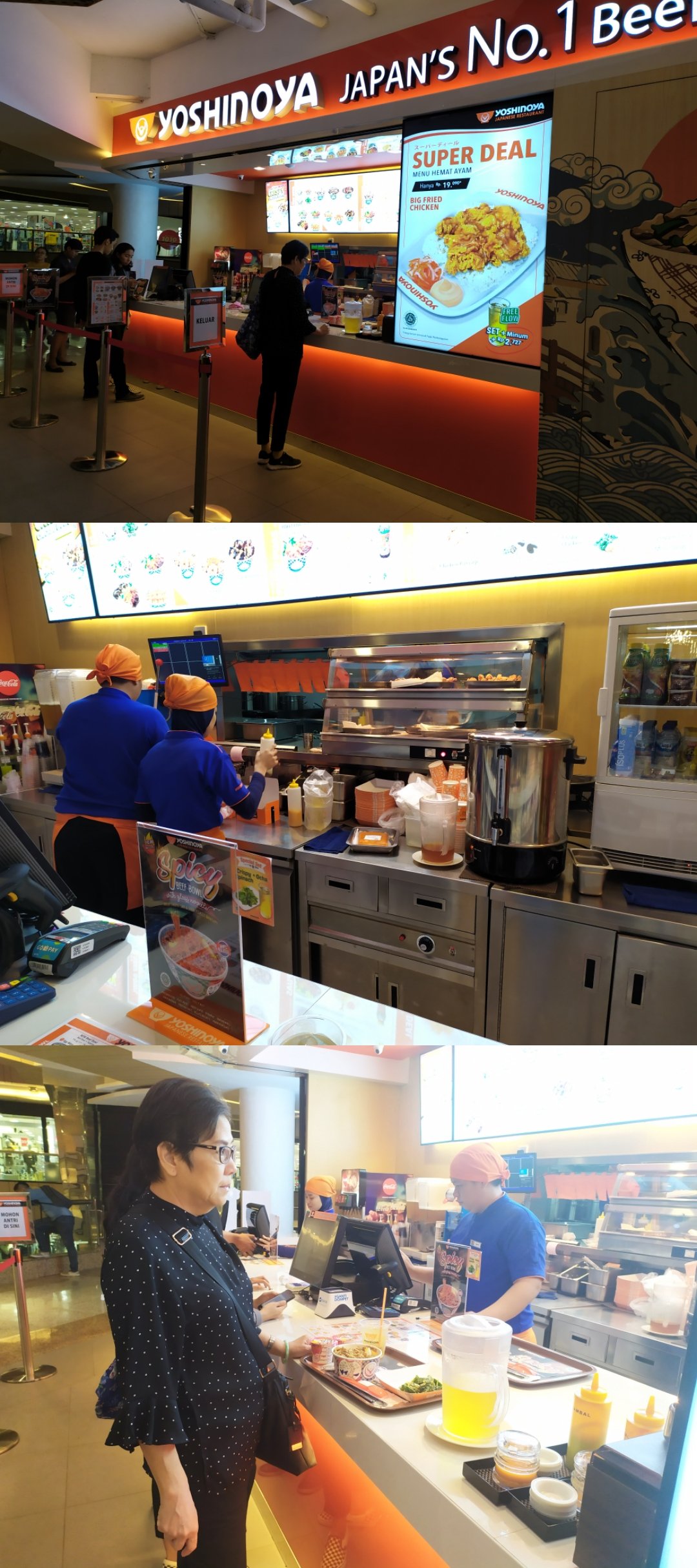 The stall was quite large, and the waiters or waitress were nice, one of the best and kind one was serving us that day. He had a good service quality, nice and fast. Perfect!
The menu here were mostly beef bowl and they also promoted their new menu, Spicy beef bowl with glass noodle.

After waiting for several minutes here were our food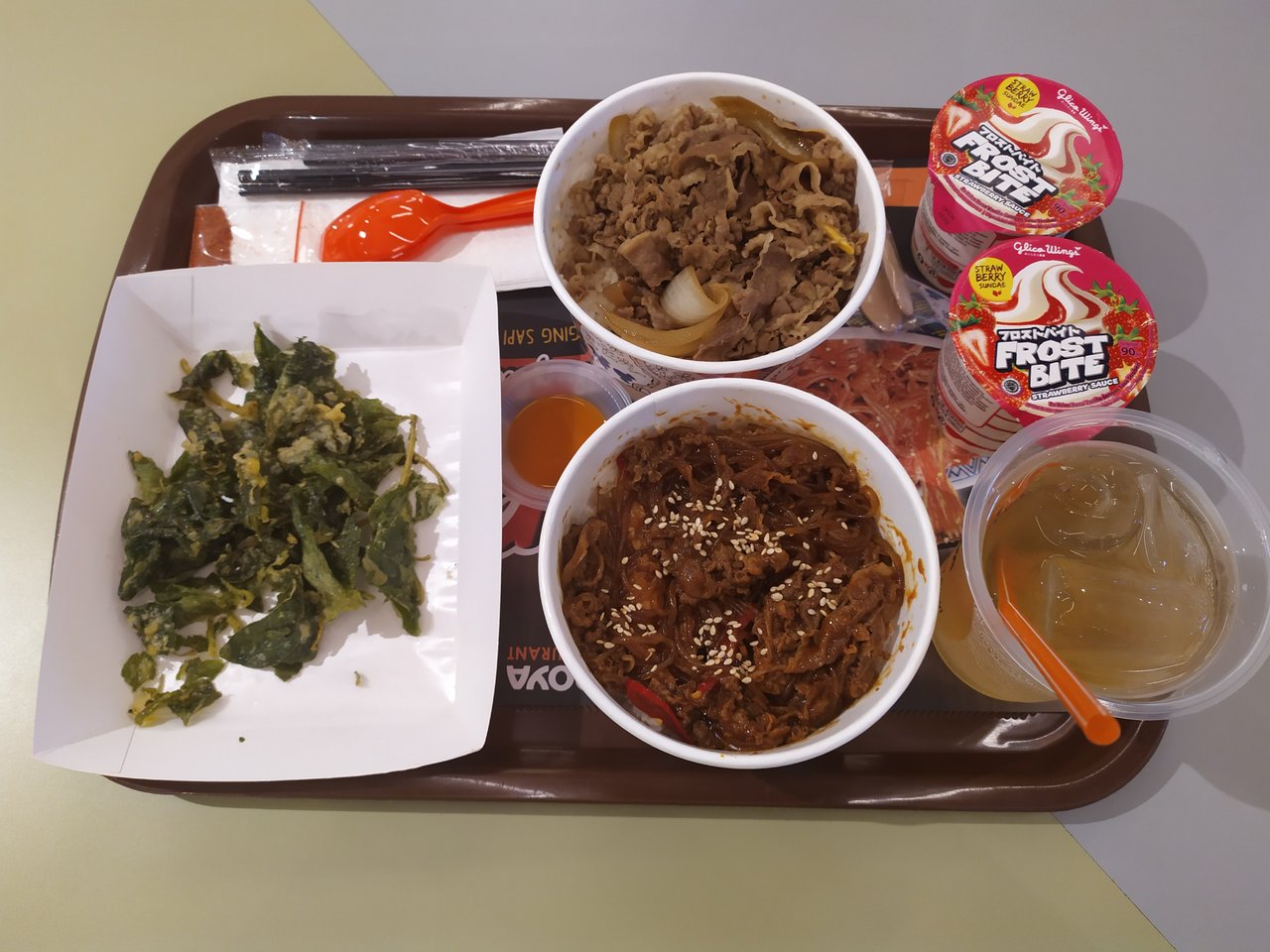 Mom ordered the spicy beef noodle with glass noodle, it was packaged with the ocha and also crispy spinach. The flavor of the spicy beef noodle was so spicy, the glass noodle was too chewy and a bit hard to bite. Beef was like usually, great. They always use imported beef.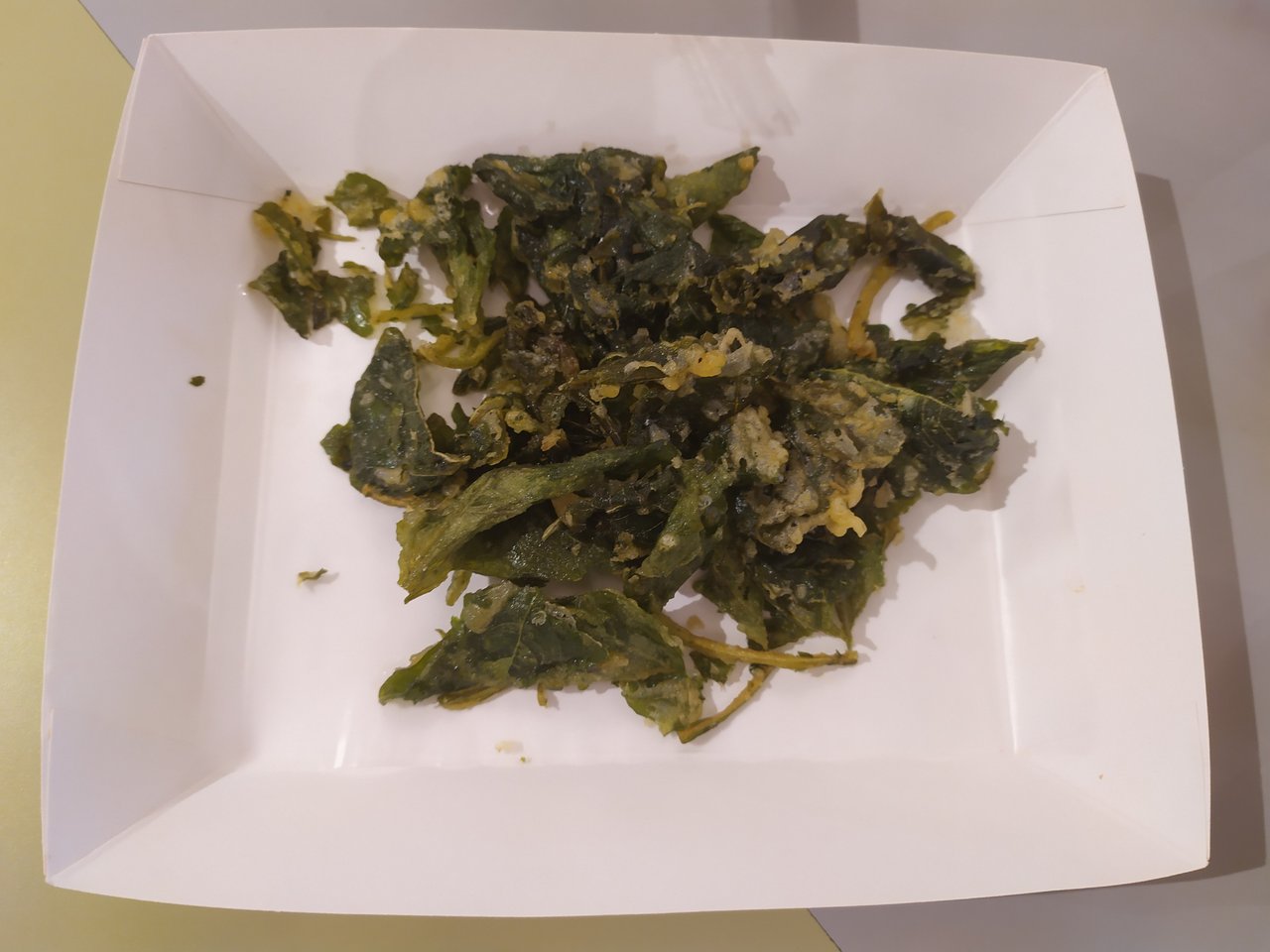 The crispy spinach tasted great. So crunchy, yummy and savory of course!

Mine was original beef bowl. I added some chilli powder and also chilli sauce. The chilli sauce here was perfect, hot a bit sour and tasty. I loved how they cooked the beef, it was tasty, savory and yummy. おいしい!
Nothing compare with this one, i thought mom's menu lost this time, mine was still the best.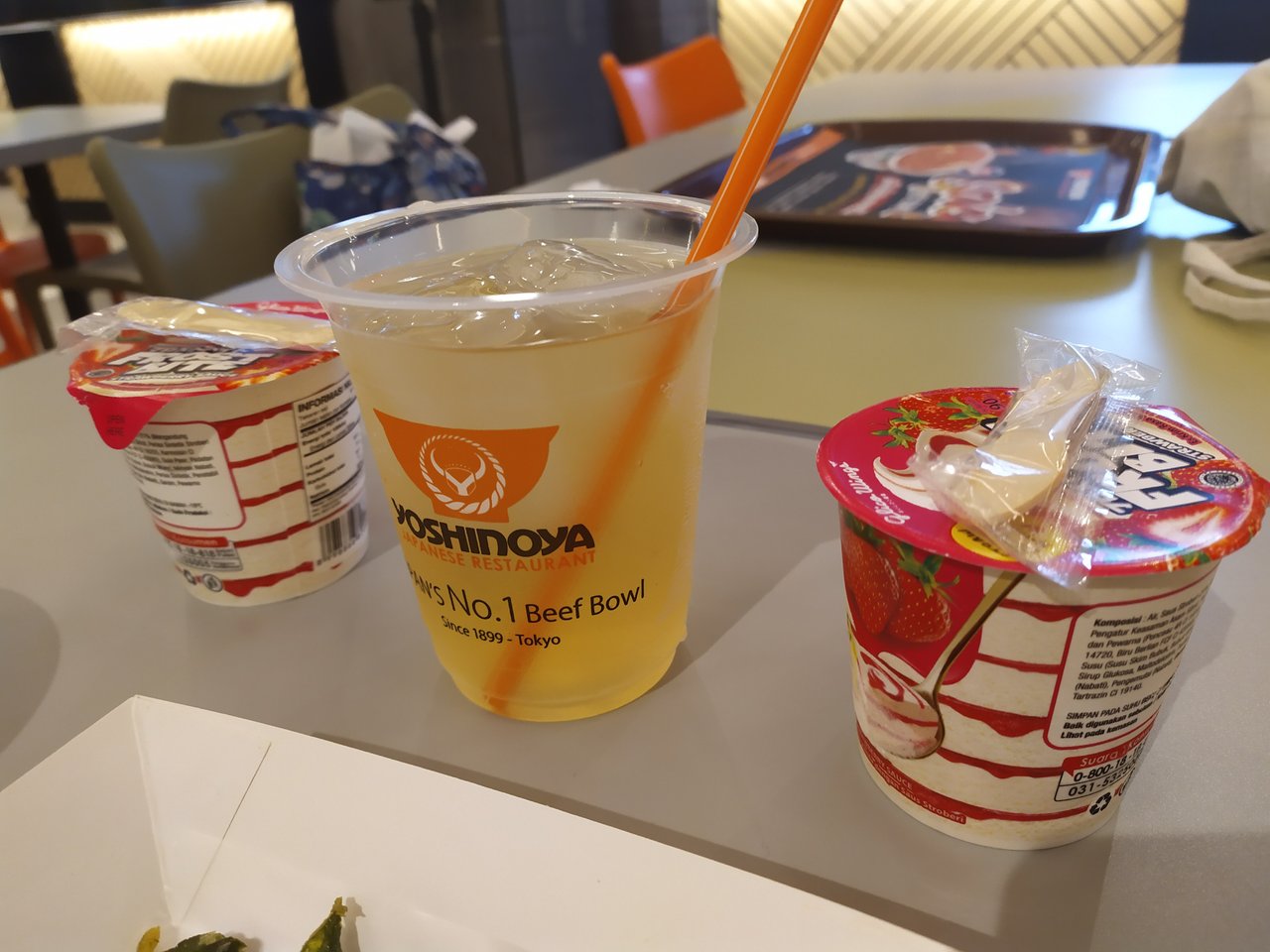 Extra:
If we bought a beef bowl here, any of it, you could buy the buy one get one ice cream here, mom and i chose the same flavor, strawberry sunday.

The ice cream was so delicious, milky and creamy. The strawberry tasted like jam. The ice cream was so smooth and delicious.
The Dining Area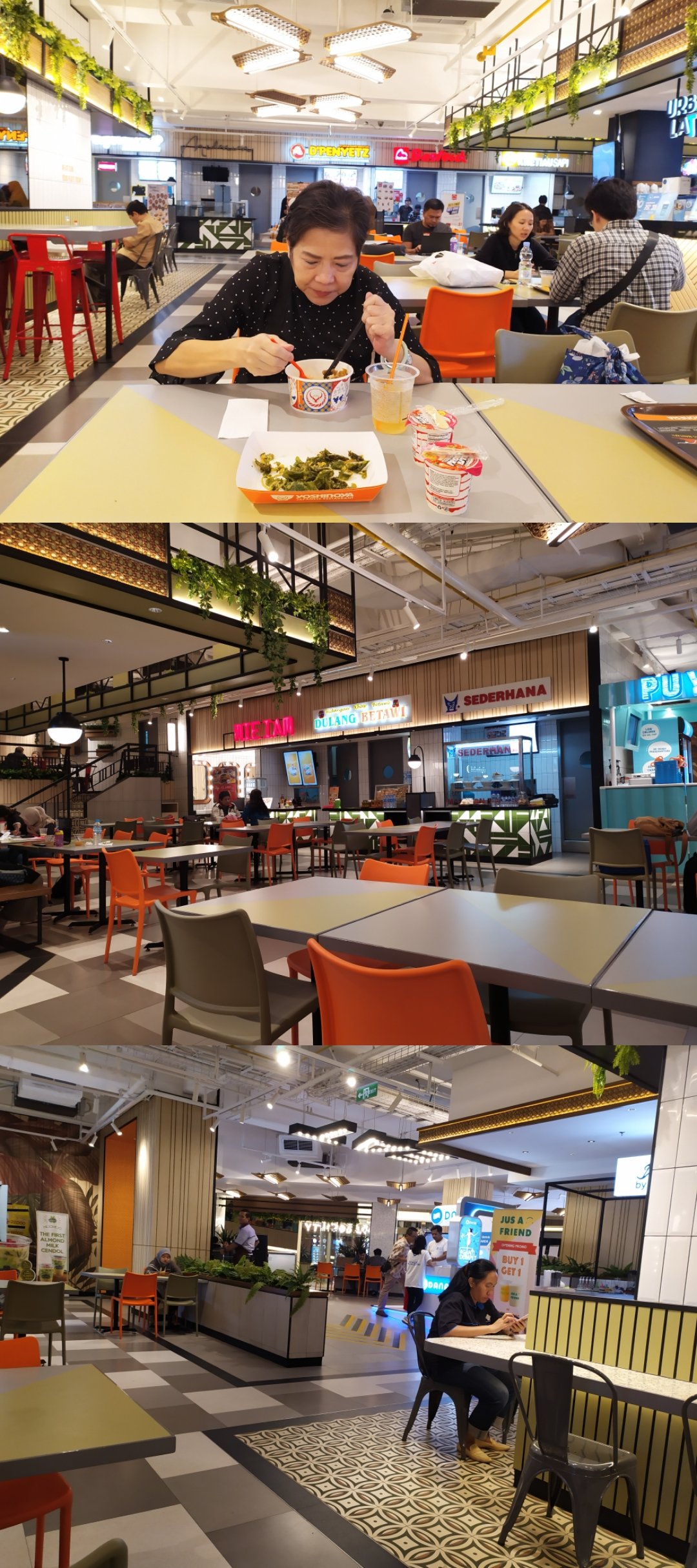 I loved the ambience here, it was large and cozy, always clean and neat. And they also had a hand wash area!
The Price
Almost forget to tell you about the price, mine was 51,000 IDR. Mom was 51,000 IDR, cause her beef bowl was regular size, while mine was large. And for the ice cream, it was 6,000 IDR for 2. So altogether, we paid 107,000 IDR or around 7.64 USD.
From all the Yoshinoya's outlet we ate, i really recommend you this one to have your own beef bowl
Yoshinoya
Food Society
5th floor
Blok M Plaza
South Jakarta
open daily 10 am-10 pm
---
Posted from my blog with Steem中文社区 : http://cnstm.org/blog/2019/11/01/food-hunting-the-newest-japanese-food-menu-spicy-beef-bowl-with-glass-noodle/
---