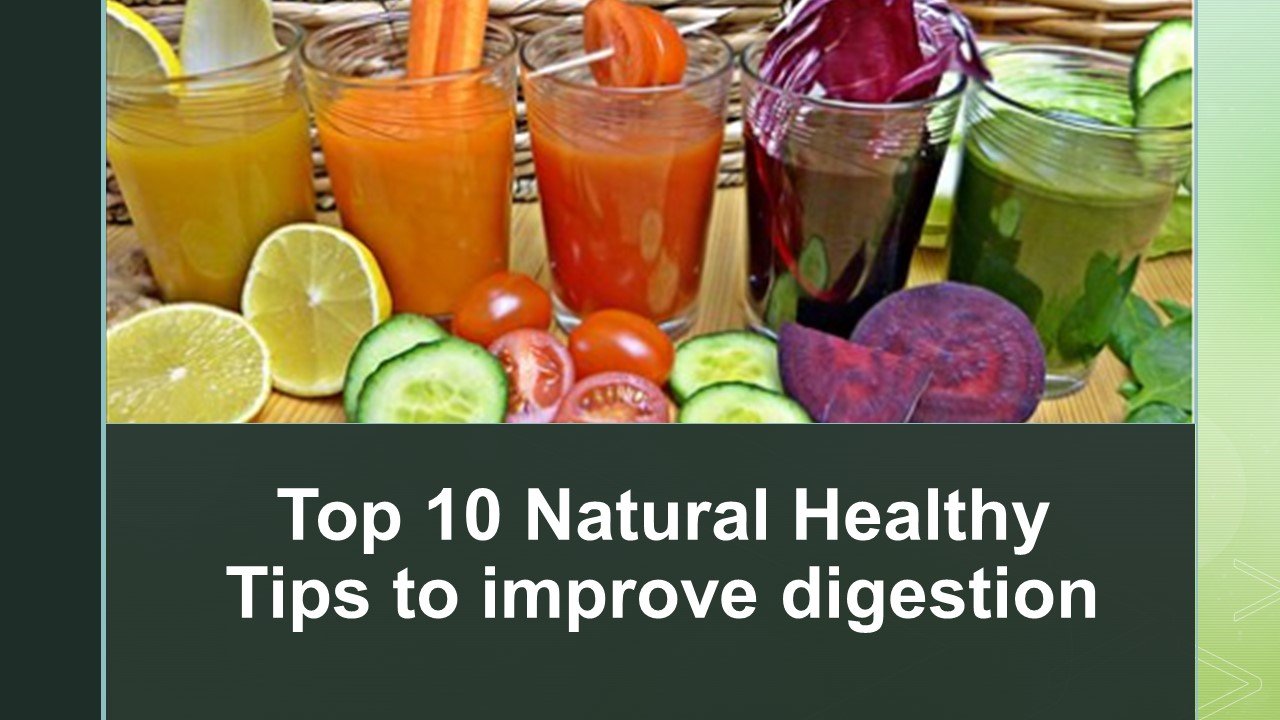 Digestive disorders or problems tied to indigestion without a known cause can ravage your daily life. You can regain a good balance through a few changes in diet, enhancing your hydration levels, routine walk, and check on the composition of your supplements and medications. Most people experience digestive disorders at one time or another. The right balance of the digestive system is essential for the proper metabolism of the foods you eat so they can be utilized by the body.
Digestive issues have become a universal problem nowadays. But for a certain part of the community:  Gas, bloating, constipation, diarrhea or heartburn have become habitual and chronic disorders.
When your doctor can not find the underlying cause of the problem, it is called a gastrointestinal disorder with no specific cause. In many cases, though, there is a way to get some aid and by simply changing your eating habits you can overcome many problems tied to digestive disorder.
Here are our top 10 Natural healthy tips for enhancing your digestive health.
1. Chew slowly
Digestion begins in the mouth, and careful chewing prepares the ground for the rest of the process. Chewing is essential to assimilate and digest well. Eating quickly or swallowing food may also facilitate air ingestion and cause bloating. There is no need to rush when you are eating your food. Chewing is often underestimated but is crucial for proper digestion.
Tip: Take your time & chew your food properly at least 20 -30 times before swallowing.
2. A high Fiber diet
It's important that you eat enough fiber – soluble & insoluble to keep your food moving through your intestine easily. Also, because fatty foods are hard to digest, pair such foods with fiber.
Soluble fiber found in apples, oats, and legumes helps lower cholesterol levels and possibly sugar levels.
Insoluble fiber helps to swell the stools and promotes intestinal contractions that propel them into the body. It is found in whole wheat, popcorn, and green vegetables.
Tip: If you are constipated, add more insoluble fiber, and if you have diarrhea, go for soluble fiber.
3. Drink plenty of Water
Drink water and herbal teas, and especially avoid sugary drinks and sodas. Your digestive system will be more effective if you help it by bringing a lot of fluid throughout the day. Water is not only the option – you can drink fresh fruit juices, soup or an herbal tea they all will do the same job in aiding digestion.
Tip: Avoid, however, coffee and tea that tend to promote heartburn.
4. Eat on Time
Irregular eating habits is one of the main cause of digestive disorders. Instead of eating two meals or a heavy meal, you should try to eat in small portion and that too in regular intervals throughout the day.
Tip: Follow a regular meal schedule to keep your digestive system healthy.
5. Take a Stroll
Whether you are at home or on a lunch break, learn to take the time to walk a few minutes after each meal. It's good for the digestive system as it ensures good digestion and prevents constipation and bloating. Sometimes it only takes a few tens of meters to help your body. If you work sitting all day, this small walk will also help you fight against the evils of sedentary life, so do not deprive yourself!
Tip: Walk for 10-15 minutes at-least after having your meal as this will promote blood flow to the organs and engages muscles in the GI tract.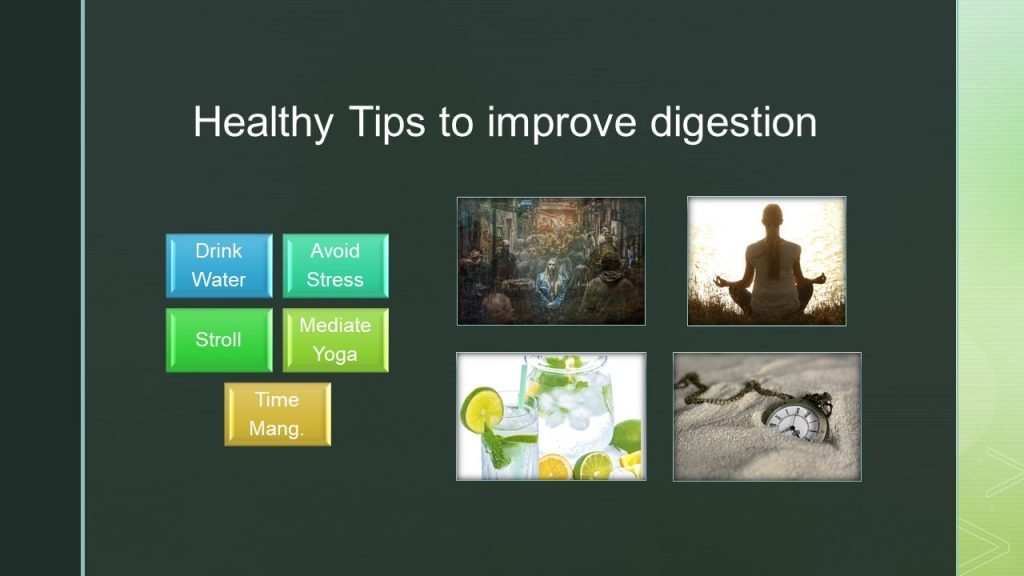 6.  Add some spices
Although it is known that spicy food is not ideal for good digestion, some spices play a positive role in this process. Some the spices like pepper, ginger and licorice which in addition to helping you digest, reduce your stomach pains.
Tip: Add up some spice to your food to aid digestion
7.  Lose Weight
Being even a few pounds overweight can cause digestive issues; for instance, the valve between the stomach and esophagus sometimes won't close completely, which allows stomach acid back into the esophagus and ultimately causing all the digestive disorders.
Tip: Have a close watch on your weight & BMI Index
8. Give up bad habits
Bad habits such as smoking and drinking alcohol can have a serious impact on your digestive system. Due to these bad habits - that it weakens the valve at the end of the esophagus, it also increases the risk of gastrointestinal cancers. Alcohol interferes with acid secretion, stomach muscles, and nutrient absorption, so be very careful not to drink too much.
Tip: Quit smoking as it has an adverse effect on your digestive system
9.  Listen to your body
We all have a different tolerance to certain foods if you see that you digest a particular food badly, get it out of your diet! Be alert to the signs and if necessary, keep a food diary in which you will also enter the effects of ingested foods on your digestion. This may allow you to discover some of the intolerances you may have.
Tip: Be alert and keep a check on the food you intake to discover intolerance caused by the food to avoid in the future.
10. Avoid Stress
Feelings of stress or anxiety can mess with your digestive system because your brain and digestive systems are connected. Try stress-relieving exercises, getting more sleep and/or relaxation techniques.
Tip: you can do breathing exercises, yoga, or simply go out and get some fresh air to destress yourself.
Finally, would like to end the article on a note that these Top 10 Natural Healthy Tips to improve digestion are insignificant remedies that will help stimulate the production of saliva, gastric juices and bile in a natural and sustainable way. The good news is that it is possible to change our habits, take precautions as necessary, be alert and adaptive to a situation and thus encourage vitality in the body. Each small integrated effort gradually contributes to enhancing overall health.
Stay Happy & Healthy... HealthDear
Support & Visit my Official Website HealthDear
---
---
Posted from my blog with SteemPress : https://healthdear.com/healthy-tips-to-improve-digestion/
---