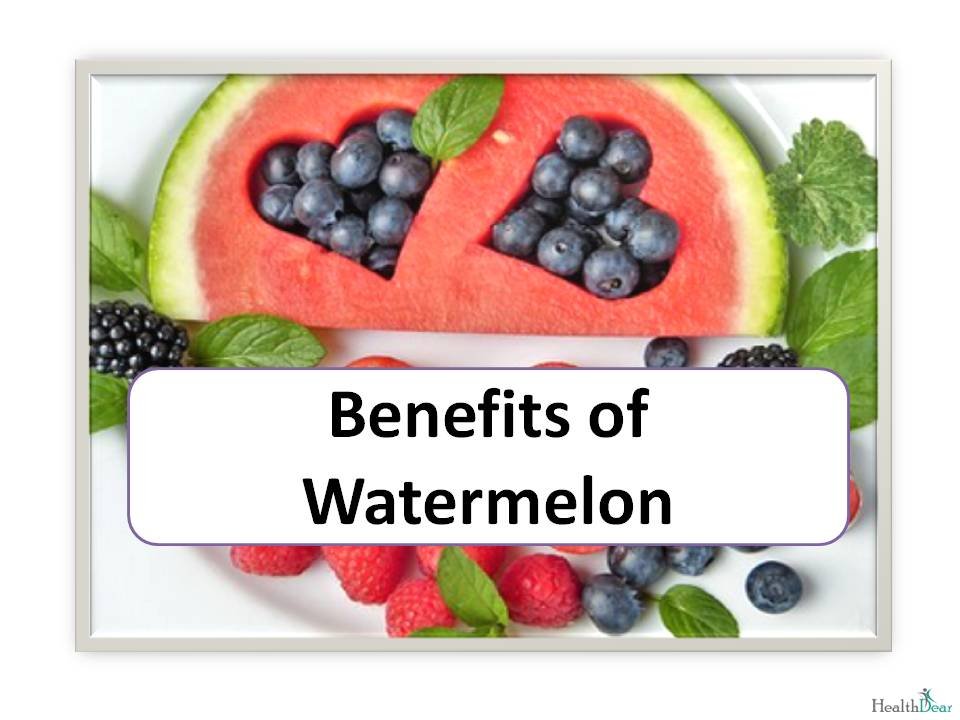 Top 8 Health Benefits of Watermelon
When we think of watermelon the first thing that comes to mind is a juicy, sweet feast to keep us fresh and hydrated in the summer season. While it is true that watermelons are perfect thirst quenchers and make a healthy refreshment on a hot day. 

But not just that watermelon has loads of other health benefits that are unknown to people. 
Watermelon consists of beta carotene which is wonderful for the skin and eye health.

It is also a small vitamin bomb with high water content in it which is believed to prevent periodontitis. It would not be wrong to say that watermelon is a super food that is detoxifying and healthy and top it up it has very few calories in it.

From nutritional physiology, watermelon is also a real powerhouse.

Nutrient content of watermelon
A cup of delicious and diced watermelon contains approximately:

| | |
| --- | --- |
| 46  | Calories |
| 11.5 grams  | Carbs |
| 0.3 milligram  | Pantothenic acid (3 percent DV) |
| 0.2 grams  | Fat |
| 1 gram  | Protein |
| 0.1 milligram  | Copper (3 percent DV) |
| 170 milligrams | Potassium (5 percent DV) |
| 865 IU  | Vitamin A (17 percent DV) |
| 15.2 milligrams  | Magnesium (4 percent DV) |
| 0.1 milligram | Manganese (3 percent DV) |
| 0.6 g  | Fiber |
| 0.1 milligram  | Vitamin B6 (3 percent DV) |
| 12.3 milligrams  | Vitamin C (21 percent DV) |
| 0.1 milligrams | Thiamine (3 percent DV) |
How to Know if the Watermelon is Ripe?
Eating watermelon which is not ripe or the one which is overripe is no fun. If you want to understand if the watermelon is ripe or not select the one which still has a small stem attached to it.
Make sure the stem of the watermelon is green and not dried out. Look for a melon that has a yellow or cream color on it.

 This indicates that the watermelon is ripe. It should have a smooth skin texture. Also, be sure to select the melon which is tight for its size. This signifies that the juices of the melon have been produced and it is now perfectly ready for consumption.

What Are The Health Benefits of Watermelon:
Health Benefit of Watermelon #1: Helps Improve immune system:
Studies indicate that the consumption of watermelons increases the concentration of the amino acid arginine which is used to synthesize nitric oxide. This, in turn, helps in making the immune function strong and is also beneficial for overall cardiovascular health.

Not just that watermelon is also an amazing source of vitamin C also, which is both an antioxidant and an immune system booster. 

Antioxidants are helpful in fighting free radicals and also helps reduce inflammation. Watermelon is also helpful in keeping our cells healthy and protects them from oxidative damage.
The benefit of Eating Watermelon #2: Relieves kidney disease
Watermelons are a rich source of potassium just like other healthy fruits and vegetables. The rich potassium content in it is very helpful in flushing out the toxic deposits of the kidney.

Watermelons are also considered very effective in decreasing the concentration of uric acid in the blood, thereby diminishing the risk of formation of kidney stones and kidney damage.  
The high water content of watermelons provokes urination, which in turn helps to cleanse the kidneys properly. 

Not just that the antioxidants properties of watermelon will ensure your good kidney health for a long time. It is also helpful in reducing the signs of premature aging such as wrinkles and age spots on the skin.

Benefits of Watermelon #3: Regulates Blood pressure: 
A study published in the American Journal of Hypertension, states that watermelon extract plays a vital role in lowering the blood pressure in overweight people who are suffering from high blood pressure. This happens because of the potassium and magnesium present in watermelons.

This happens because of the potassium and magnesium present in watermelons.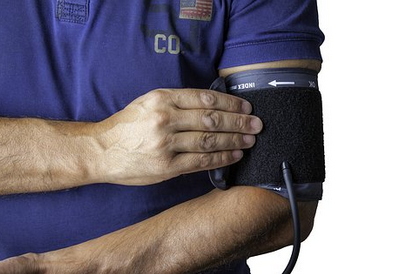 Regulates Blood Pressure
Potassium is said to be a vasodilator, which ideally means that it can release tension in the blood vessels and arteries. Thereby stimulating the blood flow and helps in reducing excess stress on the cardiovascular system. 

Not just that the carotenoids in watermelon helps to prevent the arterial walls and veins from hardening, blood pressure and also reduces the chances of blood clot formation, stroke, heart attack, and arteriosclerosis.

Watermelons Are Helpful #4: In Preventing Dehydration:
As per the research, 92% of watermelon has water content in it which can be very effective in lowering both body temperature and blood pressure. 

It makes a lovely cool drink for the summer because it helps to moisturize our body during the hot summer months.
The high water content in watermelons helps stimulates the release of excess fluid from the body in the form of sweat, thus keeping the body cool on hot summer days.

Health Benefit of Watermelon #5: It has Anti-cancer Properties:
Watermelons have gained popularity in recent years, primarily because of their impressive lycopene content.
A carotene-phytonutrient compound increasingly associated with cancer prevention. It has been confirmed that the presence of lycopene can significantly reduce the risk of prostate, colon, breast, lung and uterine cancer.
The same carotenoid also helps to keep cell membranes strong, preventing toxins from causing cell mutations.
Watermelon is helpful #6: In Controlling diabetes:
This is where watermelon comes in the picture it can be a good supplement for the diabetics. Although it should be consumed in moderation by diabetics. watermelons are sweet but have very few calories. A thick wedge of it has ninety-nine percent of its total weight is water and fiber.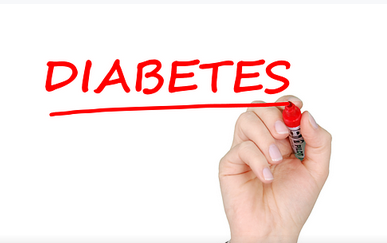 Watermelon Aids in Controlling Diabetes
Other than this the vitamins and minerals such as potassium and magnesium in watermelon also contribute to the proper functioning of insulin in the body and thus helps to lower the blood sugar level. 

Arginine is yet another ingredient found in this super fruit which is very effective in increasing the effect of insulin on blood sugar. 

Great Help Benefit of Watermelon #7: Detoxifies the Body:
As already mentioned above in the article, watermelon is full of water, as indicated by its name! Watermelon is approximately 91% water which is very helpful in removing toxins from the body and also prevents bloating. 

The two electrolytes potassium and magnesium found in watermelons helps aid the detoxification process. Potassium helps lower blood pressure. It is also helpful for water retention, allowing more oxygen to penetrate the body. 

On the other hand magnesium in it prevents bloating and is even involved in above 600 cell functions, making it an essential nutrient for the body. It is also very helpful in improving sleep quality and reduces depression that promotes the detoxification process further.
Also Check my Video on Can Diabetics Eat Watermelon?
How is Watermelon helpful #8: It facilitates acid reflux:
Acid reflux is a digestive condition in which gastric acid or bile irritates the esophagus. This happens when a muscle ring at the entrance to the stomach which is called the LES (lower esophageal sphincter), does not close completely or open too often during the digestion process.
This means that stomach acid can enter the esophagus and cause signs such as burning chest pain, bloating, nausea, sour taste in the mouth or sore throat.

Watermelons contain lots of water, which helps to reduce inflammation and carries food through the digestive tract faster, reducing the risk of acid reflux.

Support & Visit my Official Website HealthDear
---
---
Posted from my blog with SteemPress : https://healthdear.com/health-benefits-of-watermelon/
---