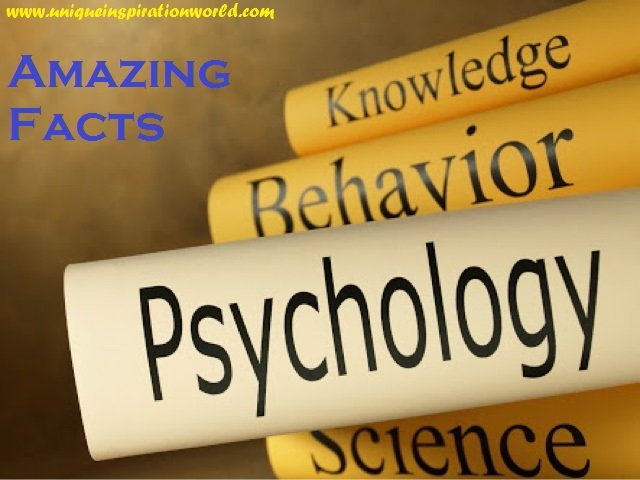 Friends, today we will tell you some facts related to Human psychology. There are so many things with us that we do not know the reason. The facts related to man's thinking and mind are called Human psychological facts. So let's read some interesting information related to Human Psychology.
Human Psychological Facts
Do not mention your goal to anyone, doing so decreases your chances of success.
The person you miss before you sleep, you either love him or hate him very much.
You will start having the same music as you hear.
People with positive thinking are more happy.
Human death can be caused by heart breakdown.
Intelligent people weaken themselves and Idiot people think themselves wise.
Most people in the 18 to 33 age group live in tension.
What we can not say You can tell it by typing it.
After the age of 33, tension is reduced to human.
Love takes only 4 minutes; Psychologists believe that.
If someone tells you that you have to ask a question, then you are reminded of all your bad deeds.
If you want to reduce depression and fatigue, sing it.
Inborn, no person is blind.
The person using too much internet is psychopath.
Love does not heart, our brain does. Love happens due to a chemical reaction in the brain.
The human brain works for 7 minutes after the death and in these 7 minutes all life events he seem as a dream.
If you have genuine love for someone, then you can not lie to him.
Eating chocolates and online shopping addiction are more than any addiction.
Those who pretend not to care, they care for the most.
If there is a lack of confidence in you then you will do very bad to others.
People with good minds are good at understanding warp
People with more sleep, hope for more sleep.
The person who tries to keep everyone happy, in the end he is most unhappy.
Negative thinking can make you sick as your cell react as much as the brain thinks.
If you think about someone more, you will go to join him as much.
The person swearing on everything is more true and honest.
People who criticize others, suffer from deprivation.
If you forget something, Keeping your eyes closed and remembering it quickly.
Women whose 'IQ level' is high, they are not made easily friends.
The style of dresses reveals your mood.
The first tear from the right eye is happy and the first tears of the left eye come out of grief.
Married people seem singles people more happy while single people feel married people are more happy.
If you look at something in shop as your boss, then the possibility of buying that item increases.
You are talking to someone and they are not answering anything, that means they do not want to listen to you.
90% people write messages that they can never say in front of them.
By reading these Human psychology facts, you will feel like I have read your mind, but no matter it is natural to be like this.
Note: - If these information given in human psychology Facts is good, so please share it with your friends.
If there is any mistake in human psychology, then comment on us, we will keep updating it.
Thank you!
---
Posted from my blog with SteemPress : http://www.uniqueinspirationworld.com/35-amazing-facts-about-human-psychology/
---