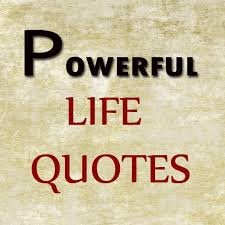 Life quotes - Best Life Changing Motivational Quotes
In life, it does not matter how much you live Rather the matter remains how happy you are in life.
In life Not to change the world...change yourself, The world will change itself.
We should do that work in our life which we like very much and we wish to do that work then we do not have to work for a lifetime.
The person who does not rise further fear of defeat, That person can never succeed in life.
When things become deteriorating in human life, So some people are very broke and some people break records.
In life if you are afraid of anything, Do not let him ever dominate yourself, Rather attack him and destroy him.
Never reveal your secret to any other person in life, because it can be a big trouble for you.
We should never think of passed things in life and should not be worried by thinking about the coming tomorrow, which is today should be happy at just that moment.
If a person has to make his dreams come true, So first they will have to see those dreams.
Anyone in the life gets a name from his deeds, Not being born of you.
It's a matter of your own point of view, Otherwise there is beauty in everything in life.
"Patience", human has such a thing, Through which he can achieve anything.
Pleasures are not already ready in life, That depends on your deeds.
You will work with a strong intention in your life then you will definitely get success.
Any work in life seems difficult until you do not move your step to do it.
When you start doing any work in your life, then that work will be good for you.
Earn till then in your life, until expensive things seem to be cheap.
Always do not wait in life because the right time does not come, it has to be brought.
Standing on the bank of the river does not cross the river, you have to go inside it to cross it.
You win the heart of the parents in your life, the victory will be in your footstep.
Life does not change in one minute but the decision taken in one minute can changes your life.
People who want to get away from you in life, they put all the blame on the situation.
In this life, man can never find two things, one is who is called mothering of mother and second, which is called the father's ability.
In this life, whatever the price of rupees falls, but it can not fall as much as human beings fall for rupees.
Whenever there is a difficult time in life then coward goes back and hard worker goes fearless.
Thank you!