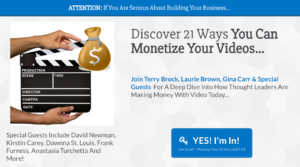 Discover 21 Ways you can monetize your video and how you can connect with important people.
Successful business leaders know that relationship marketing is critical for achieving the results you want today. Video was one of the best ways to be real with someone and connect with them.
Today when we say "video" we mean a lot more than just watching a video on YouTube, although that is very good and I do it a lot. There is a lot more that we can do ranging from Facebook Live to video email to video that you use for coaching and more. In this free Virtual Interactive Presentation you'll find out about ways that people are doing it now.
We also plan to have several globally-known professional speakers join us who will show you want you can do to leverage video to build relationships in your business, and connect with more people.
Join us tonight, Monday 19 November, at 6 PM US Eastern Time. I'll be joined by my partner, Gina Carr, and video marketing expert, Laurie Brown. This is a virtual interactive presentation that will help you to build your business and connect with important stakeholders in a powerful way.
Oh, and note that it really is at 6 PM US Eastern Time, not the time I said (incorrectly) on the video. Yep! This video is made by a real human being who makes mistakes! :-) Hope to see you at 6:00 PM ET tonight!
To register go to: http://bit/ly/21waysvip
Watch this (2:47) video and learn more. I look forward to having you join us at the event.
See you there!
Terry Brock
---
Posted from my blog with SteemPress : http://terrybrock.com/2018/11/19/21-ways-to-monetize-your-video/
---