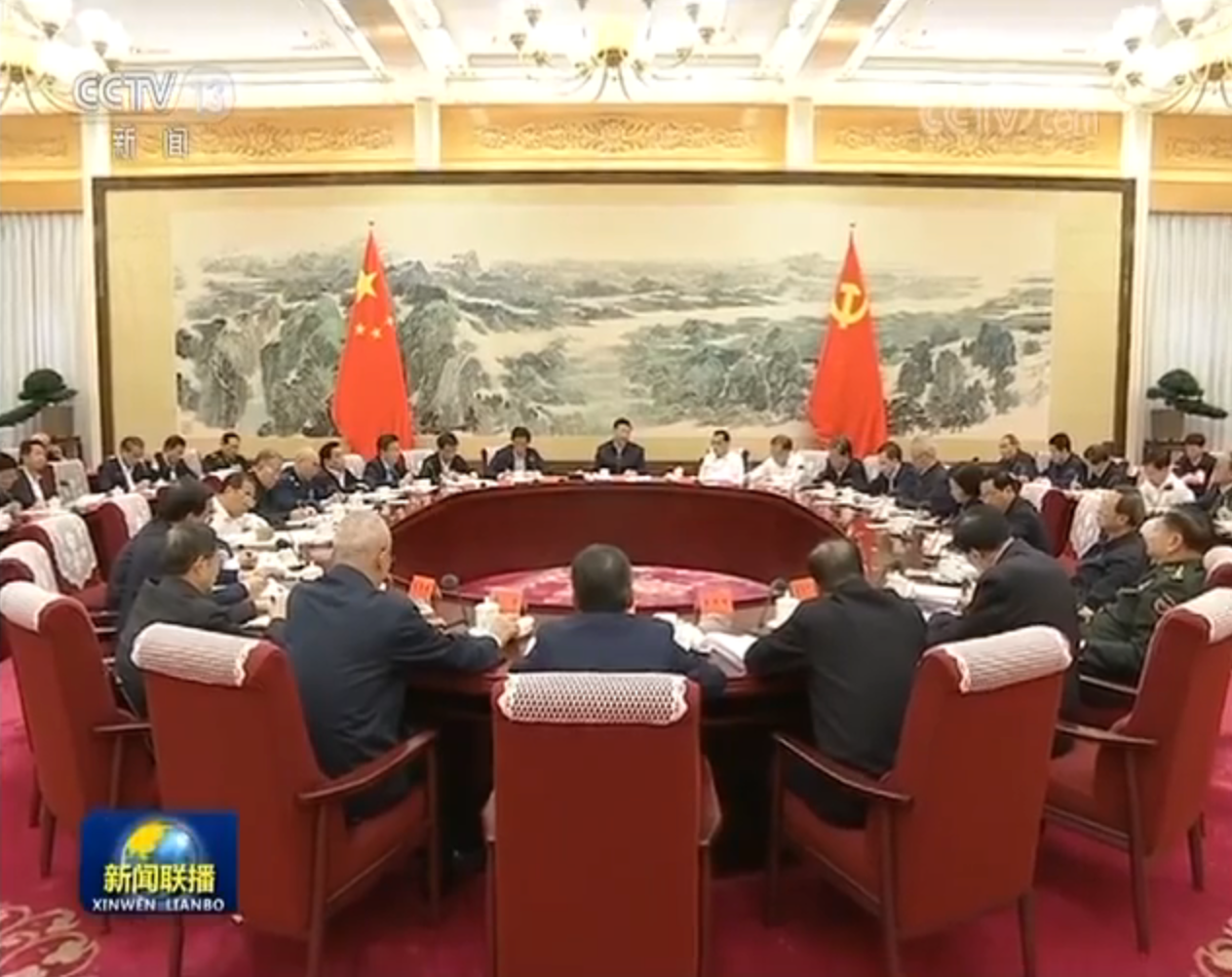 Last night, China's most authoritative media "CCTV News" has broadcastedblockchainnewsfor 5 minutes and 29 seconds. In the past 24 hours, BTC has risen by 19.29%, NEO 17.59%, BCH 15.99%, EOS 10.40%, and STEEM3.54%etc.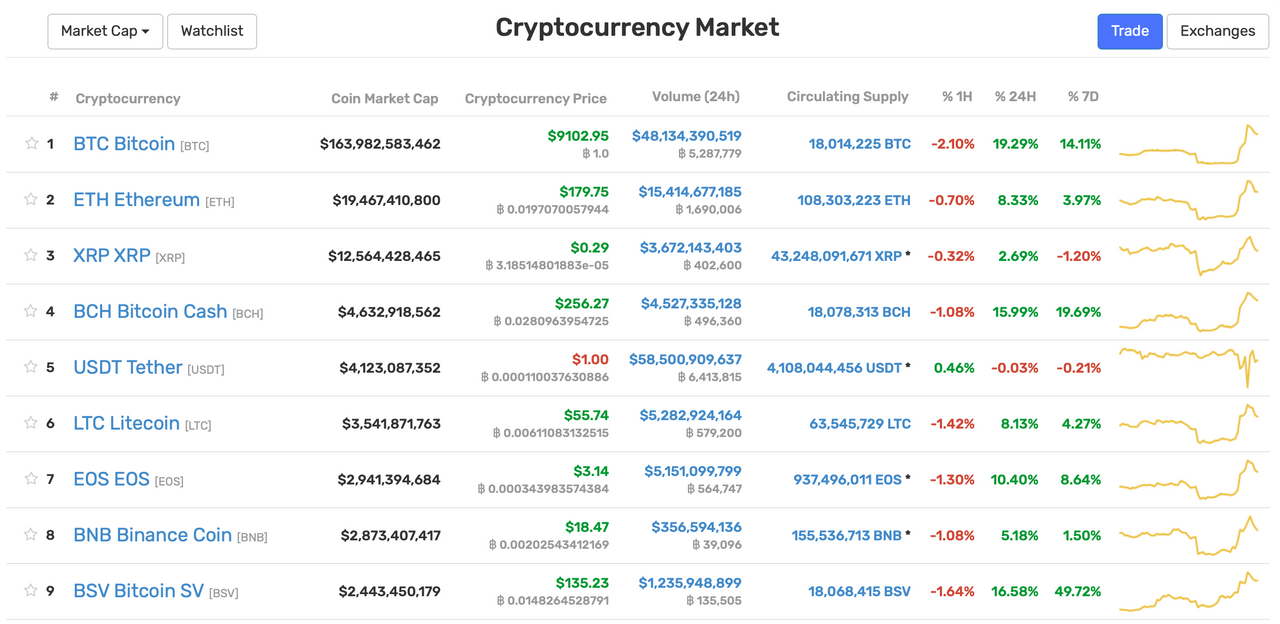 Otc 25th at 18:14:26 Xihua News Agency
CCP Minister of Policy has studied the current situation and development of blockchain technology on the afternoon of Oct 24th. At 19:00 25th, China's CCTV News broadcasted in the headline news with President Xi Jinping talking about blockchain tech, the news lasted 5 minutes 26 seconds.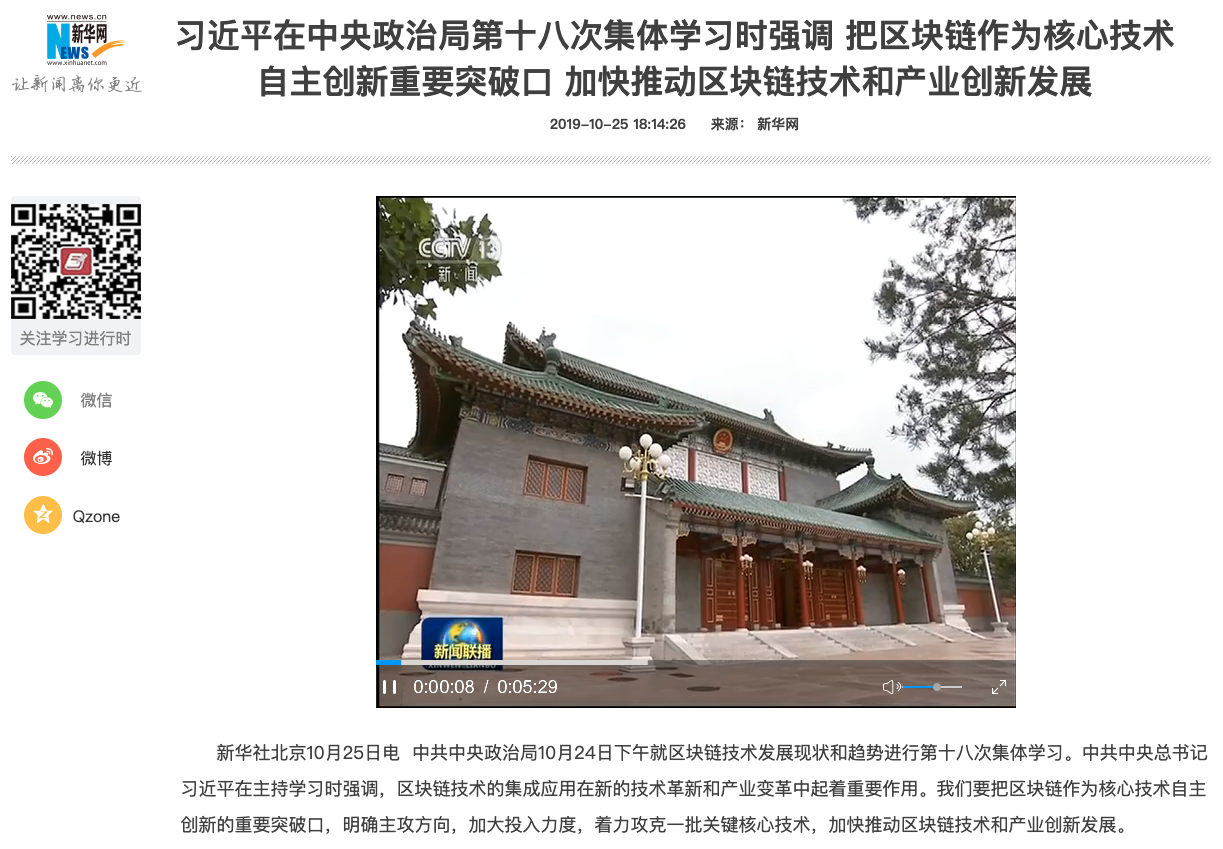 Xi Jinping, general secretary of the Communist Party of China (CPC) Central Committee, has underscored the importance of blockchain technology in the new round of technological innovation and industrial transformation. He hopes more efforts to be doneto in the sector, in order to achieve both foundamental knowlodge base and advanced breakthroughs in blockchaintechnologies. This process should be accelerated to provide both secureand controllable technological support for blockchain development and its application, said Xi, stressing the importance of stepping up research on the standardization of blockchain to increase China's influence and rule-making power in the global arena.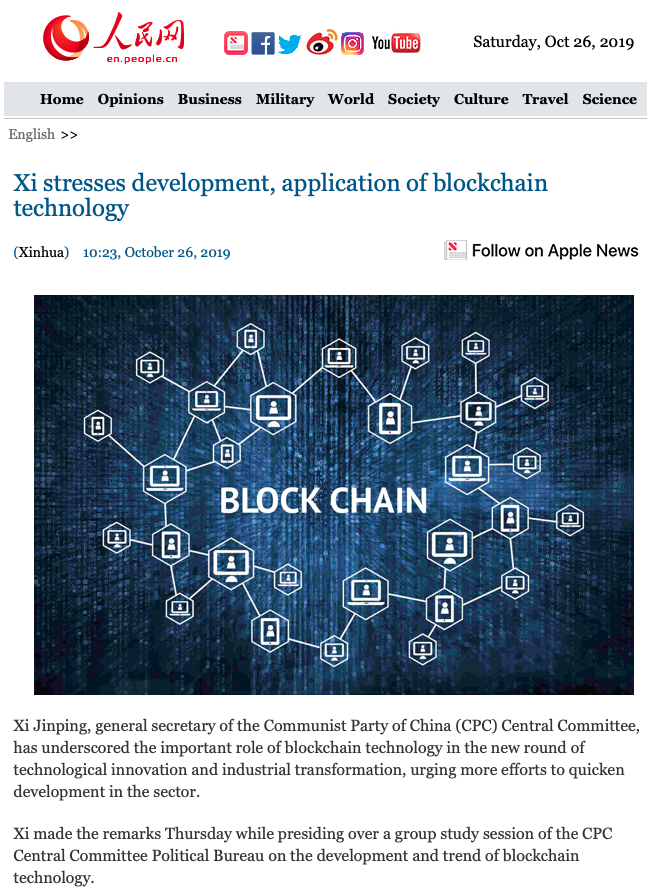 The application of blockchain technology has been extended to sectors including digital finance, Internet of Things, smart manufacturing, supply chain management and digital asset trading, and the world's major countries are stepping up efforts in planning blockchain technology development, Xi said.Noting that China's blockchain sector has a sound foundation, Xi stressed expediting the development of blockchain technology and innovation-driven industrial development.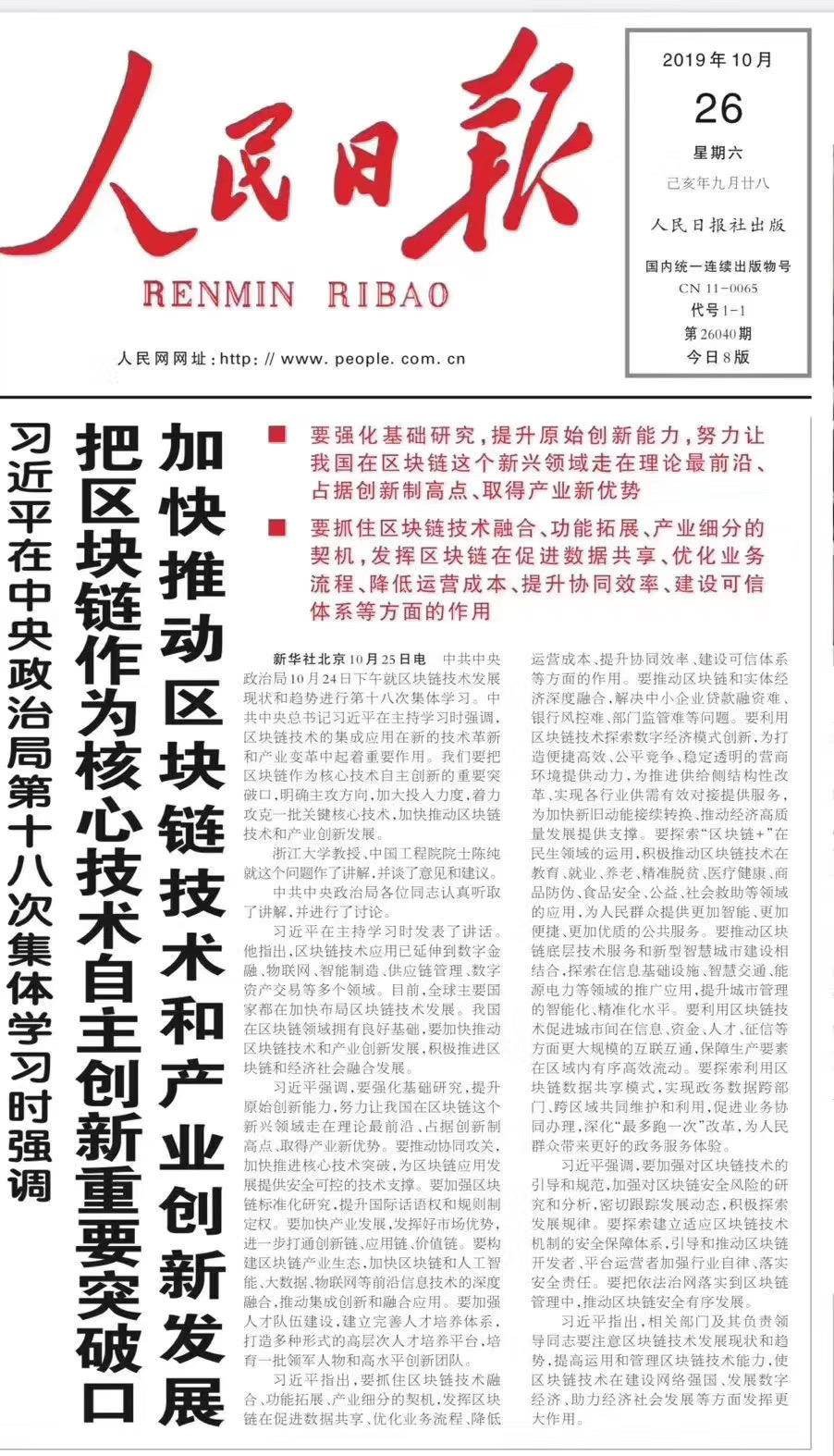 In China's biggest SNS, Wechat moments, the news has been widely spreaded and reposted. Inside Wechat groups, it has been heavily discussed.
China is a huge market and it supports the blockchain technology developement. Steem blockchain, together with community and Dao, is also certainly promising. We (Wherein) have focused on onboarding Chinese users on Steem and making Steem applications in China. Although we've encountered difficulties, we make continously efforts in it.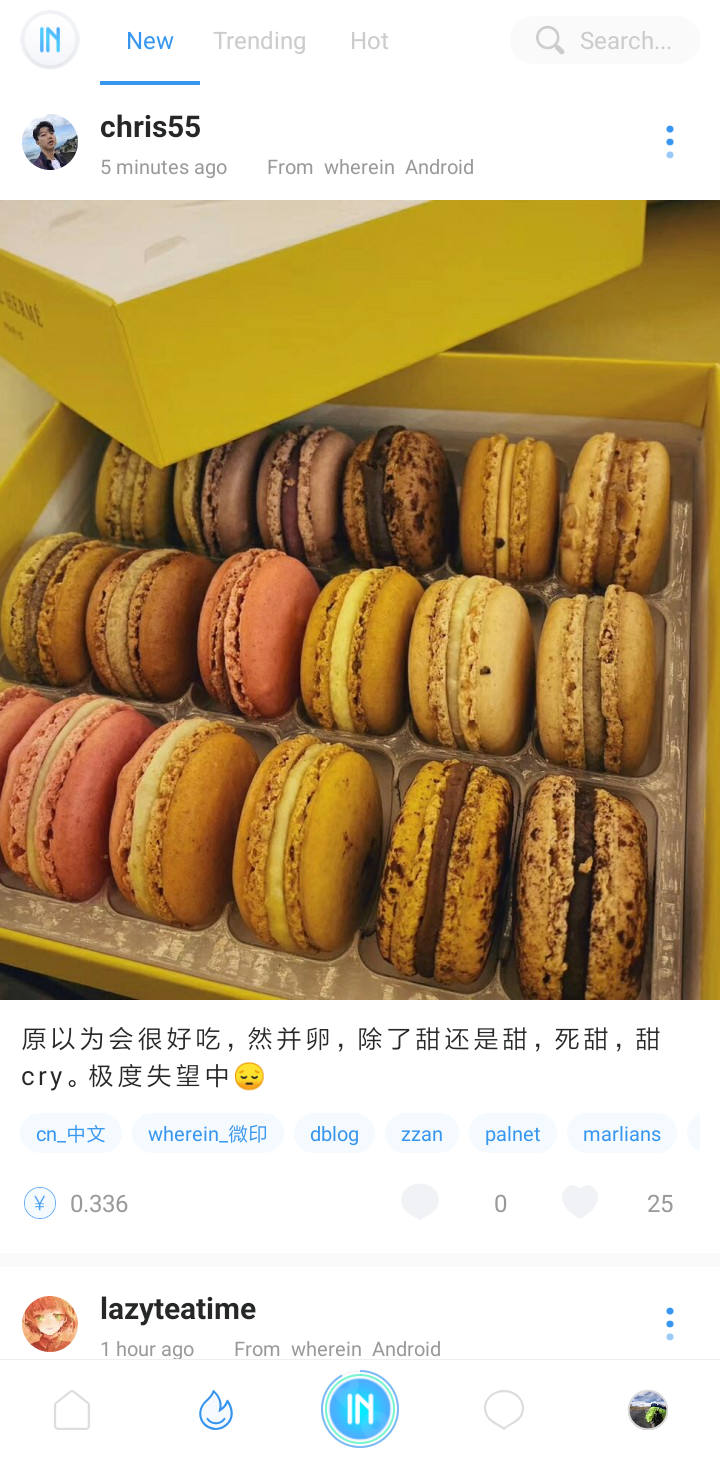 the past year, we brought out WhereIn Dapp (android&ios), with the login and registration system, that is more compatible for Chinese internet; our Steem wallet; Steemkillers, a game based on Steem blockchain; also a bunch of minitools. Yesterday we also launched WhereIn English version.
We have kept an eye on SMTs and since last year, our goal has been creating layer2 on top of SMTs. If SMTs is an android system for the community, we want to become MIUI or HuaweiOS, a SMTs project that is more suitable for Chinese users.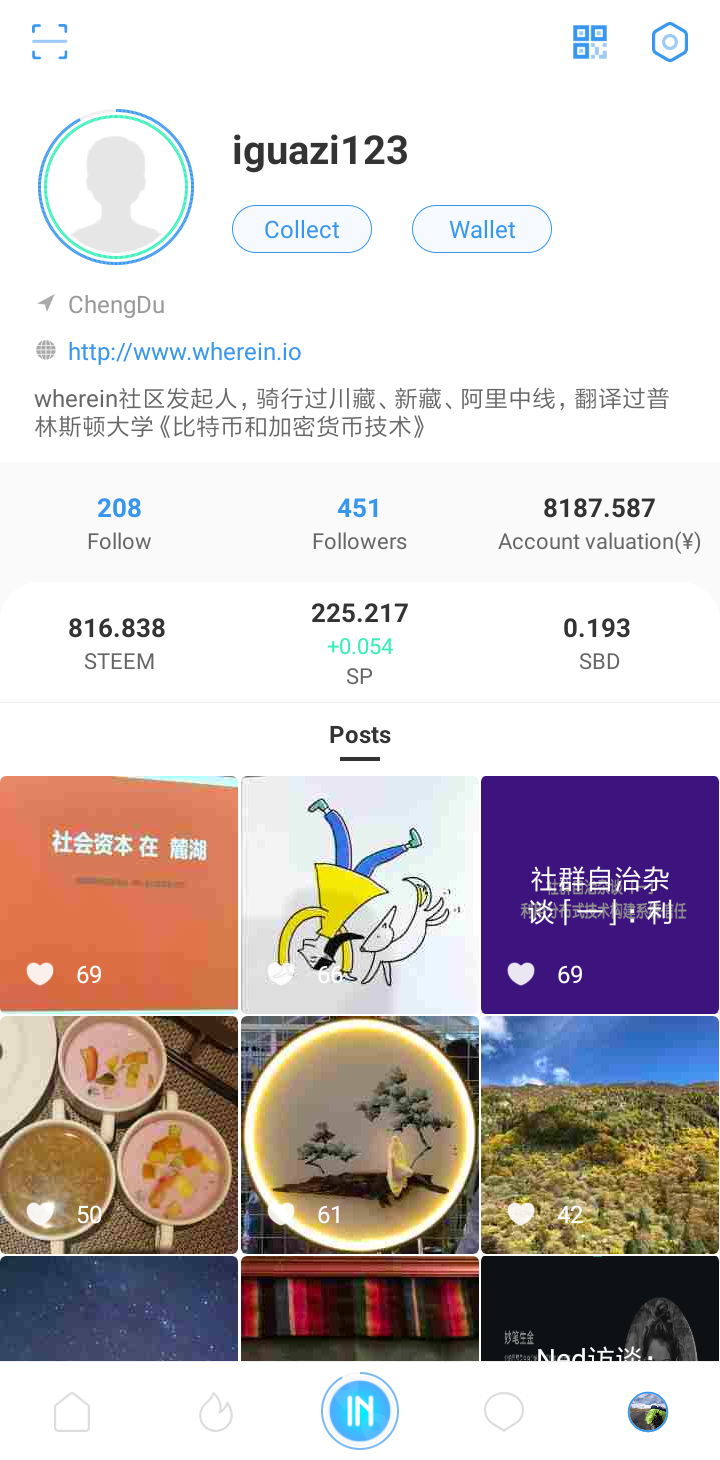 We are awared that this will be difficult and take a lot of work, but we believe we are going to achieve the success. The past year, we have been in difficult situations, such as team members leaving, etc. But we didn't give up. We will continue to promote Steem within China, catching up the chances we've missed. We hope we can get support from both Steem community and cn community on Steem! Together, let's change the world.
昨晚中国最权威节目《新闻联播》为区块链代言了5分半钟。过去24小时,BTC涨了19.29%,NEO涨了17.59%%,BCH涨了15.99%,EOS涨了10.40%,STEEM涨了3.54%。
北京时间10月25日 18:14:26 新华社电 中共中央政治局10月24日下午就区块链技术发展现状和趋势进行第十八次集体学习。10月25日19点,中央电视台《新闻联播》第一条资讯就是中国国家主席习近平在中央政治局第十八次集体学习时的画面,视频整整持续5分29秒。
中国国家主席习近平强调,区块链技术的集成应用在新的技术革新和产业变革中起着重要作用。习近平强调,要强化基础研究,提升原始创新能力,努力让我国在区块链这个新兴领域走在理论最前沿、占据创新制高点、取得产业新优势。要推动协同攻关,加快推进核心技术突破,为区块链应用发展提供安全可控的技术支撑。要加强区块链标准化研究,提升国际话语权和规则制定权。
习近平指出,区块链技术应用已延伸到数字金融、物联网、智能制造、供应链管理、数字资产交易等多个领域。目前,全球主要国家都在加快布局区块链技术发展。我国在区块链领域拥有良好基础,要加快推动区块链技术和产业创新发展,积极推进区块链和经济社会融合发展。
中国最大社交网络——微信朋友圈,整版都是此条资讯的动态分享。在微信群,大家也都陷入了热烈的讨论。
中国有着巨大的市场,也非常支持区块链等新技术的发展。Steem区块链与社区、DAO结合亦有着巨大的发展前景。我们一直致力于Steem在中国的发展,即使遇到过诸多困难,我们也持续推动Steem在中国的应用发展。
这一年来,我们开发了WhereIN Dapp(安卓&IOS),适合中国的注册登录系统,Steem钱包,区块链社交游戏Steemkillers,以及一系列小工具,我们昨天还上线了WhereIN的英文版。我们一直非常关注SMTs的进程,自去年起,我们的目标就是基于SMTs做Layer 2.如果说,对于社区SMTs是安卓系统,我们想成为MIUI或者华为的操作系统,一个基于SMTs适合中国人的区块链项目。
我们知道这一切会比较难,不过坚信会取得成功。这一年来,我们咬牙走过了诸多坎坷,面临团队成员离开等诸多问题,但最后还是坚持了下来。我们希望社区与我们一道,共同实现Steem未竟的事业。我们期盼Steem社区与CN区相互支持,在中国大力推广Steem,让中国反哺Steem社区的发展。

---
Posted from my blog with Cnstm : http://cnstm.org/blog/2019/10/26/chinas-cctv-news-broadcasted-in-the-headline-news-with-president-xi-jinping-talking-about-blockchain-tech/
---