Hello, Steemheads!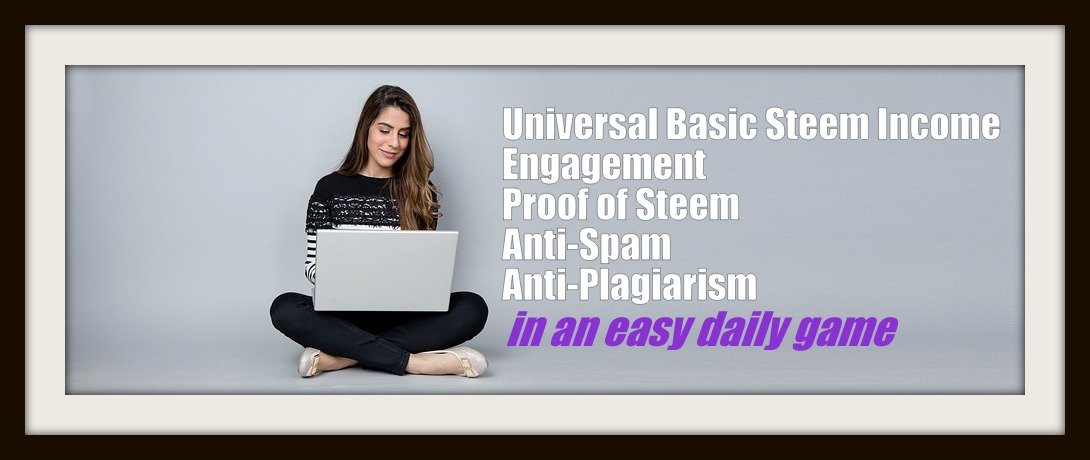 It's the 46th day of this new game for everyone in Steemit. I have made an intro about this here: Universal Basic Steem Income + Engagement + Proof Of Steem + Anti-Spam + Anti-Plagiarism Rolled into One Simple Daily Game
Please go over the post above for the details. This will be a long read if I have to repeat what I said there. Thanks for taking the time in reading this, BTW.
After the payout of this contest post, rewards will be shared by everyone who joins this game. However, the game finishes in 24 hours. The reward will be based on the Payout. Half of the actual liquid earnings will be distributed to all. It's a @mermaidvampire game so that means, NO LOSERS!
Game Mechanics:
Make a post for the day in Steemit
Make sure it has more than 50 words, no SPAM posts please
Make sure it has no plagiarized content
(Optional) I would appreciate it if you use the tag #steemproof as one of its 5 tags if you have this game in mind when you make the post
Comment the link below this post within the day (24 hour time frame of the game day)
One entry per person per day
If you hit all the mechanics then after the payout you get a fraction of the payout, NO ONE LOSES, you get additional Steem just by being awesome and joining the game.
What posts do this game take?
Will it take color challenge, BnW Challenge, BnW Challenge, Constests, Ulogs, DLike and such?
It definitely will take all that provided there is a 50-word freewrite or any kind of original content and good graphics that isn't plagiarized. If stock photos or free stock photos are used such as Pixabay and Unsplashed, these photos have to have proper citation, cite your sources, at all cost!
About @dLike, I love @dLike and it's not just spamming links like some people think it is. If you've been on the Internet long enough, you will understand that viral feeds, providing traffic or traction, in other words, PROVIDING INFORMATION is what the Internet is all about. So, @dLike is actually a project with so much sense to it. So, if you follow the posting guidelines of @dLike and if you follow the rules of this game (50 words, no plagiarism) then you will be rewarded, too. @dlike is still distributing SMT tokens for good contributors, it's a win-win situation when you make a @dLike post and join this game. Not everyone can think of prompts all the time, every now and then you may use @dLike and let VIRAL POSTS inspire you to Steem.
Update:
I will be taking any posts made with any Steem DApp, like Actifit, Musing, Tasteem, etc. I will also take posts that are already entries to other contests. Just make sure NO SPAM, NO PLAGIARISM involved. Just give me proof of good activity in Steemit.
I am open for comments and suggestions to improve this game, please feel free to reach out and post inquiries in the comments below. We will be together in polishing this game until this becomes better and hopefully this gets traction and support from fellow Steemians.
Also, if you want to earn more Steem, please check other hosts for their games and contests, like @randomkindness has a charity lottery and @zephalexia has an upgage game. If you are into photography, check @travelsbyblue, she has a daily photography contest running. Other accounts to watch out for contests and earning extra opportunities are @izaid, @vdux and @blessedsteemer. All of these contests give you the chance to win some Steem. Please support initiatives in Steemit that tries to make a difference.
THANK YOU FOR READING, I HOPE TO SEE YOU ALL IN THE COMMENTS WITH YOUR ORIGINAL FRESH POST!
Have a nice day, everybody!
Love and Peace,
THANK YOU ALL SO MUCH FOR THE SUPPORT!

Join the house of cool bunch Steemians right here in #steemitachievers!
Follow @steemitachievers.
Join the amazing Pinoy Steemian crypto-heads in #steemitpowerupph!
Follow @steemitpowerupph.

If you still have room to fill since one can vote 30 witnesses, please consider voting these witnesses because they are simply awesome!
---
Sponsored ( Powered by dclick )