Moonshine personal BLOG
Much love fellow steemians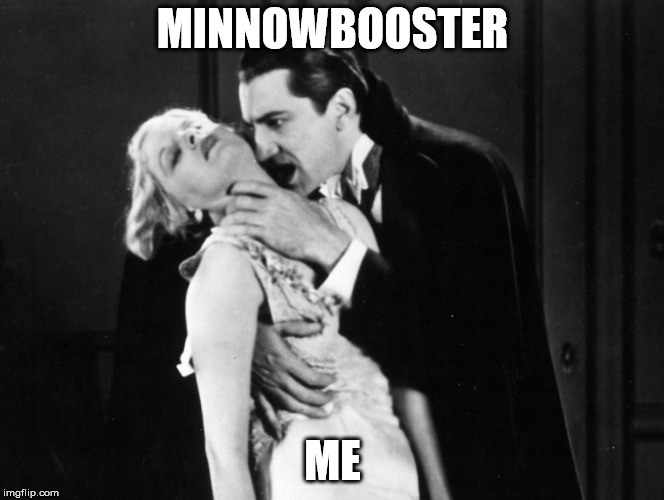 Get your freshly made upvotes from friends, you profit much more if you get fresh organic upvotes from friends you trust than buying them from your local supply store.
Don't settle for any old stale botvote, get the finest botvotes from actual friends, for those not in the know, school of minnows is here to fix STEEM. Go on and get happy. Make friends and share votes, get all your VP back!
If you are hypnotized and you know it click upvote and support your favorite mercurial.
So let's talk about why you should join school of minnows and why you shouldn't pay some dirty old bastard for your votes.
Because first of all, if you pay for upvotes, and you're American, it's un American to pay for upvotes. It's like showing weakness at the dinner table/couch.
And if you're from everywhere else its unpatriotic towards STEEM you damn leftie.
If you were an evil whale, you wouldn't pay for upvotes, whales attack each other if they keep upvoting themselves for being evil, because of how it looks, so the evil ones obfuscate their self-support through upvoting themselves though other accounts paying upvote services on their behalf, completely sweeping the PR issue and discussion of how we should handle investment and dividends on the chain, keeping us stuck without progess or decisions made, and delegating off to services which pay back with little to no profit and make users angry at steem.
Then you get the 'health and fitness' sector of the bidbot ecosystem.
If you pay for an upvote you're a commie bastard and a scumsucking try hard for trying to make a profit on a blockchain that promised you returns for your brainz.


So here is my answer to how to fix STEEM.
First, join school of minnows, if you join school of minnows you instantly fix STEEM, religion and politics because your posts will suddenly make sense to everyone, that's because deep in your heart you're a minnow and you know it. So if you are a minnow and you know it, clap your hands and join school of minnows.
This is moonshine proving once again that you should write really short posts on STEEM, and if you blaspheme against the chain by using a bidbot you should say 3 'hail Dan's' before you post, and then join school of minnows to make things right.
Now upvote this post and forget you ever read it.
(2018-3-6 21:48) Protecting your keys is very important on STEEM, if you lose them you lose your money
(2018-3-1 14:29) Some super cool secrets of STEEM, here are some interesting ways to learn
(2018-3-5 10:44) School of minnows: Frequently asked questions
(2018-3-5 9:7) look at peoples actions, not their wallet size
(2018-3-4 22:14) school of minnows, new features list
(2018-3-4 21:27) general internet rule of thumb, how to stay safe out there
(2018-3-4 11:47) party time!
(2018-3-3 21:28) be the change you want to see, see the change you want to be
(2018-3-2 19:21) moonshine now has a fancy dividing line! draw the line with moonshine, one time shoeshine
(2018-3-2 18:29) Enjoying some tunes at steemPunks
(2018-3-2 9:30) news about whats going on in steemPunks and with school of minnows
(2018-3-1 21:43) I can now get supported for posts after 7 days! hooray!
(2018-2-5 19:46) more school of minnows info!
(2018-2-5 16:54) Such a wonderful good Friday
(2018-2-4 20:33) everyone hold on for. LUDICROUS SPEED. school of minnows now lists on @steembottracker
(2018-2-4 19:50) wrapping up the week - putting aside dev and taking a break!
(2018-2-4 18:10) erasing my facebook history
(2018-2-3 22:29) get there faster with school of minnows
(2018-2-3 20:59) clean habits, good ethics and honesty can actually improve your life
(2018-2-3 19:35) I am getting backlinks so my threads stay a bit more on track!
(2018-2-3 17:40) Proof of altruism, school of minnows and how these two matters give you a best effort reward for your membership
(2018-2-3 10:32) blogging workflow finally flowing
ॐ we are one ॐ

If you'd like to join school of minnows, click here or click here to read about it.
School of minnows is hard work, please consider donating:
1.000 SBD
0.100 SBD
0.010 SBD
0.001 SBD
If you like this service, vote for school of minnows as witness
Vote school of minnows for witness!
or (via steemit login)
click here
and do this


@lanmower is a

steemPunk
Please upvote if you like this post.
If this post is older than 7 days, please support by upvoting my latest post


latest post


latest post