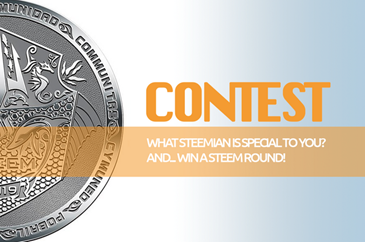 SSG

P
I really should disqualify myself from this contest as the circumstances can hear howls of accusations of rigging as the Steemian of my choice sits as one of the judges. Relish the accolades Sis @silversaver888!
If we stood side by side, we would be like an ODD COUPLE!
It's like day and night. She is like a golden Eagle as to my Raven, Her Light and my Dark, her L'allegro and my Penseroso, her Beauty and I the Beast, her guns and my blades, her bubbly enthusiasm and my well…NOT. But in just a little time we bonded as friends within this community.
Nov 2015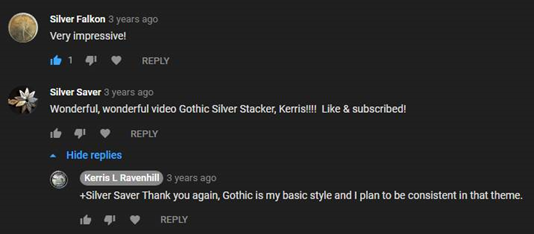 1
I was quite new to silver Stacking when I met Silver saver years ago. I think it was around Silver Diva's contests was when we practically started our kinship. I like to think that Silver Diva was sort of our 'Stacking Mother' since she was a big influence and encouragement for us into Stacking Silver.
Like me, my Sis was seeking a peer group to identify with. As for me, my old Gothy friends stayed in their same dark world view, except now they think that I've gone off the deep end. "Economic collapse? Yeah right, we think you got hit on the head with the baseball bat a few times too much girl."
So, I believe both of us started Stacking silver just about the same time. Each of us eager to learn. Each developing our own Stacking plan and style. play off each other's comments, each having our own YouTube Shtick, entering Giveaways together, and celebrating those wins together.
We're just Stacking gals. Do we look like financial advisors to you?"
Compared to my Sis, I'm not a very sociable person as I'd rather stay within the safe confines of home. But I had to get out of my shell, Punky's Dad says, "You need good peers around you, work on those social skills, expand your circle of good people, etc." Silver saver seems to fit that online bill!
The 'S' in Silver saver stands for Social, not just Butterfly Social, no it's like Godzilla Social!" 🐉
My Sis was everywhere in the YouTube Stacking community, her large subscriber base says it all. And she never misses a video I post. Comments at every opportunity. And the live Streams, before that media became the rage, you can bet she'd join in even if it were for just five minutes to say Hello.
If anyone doesn't read a comment or see a video from my Sis for a few days, we would immediately think there was something wrong. Until she said, "Just on a trip." One time there was an unusual absence. Could there be something wrong? It was until she posted this development.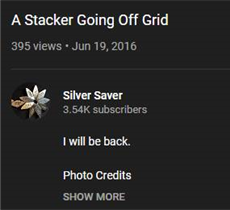 1
A Stacker Going Off Grid

1
Everyone responded! The support and prayers came like a tidal wave for my Sis

1
When she came back, it was great news! Warrior Update
What a relief to us all! She's been through this before having posted this video earlier in the year. My Survivor Ribbon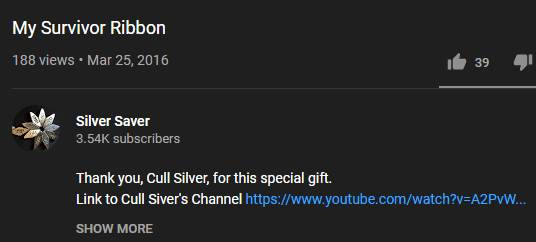 And you know what? Silversaver did the real partying and celebrating by giving away a whole bunch of her own channel bars specially made by
@mr-vulcan
!
With Steemit and Discord now it's like a different world than YouTube. Now as @silversaver888 she churns out great posts and comments everywhere she carries on without skipping a beat. YouTube was like the proving grounds for Sis. While I found much more creative options my style required a lot more brain power. The pace of writing daily was too demanding against what little free time I have and talking with Silversaver helped me settle into a Part time writing schedule. There were plenty of days I was feeling down and felt like quitting, but she is a great listener and encouraged me to stay.
I look forward to our Discord chats especially when @dixiesilvergirl and @agscotskiwi join in. And so far, its been the place I got to share my live voice and myself UNMASKED! We share plenty if things among the four of us.
She is a big asset to our community. I celebrated her generous gifts in these following features I shared with our YouTube Community. Each one having a special place in my heart and a demonstration of her gifts of intuitiveness and generosity.
A Special gift from Silversaver
No. 13, my November Birthday
The Night Shift: The Black Pearls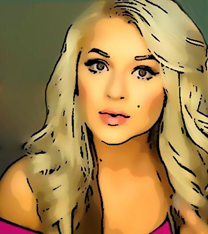 SS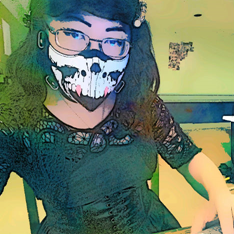 1

R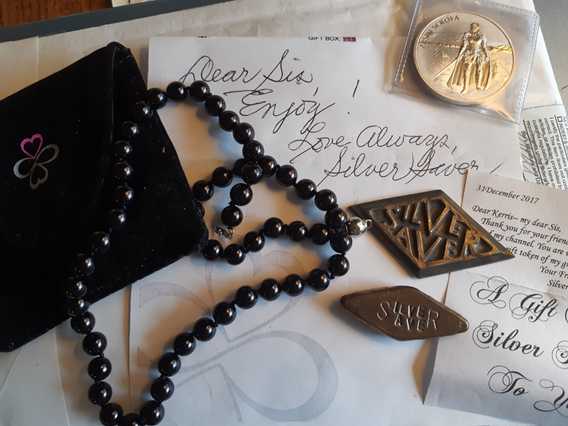 1
Yes, the Scrofa Round came from her too, more on that later. And there is another package from my beloved Sister under all this.
With all my Heart, I think she really deserves this prized new 2019 Steem Round, I'd even send her mine.
References
1. My own pictures shot with a Samsung SM-A530W
P. Image under Pixabay
R. Clip art from 123RF
W. Wiki Commons
SSG From SSG-Community
SS From @silversaver888

R