The post you are about reading is/was my one-month experience to help newbie have a successful stay on steemit and to know some basic things at the initial stage. This post is aimed at helping newbie coming even a year or two years time. I will be pouring out my experience so far, practical examples which are explained using my screenshots.
Success Is A Deliberate Effort
Let's get started
If you are not a reader then I will advise you to leave steemit at this early stage because your success on steemit depends on how well you read, understand and ask relevant questions on what you don't know.
Never be ashamed to ask questions as a newbie or feel too big to ask a question. Information will reform and build you
And if you are here for quick money, you may be disappointed because so far steemit rewards diligence, good and original contents, your ability to communicate and create a good relationship with people on the platform.
Overview Of Your Home Page
From the labels in the picture below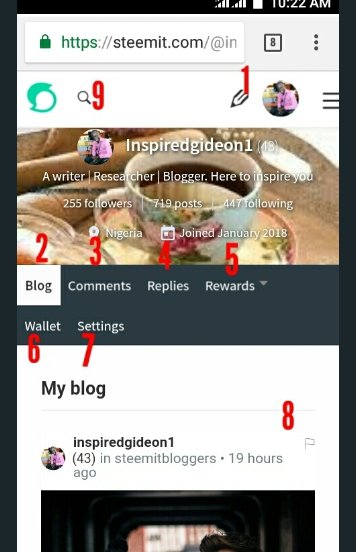 1 Posting
That label 1 is where you click and a page opens up for you to post your article.
2 Blog
This shows you all your article or anything you have posted and the post of others you shared to your own wall if am to use the Facebook term.
3 Comments
Shows all the comments you have made on the post of people or the response you gave on the replies of people on your post.
4 Replies
Shows all the response of people to your post or their replies to your comment. Always try to give good replies and comment. I Will talk about this later on.
5 Rewards
This shows the rewards you made from your posts and comments (author's reward) or the reward you made by upvoting other people posts and comment( Curator's reward).
6 Wallet
I believe you know what the work of wallet is (winks), if you don't, well it's a section that shows all your monetary transactions, of both incoming, outgoing transactions and your earnings on the platform.
Still, under the area of Wallets, you will see permission. That area contains your passwords to do transactions outside the platform like sending out money from your account or trying to link up to other sites that has connection with steemit, never give out the master key that controls your account and ensure you keep it in a safe place because there is no recovery of your password if you should lose that password.
Setting Up Your Account
Still, on the image above, that label 7 is the settings and that is where you click to set your account like about you, profile picture and other things you want others to see and know about you. The only special case here, is where you need to put a profile picture or a picture on your wall but there is no place to click to upload picture, so what you will do is
Visit https://postimages.org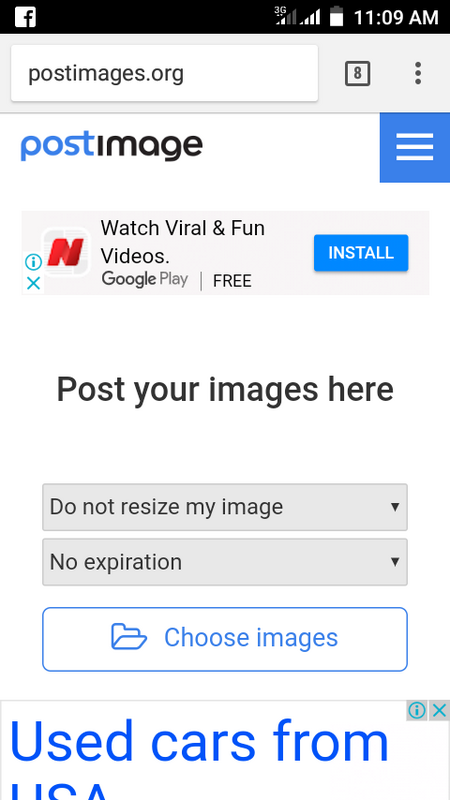 Then click on choose images; choose the picture you want to use on your profile from your picture folder(s). It will upload some links to it, copy the "direct link".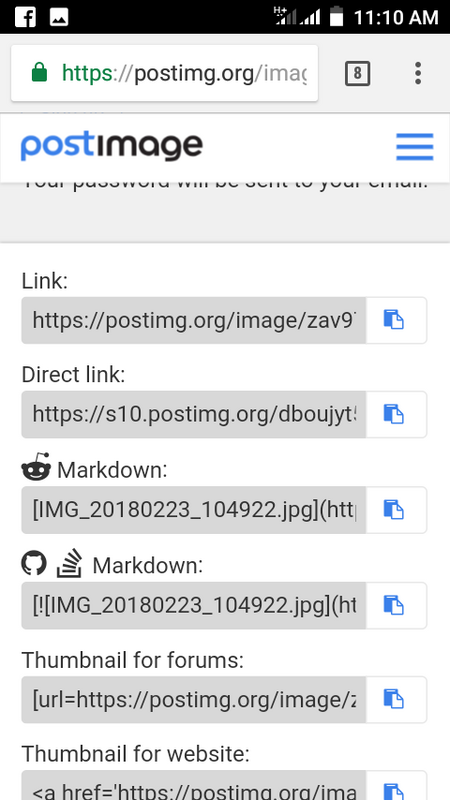 Go back to your steemit account and paste the link you copied into the space provided for your profile picture or cover picture.
Note if you want to upload another picture, do not click delete but rather click "upload another picture" because if you click on delete, the initial picture will be lost.
9
Is your search button that is used to search anything on the steemit platform.
Upvoting and Resteeming
Upvoting in simple terms is just like the way you like a post on Facebook and a finger is shown that you liked the post, so it operates also on steemit. click on the circle on a person's post if you want to upvote that post, then it will roll a bit and turn to green. That means you have upvoted that post but its needful you are calculative in upvoting and not everything you must upvote because, for every upvote, your voting power reduces by 2 percent but don't be afraid because it will recharge after two hours. Hey man, I don't understand, you will know better as you read on.
To resteem a post is just like how you share a person's post on facebook to your wall because you want others to see it. Here also it is called resteem and you can do that by clicking on the sign that looks like a curved line with an arow head.
Tags and its uses
Tags are used to put posts in categories so that others can find it very easily. The more relevant your tags are to your post, the more like-minded people will come across it and might end up giving an upvote, comment or follow you. You are limited to making use of at most five tags but it can be less depending on your choice.
Steem Power, Steem Dollars, Steem
STEEM – STEEM is a base currency used on the platform. It can be powered up to STEEM Power, traded for Steem Dollars, and transferred to other accounts. It is just like bitcoin and of recent, it was listed on binance and I think bittrex trading platform. Not sure of bittrex because I have an only binance account.
STEEM Power – it is abbreviated as Sp, it is used to measure how much influence or power that a user has in the Steem network. The more STEEM Power a user holds, the more they can influence the value of posts and comments.
Steem Dollars – it is abbreviated Sbd and can be transferred to another user on the platform, converted to steem or steem power but cant is transferred out of the platform.
VERY VERY VERY IMPORTANT TIPS TO SUCCEED HERE
ORIGINAL CONTENTS
Most people join steemit and they just go ahead to copy post from google search and just come to steemit and post it. From your very first day on steemit, avoid copy and paste if you don't want issues in the long run. Steemit only permits original content and hates plagiarism. There is this good guy called @cheetah and also @steemcleaners. @cheetah is a bot that ensures that all post on the platform are original while @steemcleaners to the best of my knowledge are monitored by humans to attend to abuse reported and plagiarism. Don't try to think it cant be traced, once the article is online then it can be easily traced to its source even if it's your own work on other sites like Facebook or a blog you formally operated, don't paste it like that but try to edit that work of yours and change the sentences but giving the same meaning.
It might be frustrating that you are putting up original contents and a good one for that matter. You might have been posting for long and no one is recognizing your work, just keep doing it, in the nearest future it will speak for you.
Here is what happened today 23/02/2018. I do join groups on discord just to get exposed and to meet people that I can relate with. Then I stumbled on this group called @qurator and that requires me registering with 4 steem. I was not having it, then I just joined the discord group hoping to register with 4 steem when I get it.
Luckily, I commented on their post yesterday that I was interested and that I have joined their group on discord because I loved it but to register when I have the 4 steem eventually. Then I was told my profile has been submitted for review, only for someone to sponsor me with 4 steem after going through my profile and posts and registered me.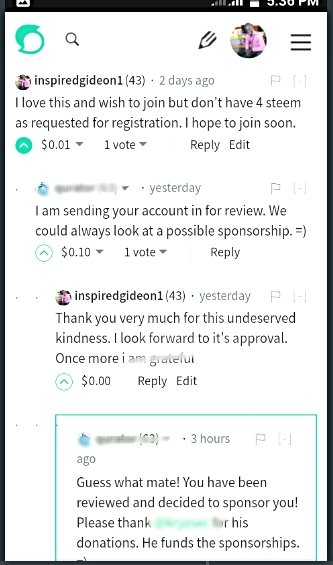 Patience in posting good content even when you don't see an upvote or comment will eventually pay you in the future if you remain consistent.
CONSISTENCY IS A KEY
Another point that will help you here is your consistency in posting and giving responses to the replies of others on your posts. As a newbie, I will not encourage you to be posting every day if you just came in a few days ago unless you have understood how the platform works and you have good contents to be posting on a daily basis. For now, try to be posting like three times a week or at most five and be consistent in your days of posting and possibly the time of your posting. When I started, I was not consistent but for the past two weeks as at the time of compiling this post, I have been posting once every day nevertheless I have not been consistent in my timing because of my schoolwork as a final year student in the university.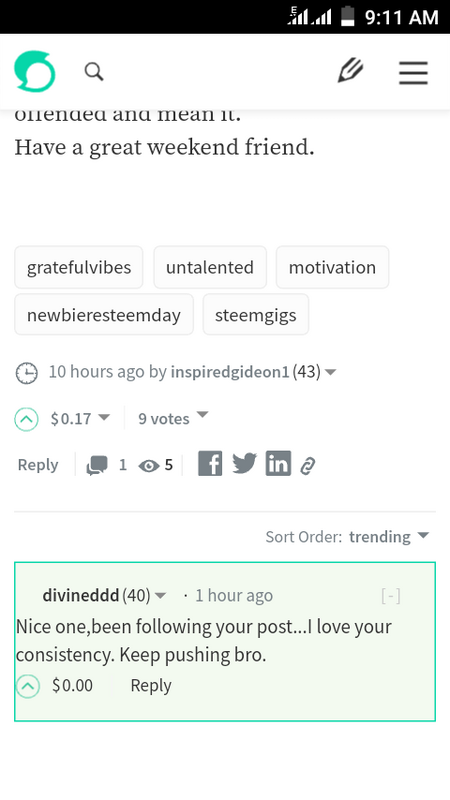 KNOW YOUR NICHE
A niche is your area of specialization; not everybody can be gifted in storytelling or poems at the same time. There are those who are good at drawing or programming or developing software or sports. Just try to know what you can do best and focus on that area.
Don't be Jack-Of-All-Trades and master of none
For me, I am a writer who major basically on articles about life, inspirational write-ups and stories and these are the areas I have been consistent in and not just being in everywhere there is much inflow of cash or that most people are in that area. Just know your ability and where to focus your attention.
DON'T BEG FOR UPVOTES AND FOLLOWERS
When I joined newly about a month ago, I was busy begging people to follow me and to upvote my post but when I learnt the secret of contest and upvoting, I stopped begging people to follow me or to upvote me.
Flowers With Sweetness In Them Don't Beg Bees To Visit Them, The Bees Go On Their Own Accord
GOOD COMMENT/ REPLIES
Like I said, when I discovered the power of good comments and response, I stopped begging people to follow me or to upvote me. I just give a good reply on a person's post and in most cases, they are like wow and they visit my blog to either comment or upvote my post even without me asking them to visit my blog.
Take a look at some responses I got from people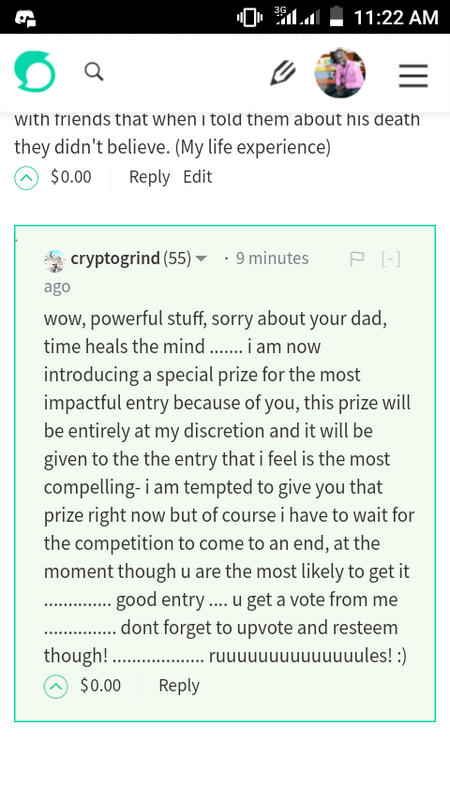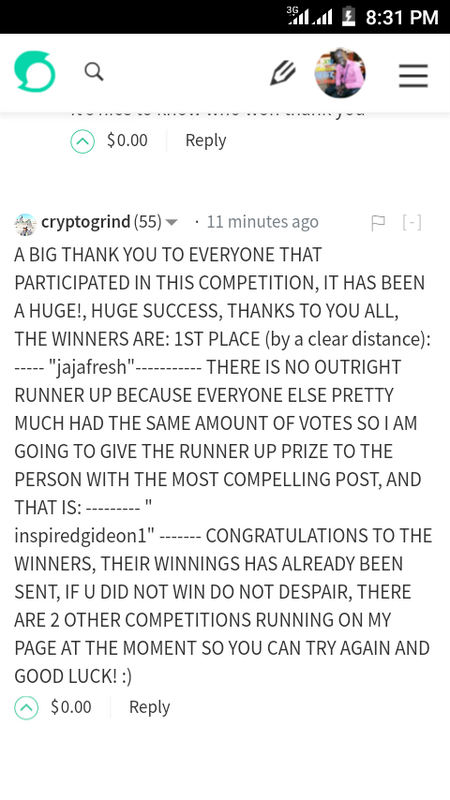 So by good comments and replies, you are advertising yourself. And also you should try to create a kind of discussion from your reply until it ends in thank you, welcome or the other person stops to reply.
Avoid commenting on people post like this thanks, Nice one, wow, and the rest, @cheetah sees it as spamming and might flag down your comments. Try making comments in form of sentence in response to a post and it should be relevant to the post, if it requires your views or ideas, don't hesitate to drop that wonderful view of yours.
ENTER CONTESTS
Entering weekly and the daily contest is a good way to be noticed and easiest way to earn good rewards. The highest pay I have gotten as at the time of writing this post was a contest I entered that I got upvote up to $5. Also contest helps you to meet people, enhances your writing skills and puts your brain to thinking.
If you have interest then follow these people to get latest updates on contest and go for your niche @contestbots @originalworks
@moneyinfant
JOIN GROUPS ON SOCIAL MEDIA
Interaction with others on social media has been my greatest means of meeting great people like @ayobami99, @shikika(my mummy on steemit, sorry just a sister), @hefziba a stranger who turned to a friend. It's needful that as a newbie you join groups to meet people. The major social media that has been useful to me is Whatsapp and discord. Get to join communities and groups so as to get noticed and also get help when needed. I will explain later on the profit of using Ginabot on discord.
STORING UP YOUR WORKS
A challenge that some people may face is the issue of ideas and storing up their contents. For me, ideas are not my problem because they are always flowing and once those ideas come I write them so as not to forget. I have topics on ground that can take me one month if I should post daily. To avoid losing them I created three groups on my WhatsApp, where I store up useful links, links to daily contest and where I save my works that were still been worked on before taking it to steemit.
THE ISSUE OF BANDWIDTH LIMIT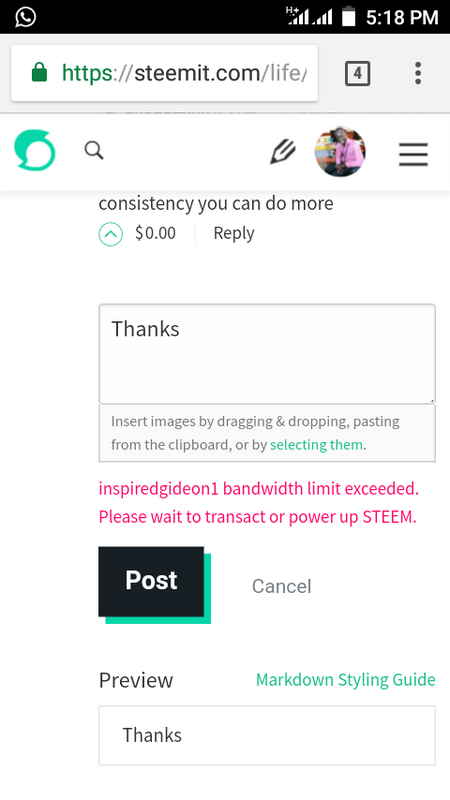 If you have been here for a while as a newbie, you must have encountered the issue of bandwidth limit. Don't be afraid if you did something wrong. To every person depending on your power level, there is an allocation. and when the site becomes extremely busy, steemit then reduces what you can do at that time in order to regulate the weight on the site and from my observation, the issue of bandwidth always comes up between 2 pm to 6 pm Nigeria time. I decided to make further enquiry and search online and I discovered that 2 pm to 6 pm in Nigeria is the early hours of the morning in Europe and other countries that use steemit more. So to avoid getting stuck in the issue of bandwidth, I post my articles before 2 pm or between 7 pm to 10 pm at night when the sites are mostly free for usage with enough bandwidth for me to use.
Visit https://steemd.com/@(put your username without the bracket) to see your voting power and bandwidth limit.
Also it's good to add pictures to your post and to write their source but never take any picture directly from google search but rather visit sites that allow you to use their pictures without permission like pixel and pixabay or go to google and type free pictures to see sites that allow usage of their pictures.
With the above, I think you can make good success and to avoid problems. If this post was useful to you, ensure to resteem it and if you need further assistance as a newbie, message me on WhatsApp +2349060279010, I will try to help out on your questions if i can or chat me up on discord @inspiredgideon1#0253 but I did prefer WhatsApp. Thanks for reading
Part 2-- A DETAILED GUIDE TO HELP NEWBIE FROM MY ONE MONTH DEEP EXPERIENCE AND STUDY

Dont be afraid of trying, every child crawls before walking and then running