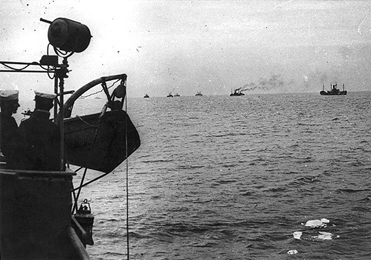 W

P
Convoy near Breast by R.W.Neeser Wiki Public Domain
Black birds tend to like Shiny things. ~ The Bloody Raven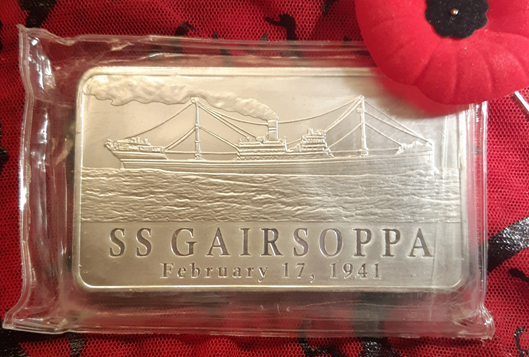 1
In the throes of the Second World War like many European countries at the time Britain was in need supplies and resources. The Bar featured here is one of many ships and materials needed for the English economy to support Britain's war industry against Nazi Germany. The Silver of the SS Gairsoppa was destined to go to the Royal Mint.
The SS Gairsoppa originally saw service as a river transport for mail delivery in India. The ship was enlisted into service and on December 1940 she was loaded with need material including a cargo of 7,000,000 ounces in silver ingots.
Due to the exhaustion of fuel the SS Gairsoppa was force to separate from her convoy and head to Galway Ireland at a fuel conserving speed of 5 knots. She was spotted by the German aircraft and U-101 was directed to sink the ship. The sinking claimed the lives of 85 crew members. 6 members survived the initial attack but the hazardous conditions eventually claimed all the remainder except one survivor, second officer, R. H. Ayres.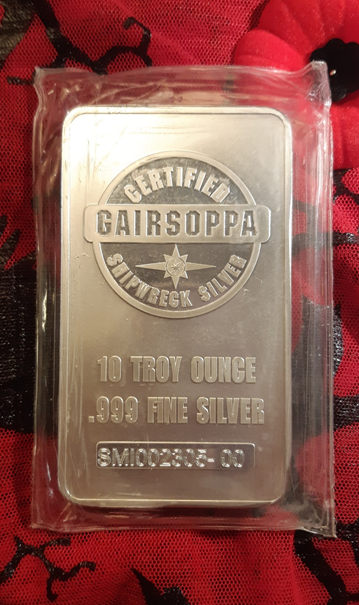 1
Under contract of the British Government, the Odyssey Marine Exploration corporation located the SS Gairsoppa on September 26, 2011 and Jul 23,2013 reported that a substantial quantity if bullion had been recovered from the wreck.
In 2014, the British Mint set aside a portion of the recovered silver minting 20,000 ¼ oz Britannias denominated as 50 Pence.
Odyssey Marine Exploration sent a portion of their recovered silver to the Sunshine Mint and produced the One troy ounce round and the Ten troy ounce Bar as in this article.
These Merchant vessels and crews risked their lives running a gauntlet of German Submarines uncertain when they will strike. The Captain of the SS Gairsoppa probably knew his ship's chances had become slim when he was forced to break away from the safety of the convoy.
It wasn't very long ago, just a few years ago that Canada finally recognized the Service of her Merchant marine services and gave them a place among the Remembrance Day participants.
Today I can't shake off a recent town hall conversation where a Canadian Veteran who had lost his legs from a hidden explosive device in Afghanistan, asked for more medical resources for his medical needs, and Prime Minister Trudeau replied, "We can't afford it." Only to turn and spend over $100,000 in refreshments on a single plane trip on a Canadian political business junket a few weeks later.
Is this honoring to those who fought for our freedoms. Is this the values our troops are fighting for?
We Remember.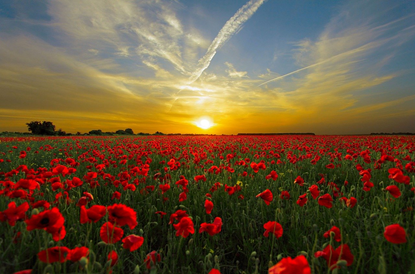 P
Poppy field by Roman Grac from Pixabay
References
1. My own pictures shot with a Samsung SM-A530W
P. Image under Pixabay
R. Clip art from 123RF
W. Wiki Commons
Discovery of the Gairsoppa Footage
Shipwrecks: SS Gairsoppa
Photos of Silver Bar Recovery Operations
JM Bullion 1 oz Coin
JM Bullion 10 toz Bar
Apmex 1/4oz coin Gairsoppa

R
"Et lux in tenebris to serve laboro, sum sicarius" "I work in the shadows to serve the Light, I am an Assassin"