Hello Steem Silver Gold!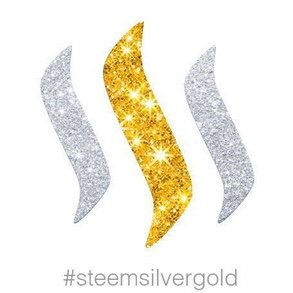 Odds and Ends
Apologies for being late on this week's membership post. The membership news is there are no new members to welcome. As for our long time members, both @welshstacker and @fat-elvis celebrated birthdays earlier in the week. (Happy belated fellas!) Please also keep our Australian stackers in your thoughts. I know a couple have had fires in varying degrees of closeness to their homes. If anyone has seen the news from Aus, you know this summer's bush fire season has been catastrophic. SSG loves you guys and gals and we wish continued safety for you, your friends, your families and your homes.
The Alliance Block Party
Many members of Steem Silver Gold are also members of another great Steem Community - The Alliance. It is looking like this year's block party will be held from June 23rd to June 28th. While the exact location isn't locked in quite yet, talk is the party will happen somewhere near Buffalo, New York. If you are interested in attending @enginewitty is the man to contact for more details.
Membership
As I mentioned, this week there are no new members. If you would like to join Steem Silver Gold or you would like to nominate a new member, please reference the road map to membership below. Nomination DOES NOT guarantee membership. If you nominate someone, please reach out to said individual to discuss this nomination and gauge their interest in joining.
Please make sure nominees have a track record of posting about metals and of building relationships with community members (ie. consistent posting with a track record of posting about silver and/or gold, replying to comments on their posts , commenting on posts of other community members). The friendships we form will be what sustains our group through the growing pains of Steem.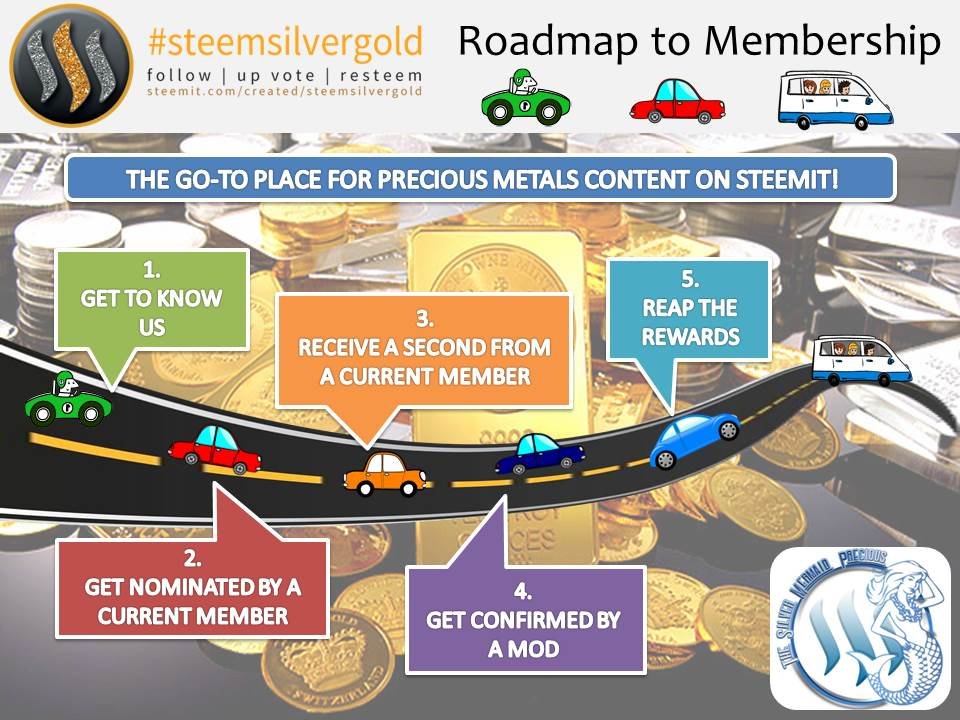 ---
Member
Member
Member
@ajain
-
@owenwat
@anothervoice
@fat-elvis
@pbock
@armshippie
@firecajun9262
@peaceloveliberty
@axeman
@fishyculture
@phelimint
@battleaxe
@flipstar
-
@bauloewe
@floridastacker
@plaid
@bearbear613
@geneeverett
@pocketechange
@bearone
@generation.easy
@raybrockman
-
-
@rolf.bakker
@bengy
@goldkey
@rollingthunder
@bi5h0p
@goldmatters
@ronaldoavelino
@bitcoinman
@goldrooster
@russellbury
@blackrussian
@gomatthew
@saffisara
@bluelightbandit
@grizzman
@sbsparts
@bmj
@guiltyparties
@senstless
@bowentroyer
@handofzara
@sevinwilson
@brian.rrr
@harleymechanix
@shaungerow
@britcoin
@hashcash
@silverbug
@buggedout
@hooiyewlim
@silverd510
-
@infidel1258
@silverfortune
@buster544
@ironshield
@silver-hammer
@caladan
@janusface
@silveringots
@clumsysilverdad
@jbcoin
@silversaver888
@coindevil
@jimbobbill
@silverstackeruk
-
@joshuaslane
@sk43
@coolbowser
@juniusmaltby
@smaulgld
@corndogg42
@jznsamuel
@solominer
@cryptofuwealth
@kanedizzle08
@soyrosa
-
@katrina-ariel
@stephen-somers
-
@kerrislravenhill
-
@darkmrmystic
-
@stokjockey
@davedickeyyall
@kiwiscanfly
@summertooth
@daveks
@knowledge-seeker
@tbnfl4sun
@dfinney
@kp138
@teenagecrypto
-
@ladybug146
-
@dixiesilverminer
@mattclarke
@thedamus
@djohan
-
@thekittygirl
@dkid14
@methus
@themanwithnoname
@drakos
@mikepm74
@thesilverdoll
@dreemsteem
@moderndayhippie
-
@dwingsworld
@monsterjamgold
@underground
@eaglespirit
@mrchef111
-
@edthecanadian
-
@vgholdingsllc
@eveningart
@naltedtirt
@welshstacker
@elamental
@neoxian
-
-
-
@xyzashu
@edxserverus
@o07
-
@enginewitty
@odracir80
@yankee-statman
@georgemales
@dropthatcode
@elizabethbit
@silvertop
@silver-horde
-

Help the community, help yourself!

There are TWO ways to receive community supported votes at Steem Silver Gold. One is via the @myprecious curation trail, the other is via the @ssg-community subscription service (which is also confusingly referred to as Precious the Silver Mermaid). Here is a run down of each:

1. Join the Steem Silver Gold curation trail - HERE

The community curation trail up votes every member of Steem Silver Gold (unless a member requests otherwise). 26 accounts currently follow the trail. You will see the @myprecious vote appear on one of your posts each day after 6 minutes. 26 other votes are tied to that one! Thank you to everyone on the trail.

Members may also choose to delegate to @myprecious. There is no membership requirement to delegate, but it is a selfless way to support the entire community. There are currently 17 delegators to this account. The delegators include: @bauloewe, @thesilverdoll, @ronaldoavelino, @tbnfl4sun, @kerrislravenhill, @ladybug146 @monsterjamgold, @thekittygirl, @enginewitty, @handofzara, @edthecanadian, @fat-elvis, @dfinney, @jznsamuel, @guiltyparties, @xyzashu and @dkid14

2. Join our members only up voting service (aka Precious) - HERE

Precious the Silver Mermaid up voting service (linked to the @ssg-community account) is open to all members of the #steemsilvergold community. She has well over 100k in voting SP and members can receive daily up votes by either delegating SP are donating STEEM on a monthly basis.

If you have questions about the @ssg-community subscription (aka Precious the Silver Mermaid), please reach out to @welshstacker. He can advise you on how to delegate, pay liquid steem or use a combination of the two to reach a subscription tier.

---

Happy Hump Day! :)

~ @dfinney