That's right we all won today. First I want to thank the 26 members who donated 33 prizes that we were all going after today. With out the prizes there would not have been many ticket sales!!
Thanks to @raybrockman for running the numbers, @knowledge-seeker for tracking ticket sales, and @dfinney for controlling the chaos of the giveaway!!!
We gave away 33 prizes, ~61oz of silver and 1 gram of gold!!!!
Drawing Stats!
21 different winners
7 multi prize winners
Summary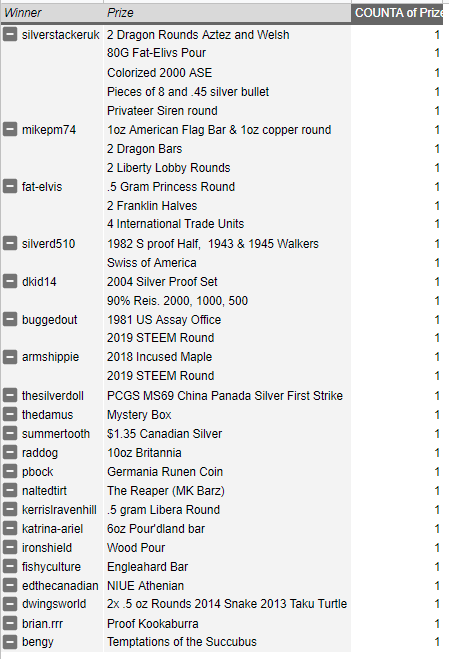 Details
Documents
Prize list with winners spreadsheets.
https://docs.google.com/spreadsheets/d/1SLnm-8Yv2Avhziig0jsiyG7Yn1qok3h24A5CKeU77Kk/edit?usp=sharing
Ticket Sales #'s
https://docs.google.com/spreadsheets/d/1iSnYzvnEmrA_pKaRImnly50TRuwhLiJ-pA5Fu0lJoEo/htmlview
Stack on!! ~Senstless~

Follow me on Weku
Follow me on Steemit
Follow me on Whaleshares
Follow me on Trybe
Follow me on Narrative