My father served in the US Army during his early twenties for a standard two-year tour-of-duty. He was assigned to the Headquarters Company of the 315th Signal Corps Construction Battalion in Germany during the Korean War. The battalion's task was to facilitate rebuilding of Europe after the ravages of World War II, and my father's job was part of the supplies requisition and delivery team. While there, he visited parts of Germany, Switzerland, Liechtenstein, and Luxembourg. He possibly was in Belgium briefly, on business, but I am not certain about that. While going through my father's things after he passed, I found two currency notes that I want to share here.
1949 NETHERLANDS 1 GUILDER MUNTBILJET (BANKNOTE)
These banknotes were issued by Nederlandsche Bank from 1949 through 1954. The portrait featured on the obvserse (front) is Queen Juliana, who reigned from 1948 through 1980. When she passed at the age of 94, she was the longest-lived former reigning monarch in the world. It was Queen Juliana's daughter, Beatrix, who succeeded her mother as monarch, and Queen Beatrix's son Willem-Alexander now reigns over the kingdom. Regarding Queen Juliana, Wikipedia notes that Her Majesty was "was noted for her courtesy and kindness."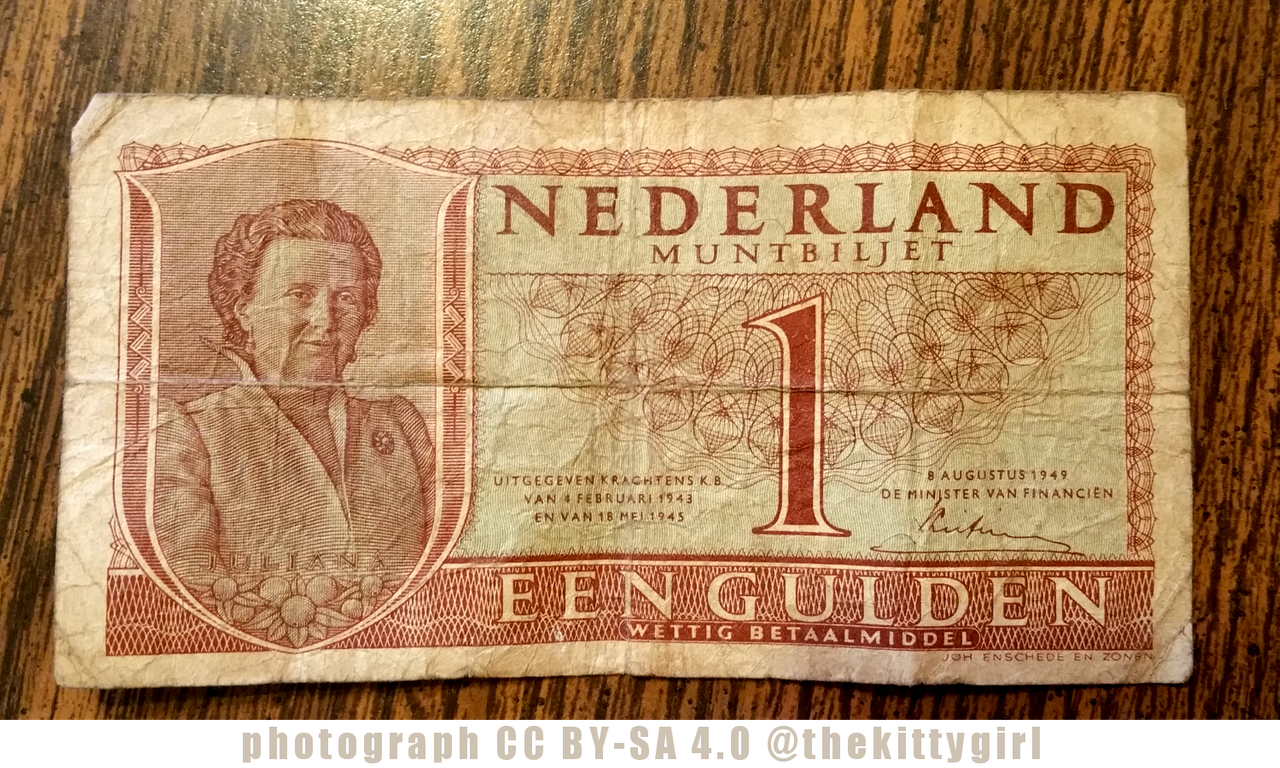 Besides the serial number, the back of the banknote features beautiful geometric designs which are quite fascinating, and probably serve as an anti-counterfeiting measure as well as adding to beautify the note. Seeing this makes me think of three awesome ladies on the Steem blockchain: @brittandjosie @poeticsnake @soyrosa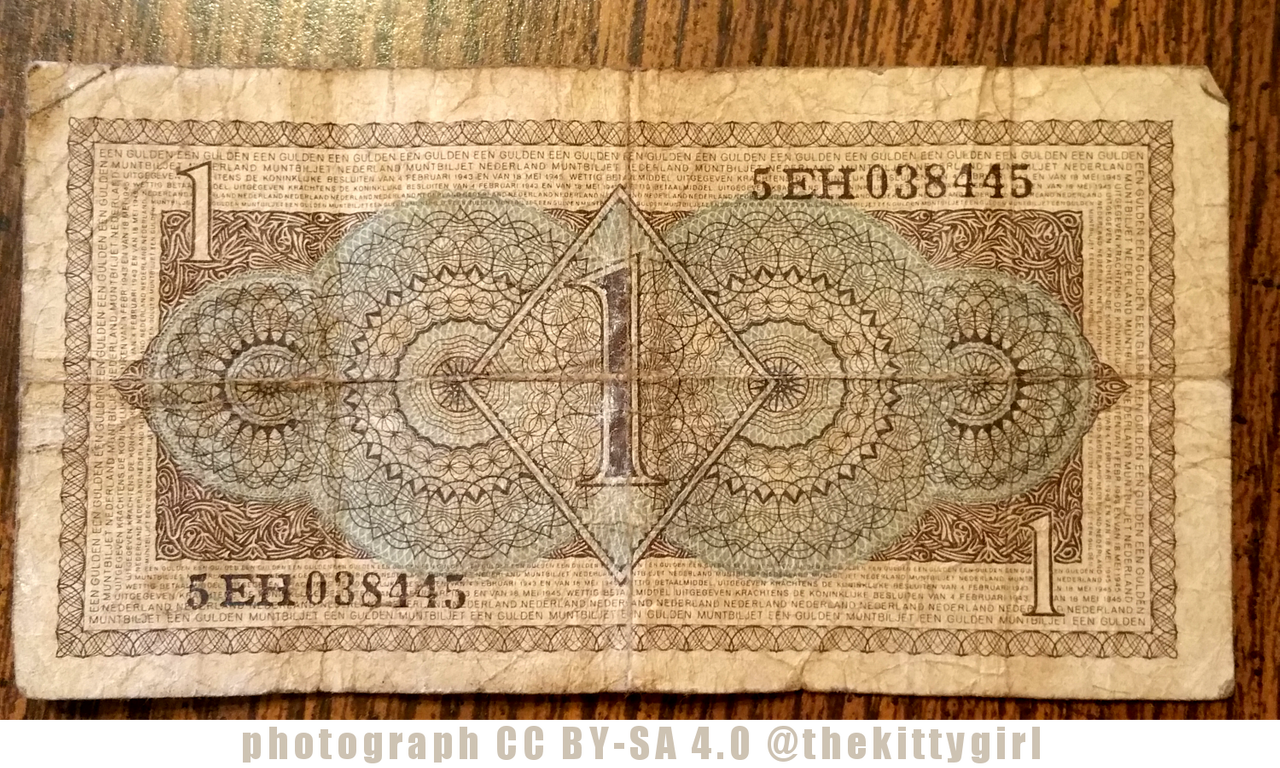 UNITED STATES MILITARY PAYMENT CERTIFICATE, Series 481
When my father was in the military, soldiers were paid with a special military "scrip" which was redeemable for goods at the "Post Exchange" (PX). I found one such example of military scrip which my father kept as a keepsake: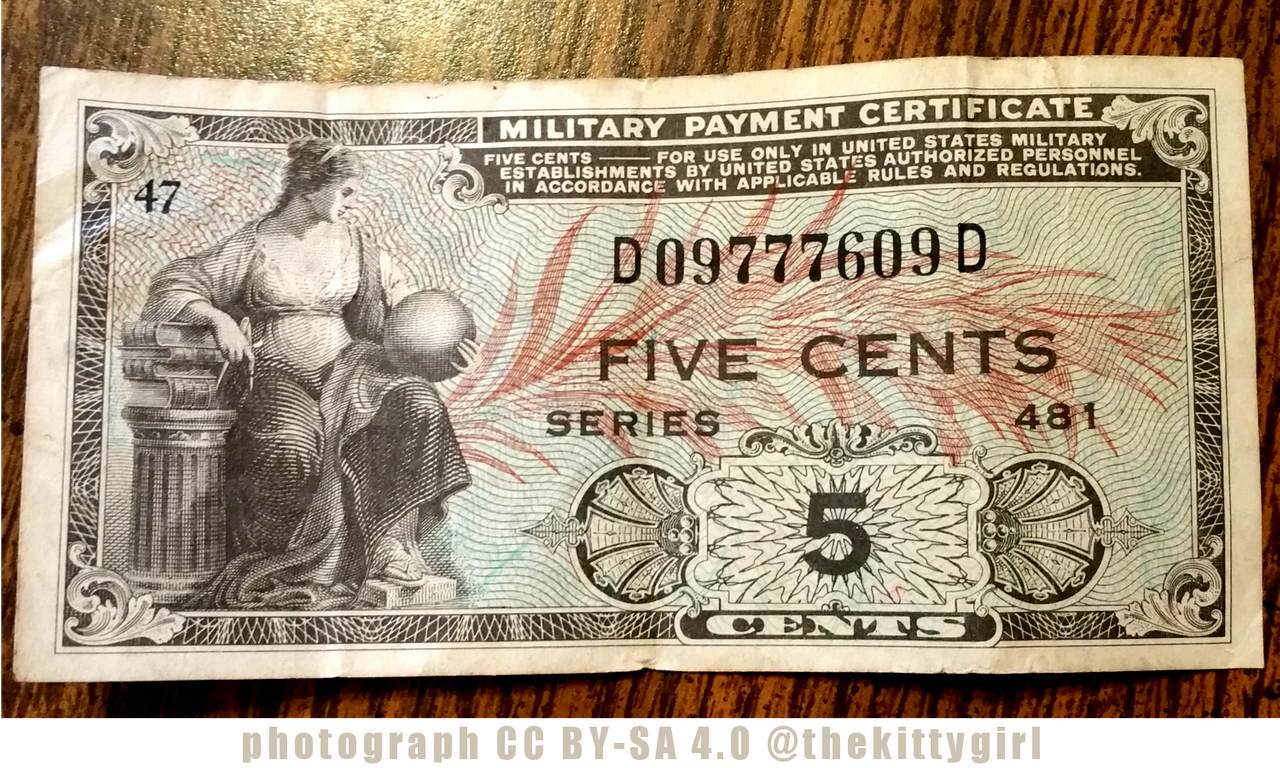 I knew nothing of these, so I searched online and found this:
Series 481 military payment certificates entered into circulation on June 20th, 1951. They were redeemed and devalued on May 25th, 1954. A total of around 330 million dollars in face value of 481 MPCs were issued. This series was circulated in 18 different countries. Both Tudor Press and Forbes Lithograph shared the printing responsibilities for this issue. These are really the first MPCs to use classically inspired vignettes. Just like all the earlier military payment certificate issues, 481 notes were printed in seven different denominations.  [source]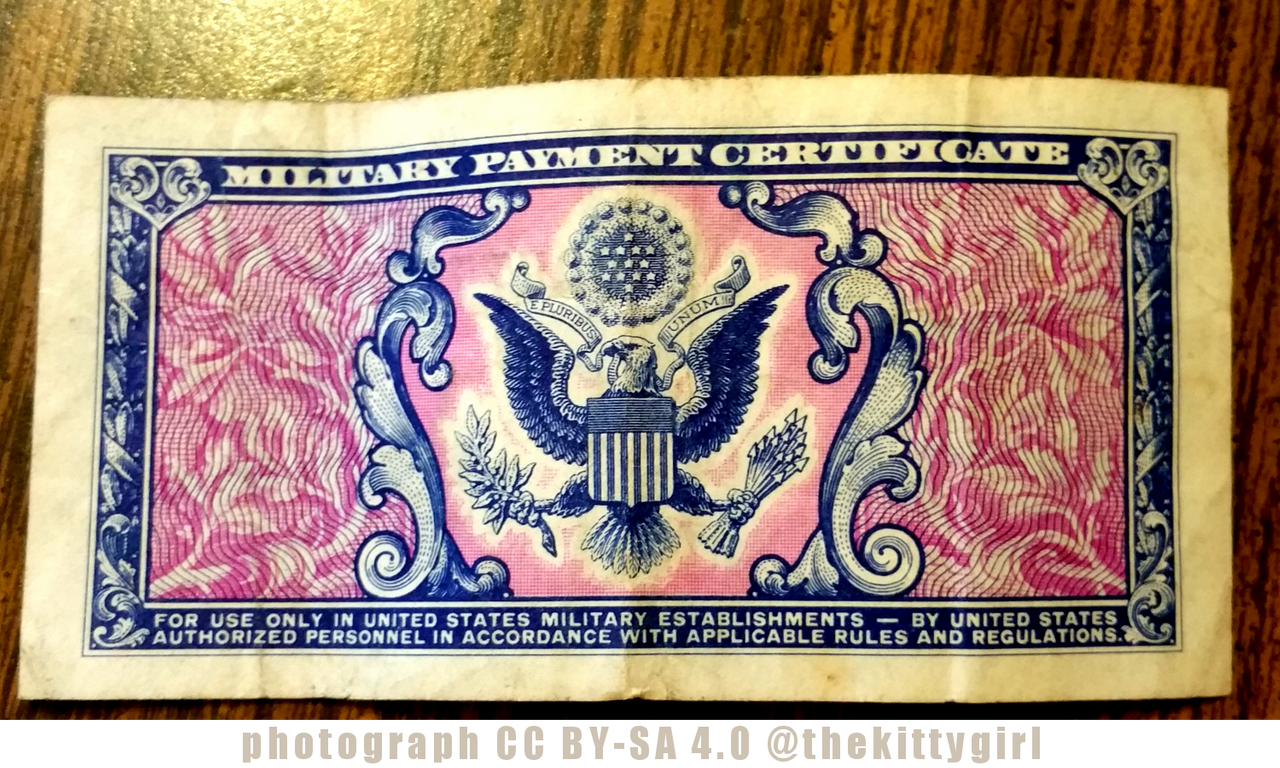 I could not fathom the need for such a Military Payment Certificate (MPC), so I did some reading on them. The very informative article "Military Payment Certificate" in Wikipedia explained the need for them when US military personnel are stationed in other countries in order to prevent damage to the local economy, hoarding issues, and black-marketeering.
Preferring a stable currency like U.S. dollars, local civilians often accepted payment in dollars for less than the accepted conversion rates. Dollars became more favorable to hold, inflating the local currencies and thwarting plans to stabilize local economies. Contributing to this problem was the fact that troops were being paid in dollars, which they could convert in unlimited amounts to the local currency with merchants at the floating (black market) conversion rate, which was much more favorable to the GIs than the government fixed conversion rate. From this conversion rate imbalance, a black market developed where the servicemen could profit from the more favorable exchange rate. [source]
So, that was the reason the Military Payment Certificate program was implemented, and it was in-force from 1946 until 1973. Apparently, such notes are no longer issued, being retired in favor of a debit-card styled system. This note which was retained as a souvenir by my father has no redeemable cash value today (as this particular series was retired in 1954), but certainly holds value as a collectible and historical item.
Both of the notes mentioned in this post are now in the possession of my brother, as I let him take them since I am keeping most of the coins that my parents had collected over the years.

 😊
SOURCES
   1 AntiqueMoney.com: Series 481 Military Payment Certificate
   2 LetoverCurrency.com: 1 Dutch Guilder muntbiljet 1949




15-Aug-2019