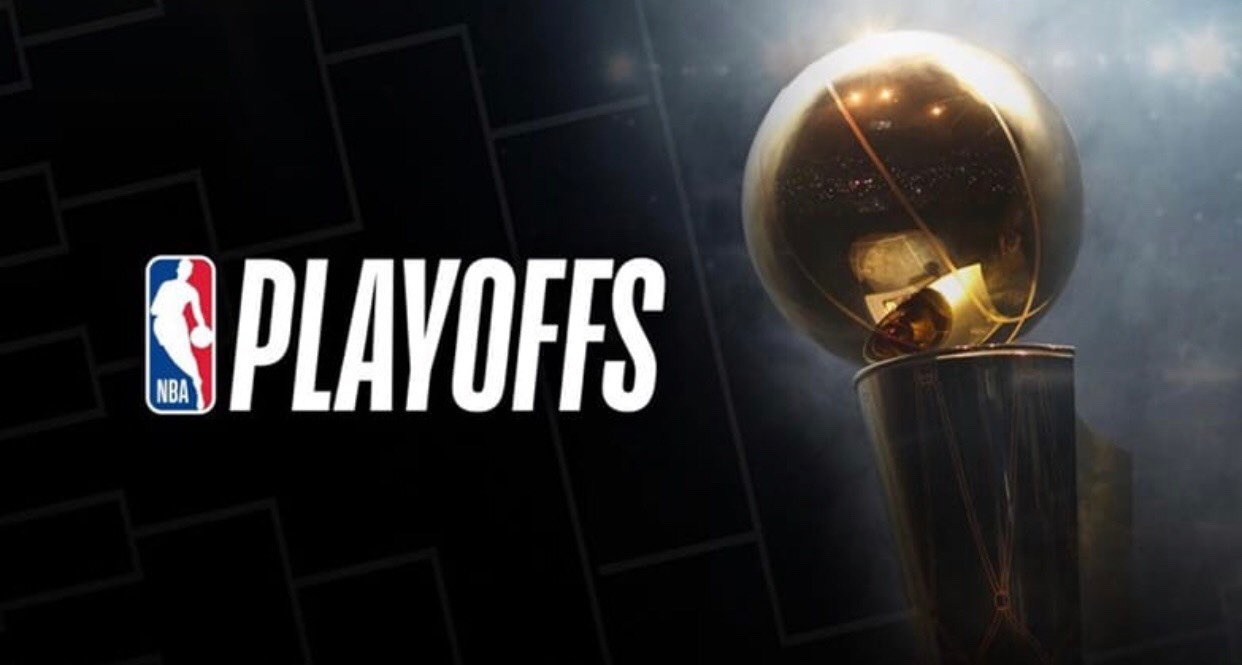 ---
SteemSports Presenter:
@mateonav53
---
SteemSports Editor:
@scottybuckets
---
The years go by faster than Giannis on the open floor. It feels like it was only mere months ago that we were losing our minds over JR Smith's Game 1 brain fart that rendered LeBron's Thanos-esque 51-point effort useless. The chess pieces of last year's league have been smacked to the floor and rearranged since then. Now we find ourselves waiting anxiously for the Golden State Warriors and Kawhi Leonard-Raptors to take the court in Toronto for Game 1 of the NBA Finals.
---
This matchup could be the Basketball Gods paying us back for the Spurs vs. Warriors matchup we never got in the 2017 Western Conference Finals. Kawhi Leonard, then a San Antonio Spur, was on his way to capping a convincing Game 1 road victory over the first-year Kevin Durant Warriors, but our old buddy Zaza Pachulia had the gall to
slide his foot
under a mid-air Kawhi. Thankfully, Zaza isn't around anymore to wreak havoc on opposing ankles.
---
This current Raptors squad got a few tweaks from last year's regular season dynamo. Other than swapping DeRozan for Leonard, they feature the 3 and D prowess of Danny Green, the rim protection and savvy passing of Marc Gasol, and the multi-purpose wing play of Pascal Siakam. Mainstays like Kyle Lowry and Serge Ibaka bring a sense of culture and continuity from the Raptor's trouble of the past, but the collective chemistry between the old guard and the new has propelled this team to heights unseen - the first NBA Finals appearance in franchise history.
---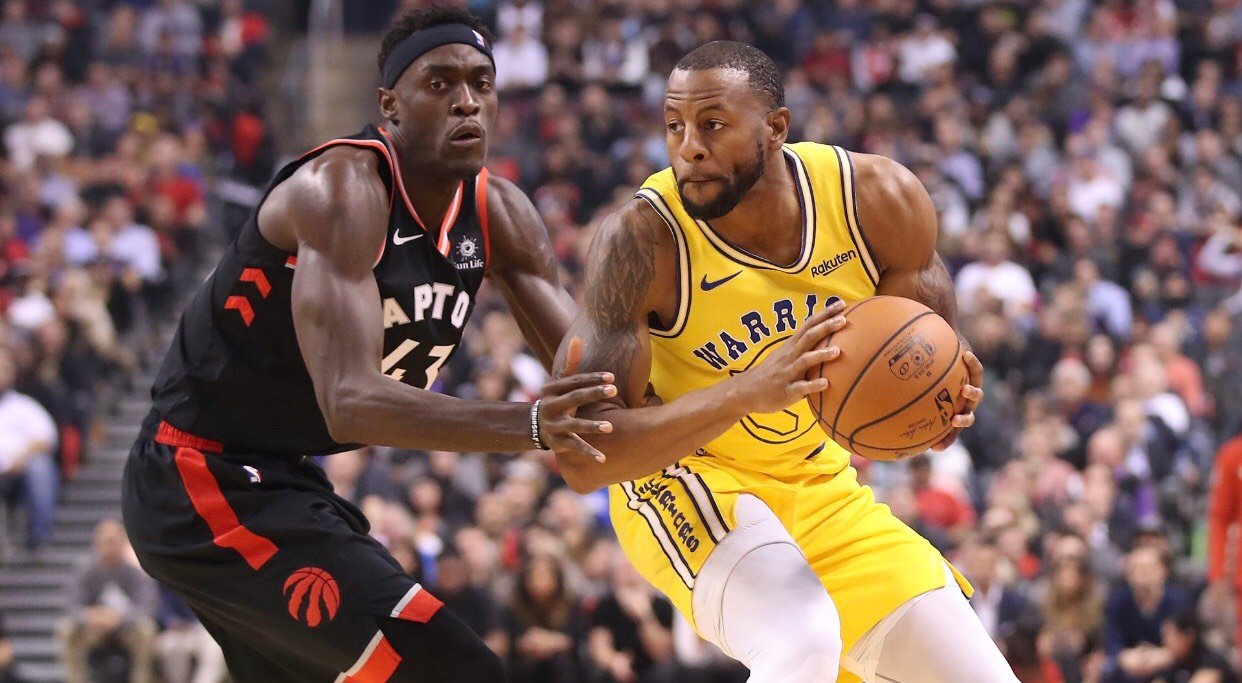 ---
Leonard has been a star in these playoffs, pouring in career highs in scoring (31.2 ppg) while also accruing 8.8 boards, 3.8 dimes, and 1.6 steals while shooting 50.7% from the floor and 38.7% from three. The general playoff averages are solid, but they can't paint a picture of how dominant Kawhi's postseason has been.
---
He has been the two-way rock that Toronto desperately needed in their years of semi-contention. When the team is down and needs a quick ten points to get a run going, Kawhi has been the man to do it with mid-range jumpers, timely threes, huge rebounds, and stellar defense on the enemy's best player. To think that he was doing it all while playing through a right leg injury (the same leg that kept him out all of last year) is astonishing.
---
Those who yearn for a competitive NBA Finals are rooting for Leonard to come into this series healthy and ready to go. As his team's best defender, he may be tasked with switching between chasing Steph Curry and Klay Thompson all around the half court in an effort to make their lives just a little more difficult. If Kevin Durant comes back to play in this series after suffering a calf injury, expect Leonard to take on the task of covering arguably the hardest player to guard in the game. As of now, Durant has been ruled out for Game 1.
---
While the Steph-Klay-Draymond core of Warriors can very likely win this on their own, the returns of Kevin Durant or DeMarcus Cousins would likely tip the scales in their favor. Andre Iguodala has been dealing with a calf injury, even sitting out for a bit of the Western Conference Finals while the rest of the team handily dispatched the Blazers. The absences to key players presented opportunities to hungry role players such as Kevon Looney, who is building a hell of a case for a bigger payday this off-season. Looney's playoff averages don't pop out at you (7.5 ppg, 4.9 reb), but he's filling in admirably for a Warriors roster desperate for capable big men.
---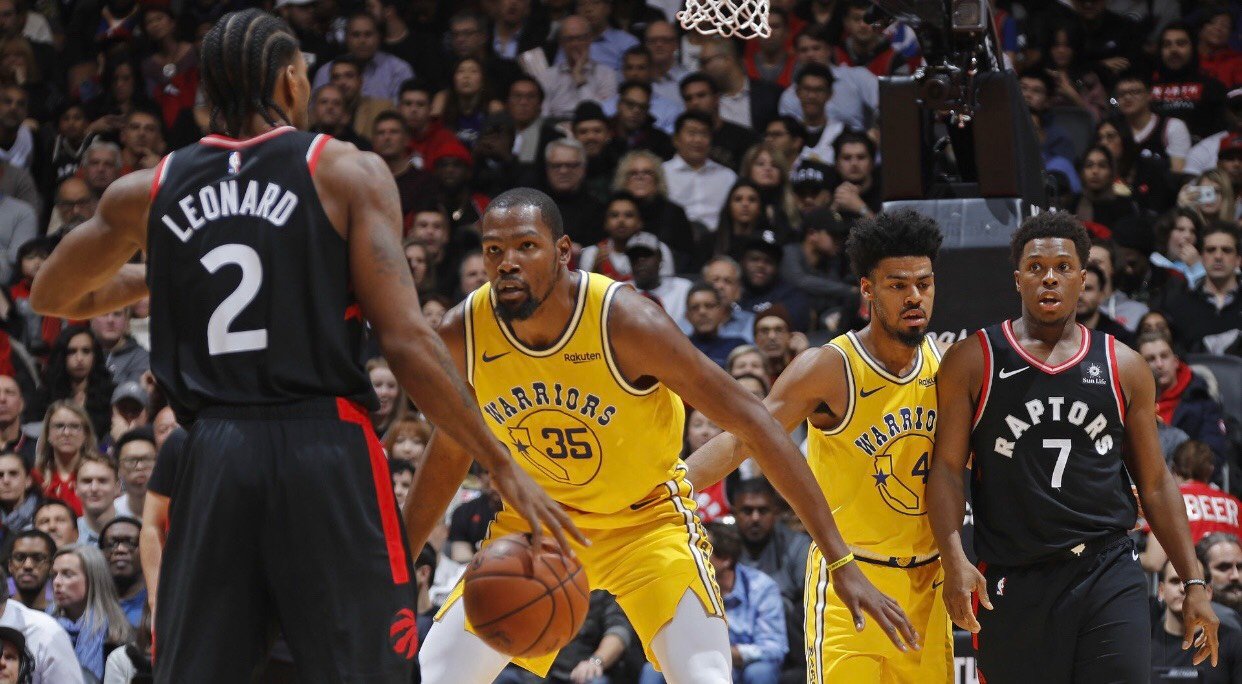 ---
If the Raptors are going to take advantage of a perimeter-focused Warriors squad, they're going to have to absolutely murder them in the rebounding department. They've always struggled with size, but they've been able to neutralize lumbering big men by running them off the floor with their fast-paced transition game and three-ball. It's a big reason they were so excited to get DeMarcus Cousins on board. He offered them big man versatility - another weapon to bring out depending on the matchup.
---
The Raptors played some incredible team defense in their last two games versus the Bucks. They allocated enough attention to take away Giannis' driving lanes while amply harassing their role players scattered throughout the perimeter. They took away every inside-the-paint opportunity they could and gambled on letting guys like Eric Bledsoe, Malcolm Brogdon, and Khris Middleton beat them from three. The same strategy was applied to Ben Simmons, Joel Embiid, and the Sixers in the previous round. The Warriors, however, will present a totally new challenge, as they favor an outside-in attack.
---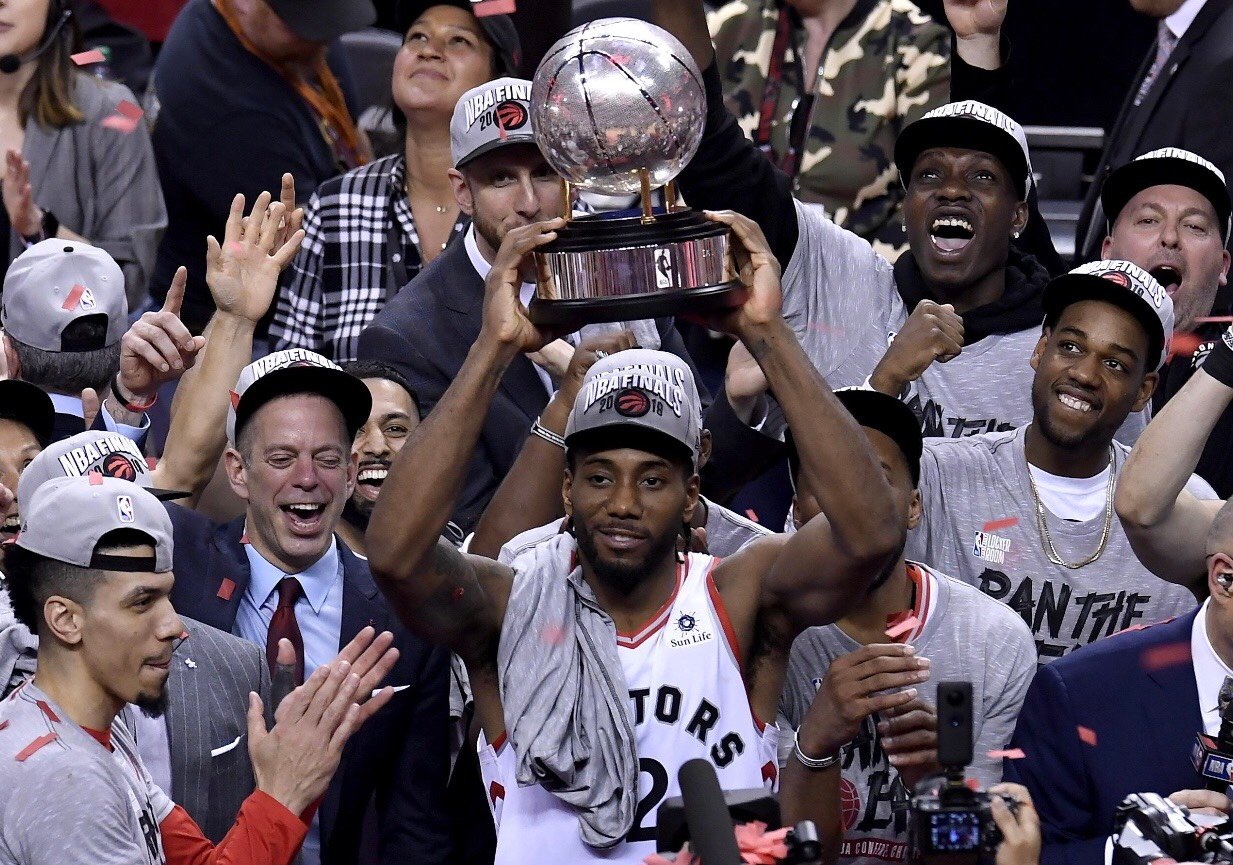 ---
As it has been discussed at length, the Warriors are just a totally different team with Curry as the point of attack. They're an engine of complex off-ball movement and fancy handoffs (among other things) that seeks to set up two of the greatest shooters ever for success. Durant's presence messes with the traditional gameplan by making room for one of the greatest isolation scorers that the game has ever seen.
---
When KD takes the floor the margin for error also becomes a lot wider, which is why you see the Warriors get complacent then rally back like it was nothing. They certainly fell behind without him multiple times during the Blazers series, but we also have to keep in mind that Portland came into it with hobbled star guards and no Jusuf Nurkic. That series would've been a lot more competitive if the Blazers had all their weapons in good and working condition. We might've heard cries for the early return of Durant if things got bad.
---
Their smaller margin for error when it's just Steph/Klay/Draymond is evident in the fact that they called KD for help in the summer of 2016. Just enough went wrong for the Warriors that it opened the door for a miraculous Cavaliers victory that no NBA fan will ever forget. If Toronto can continue gobbling boards while executing crisp rotations on defense, and all non-Kawhi players shoot slightly above their averages, then maybe enough luck can break their way for an instant classic NBA Finals.
---
Thank you for following
@steemsports
and you can find me
@mateonav53
---

---

This is a
@steemvoter
subscription payment post. Thank you to Steemvoter customers for allowing us to use your Steem accounts to upvote this post by virtue of your free subscription to the
https://steemvoter.com
bot service.
@steemvoter
is proudly a
@buildteam
subsidiary and sister project to
@steemsports
,
@steemsports-es
,
@steemsports-ita
and
@minnowbooster
.