Perhaps one of the most fascinating natural variations that occurs in the wild is Albinism. True albino animals are actually fairly rare, which is why I was surprised (and delighted) to come across a couple of albino squirrels today in my walk through Cape Town's Company gardens. This is the first time I've seen these little guys in this particular location, despite having visited the gardens many times as a child growing up in Cape Town. Having recently moved back, it seems there is now a thriving population of albinos in this area.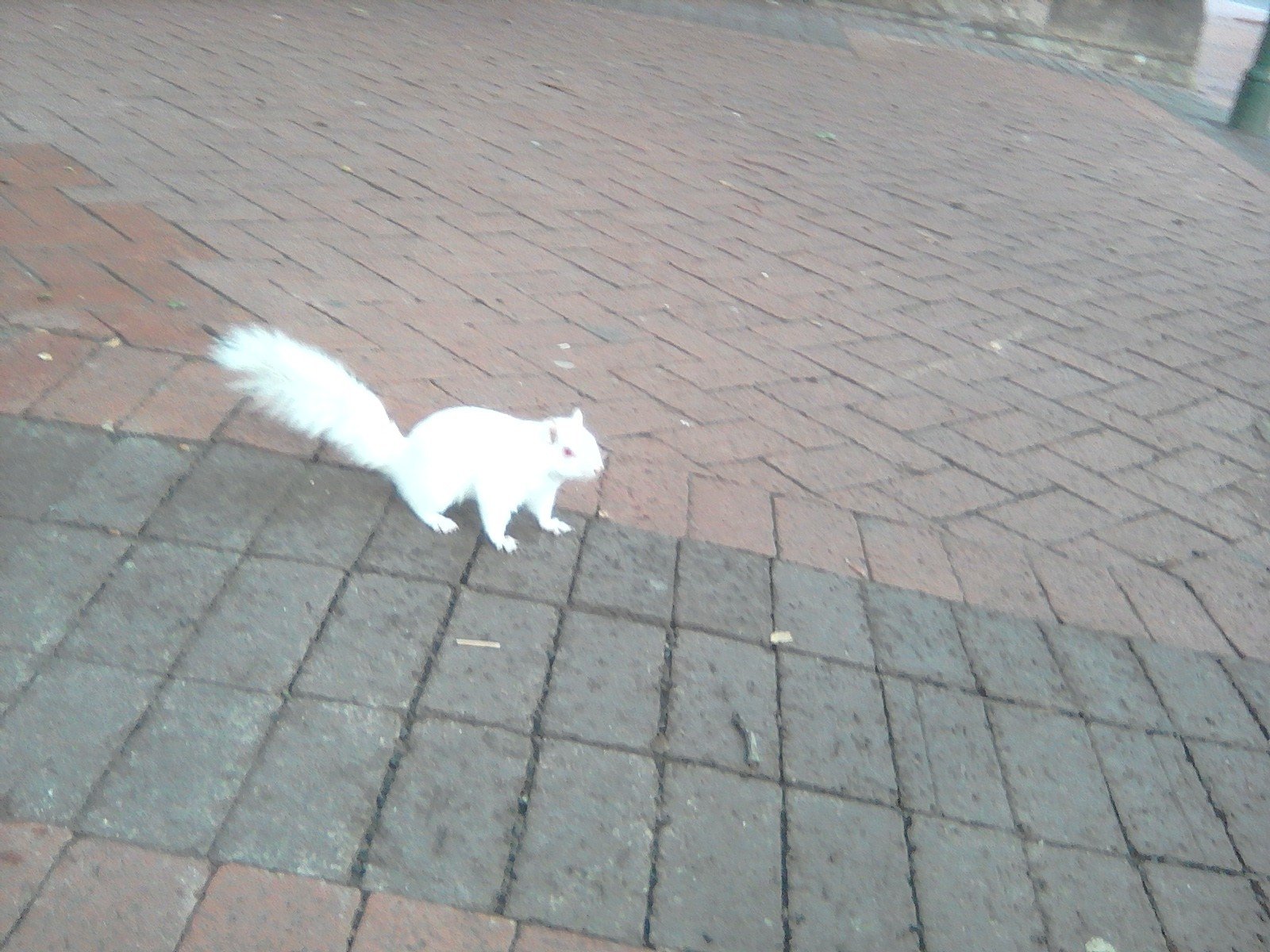 A true albino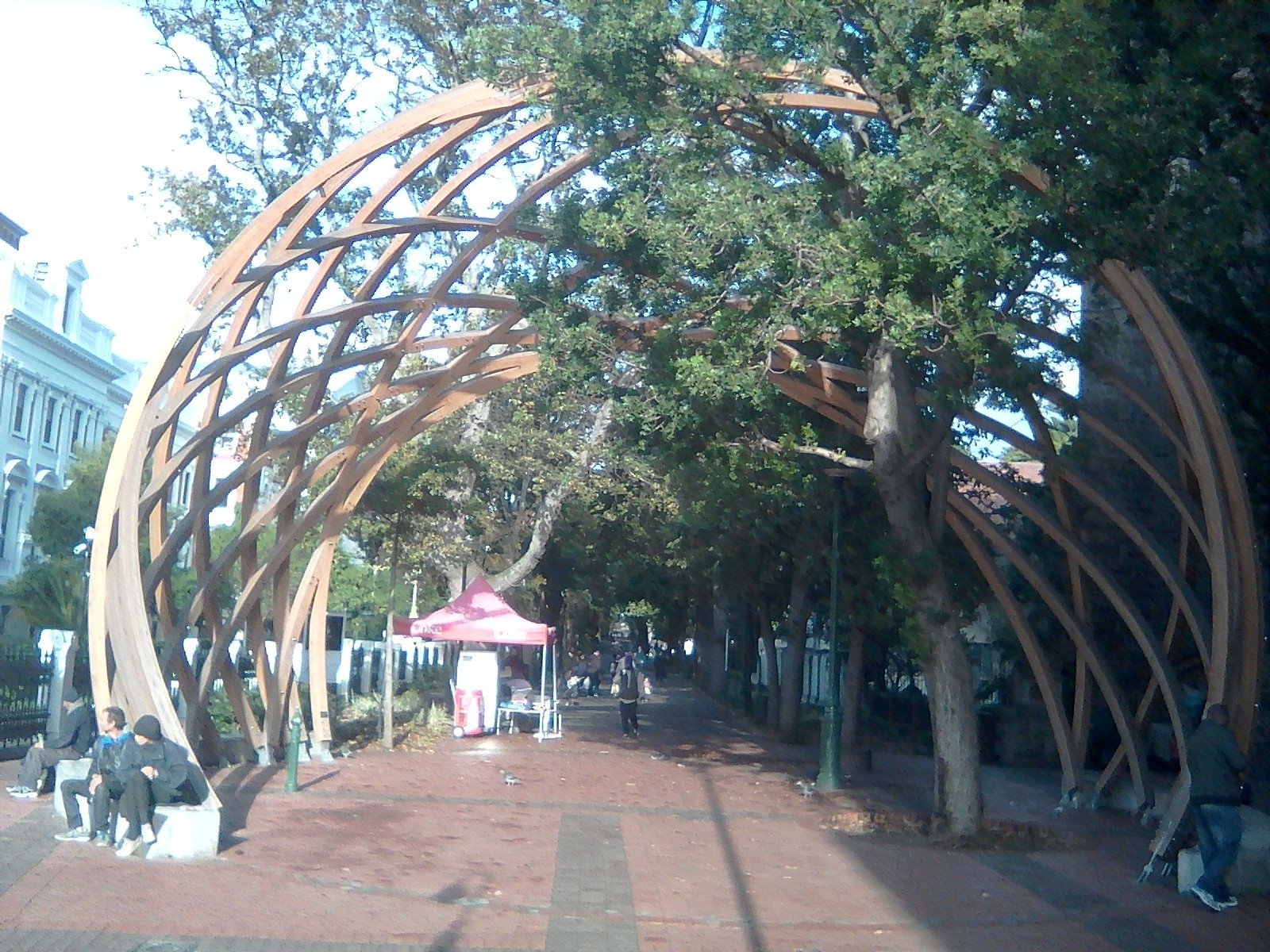 The entrance to the gardens
It's all in the genes
Genetically, what's happening when we see an albino is that the individual has inherited a recessive gene from both parents, resulting in the bizarre lack of the pigment melatonin seen in these squirrels. The gene responsible affects the production of an enzyme, tyrosinase, required to synthesize melatonin from tyrosine– thus the melatonin pigment which gives the rest of the population its characteristic colour is not produced. For the squirrels, this means both ghostly white fur and the characteristic albino red eyes. The eyes take on this colour because you are seeing the blood vessels present in them directly, due to a lack of iris colour that would normally give their eyes a black hue.
Life on the bright side
Unfortunately for albino animals, life as such a conspicuous creature is not easy. Colouring in nature typically serves to provide camouflage or aid in sexual display (indeed, for some, such as Kookaburas, being an albino has been shown to be a real detriment to breeding). Albino animals have a far harder time camouflaging themselves and thus may succumb to predation early on in their lives (though some studies dispute this idea). A further detriment is that their vision may be impaired, making it harder to find food, access shelter and avoid predators. These squirrels in the gardens are fairly lucky in that respect, as many tourists come through the area each day armed with packets of peanuts with which to feed them. They are also not particularly shy about mugging you for them, though here again, the albino seem a bit more reluctant:
White by any other name…
Not all white creatures qualify as albino. To do so, they must produce virtually no pigment, have red eyes and be white or pink in body colour. Some white animals are termed leucistic instead, and typically such individuals have blue eyes – these creatures are capable of producing at least some pigment. An animal may also be a partial albino, with patches of white and otherwise normal colouration.
What's very interesting to me with regards to the squirrels is I'm pretty certain they weren't there when I was a kid. The fact that I encountered two today (and discovered there are more by questioning people who work in the area) means the genes are on the rise in this small, urban squirrel population. Perhaps in another twenty years these unusual oddities will become decidedly common.
Till next time,
Keep Steeming people,
The Wise Fox
(Images and video are my own)
Sources:
https://www.nytimes.com/1990/06/14/us/scientists-find-gene-that-causes-albinism.html
https://www.theverge.com/tldr/2017/9/17/16309394/white-giraffes-animals-leucism-albinism
https://mdc.mo.gov/conmag/2005/06/all-about-albinism