Weakly-interacting massive particles (aka WIMPs) are amongst the most popular candidates for dark matter. However, dark matter could also be made of primordial black holes, a special class of black holes that were formed right after the big bang.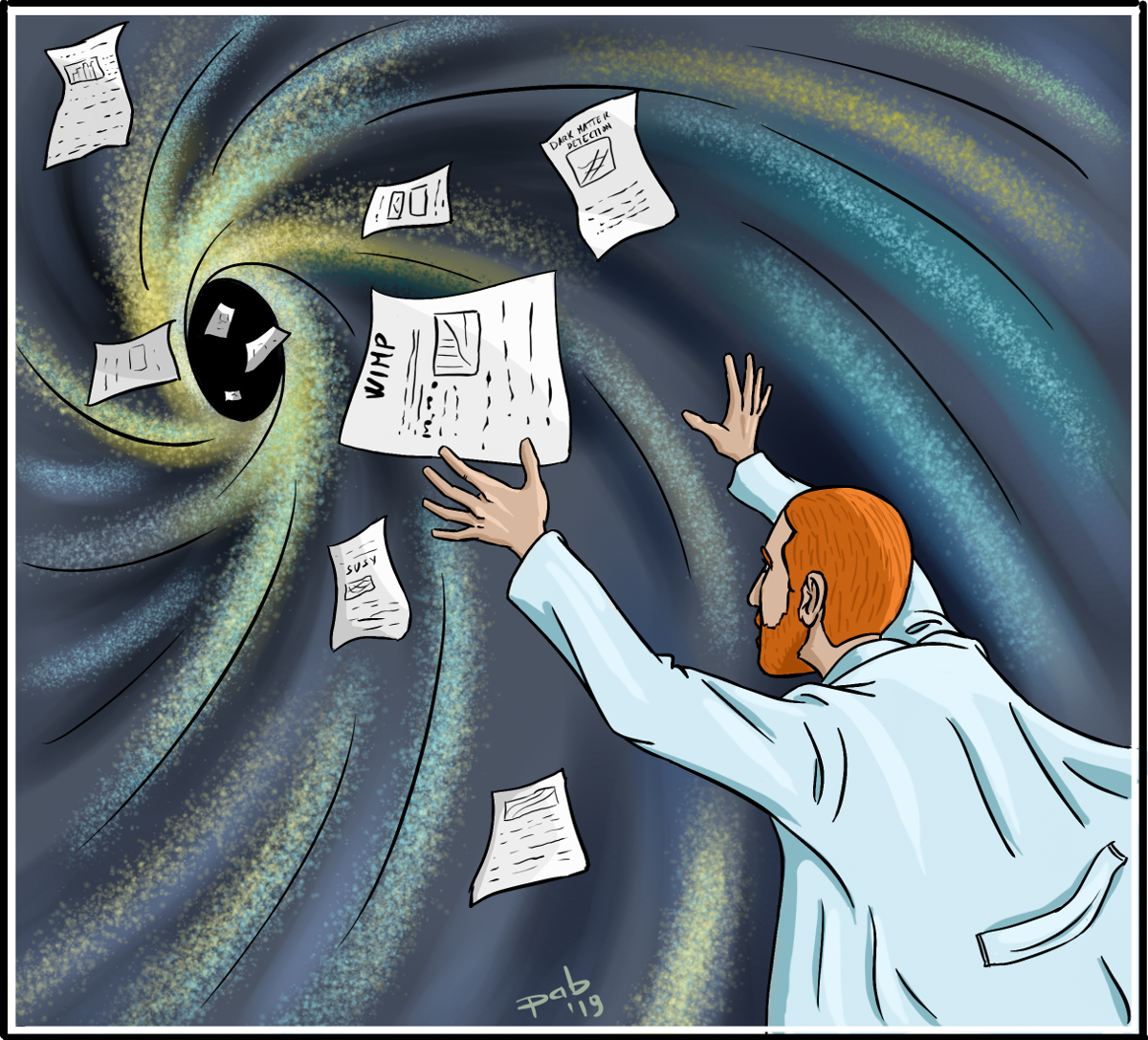 [image credits: @pab.ink]
In a recent publication, physicists have explored the strongly-motivated idea of coexisting black-hole and WIMP dark matter. Their results are striking: observing a primordial black hole could rule out most popular extensions of the Standard Model of particle physics!
---
Primordial back holes and WIMPs
While it explains a large set of cosmological observations, dark matter still escapes detection on Earth. Consequently, there exists a multitude of dark matter models, some of them featuring WIMP and others primordial black hole dark matter.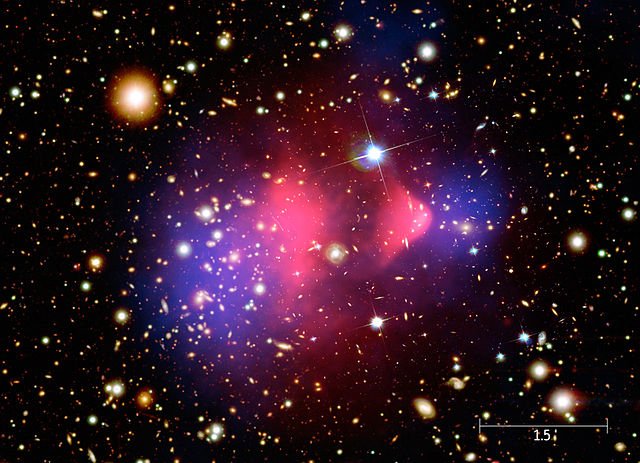 [image credits: NASA (public domain)]
WIMPS are particles that rarely interact with normal matter and that appear in many theories extending the Standard Model of particle physics.

The weakness of their interactions allows them to exactly match the present dark matter abundance, and justifies that dark matter has not been detected yet.

Another appealing option for dark matter consists in primordial black holes formed in the early days of the universe, as resulting from gravitational collapses in regions where the (inhomogeneous) matter density was large.

Such black holes can however only account for a subdominant fraction of dark matter. In other words, they could be dark matter provided that dark matter has another component. Moreover, the latter could be a WIMP.
---
Primordial back holes as bullets for new phenomena in particle physics
Let's focus on black hole detection for a moment.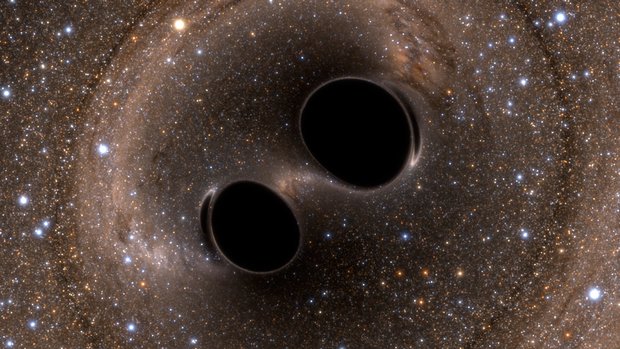 [image credits: The SXS Project (CC BY-SA 4.0)]
Many experiments, like LIGO, Virgo or the Einstein Telescope, aim to track gravitational waves in a close future. They have hence the potential to directly observe primordial black holes.

On the other hand, we all know that black holes accrete matter.

The WIMP density around a primordial black hole is therefore enhanced, so that WIMP annihilation can take place. This however induce the production of gamma rays in a way strongly excluded by data.

Consequently, if we observe primordial black hole dark matter, WIMP annihilation must simultaneously be small enough to forbid the production of too many of these un-observed gamma rays.

This yields the results below.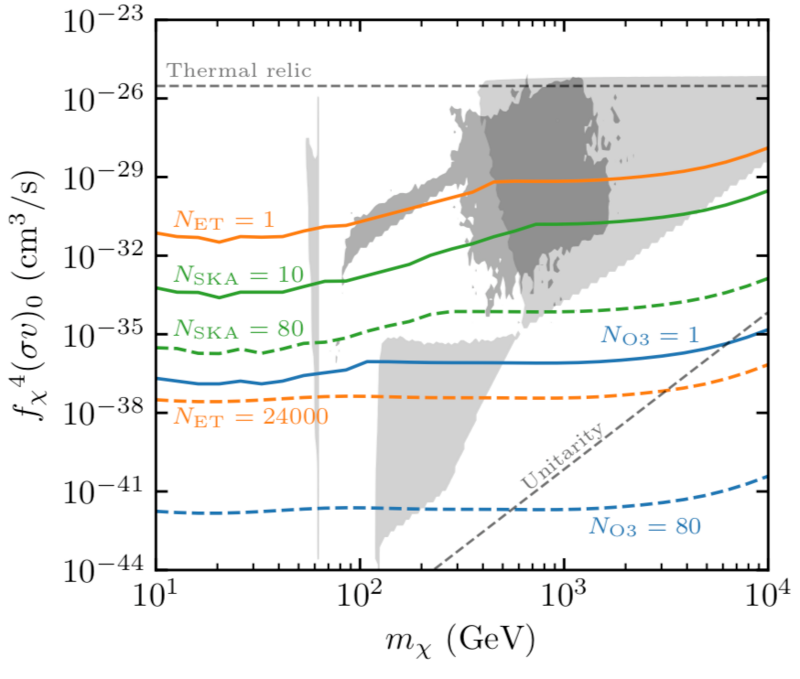 [image credits: arxiv]
On this figure, the x-axis corresponds to different WIMP mass hypotheses, whilst the y-axis consists in the WIMP contribution to the dark matter annihilation rate (that is connected to the dark matter abundance).

The viable parameter space (containing all Standard Model extensions featuring a WIMP candidate) lies between the two grey dashed lines. Anything either above the horizontal dashed line at the top or below the diagonal dashed line at the right-bottom is irrelevant.

Let's now assume that VIRGO/LIGO observe 1 primordial black hole. Any WIMP setup above the solid blue line turns out to be excluded. Taking the Einstein Telescope, anything above the solid orange line is this time excluded.

We can however get crazier. If VIRGO/LIGO observe 80 black holes, then anything above the dashed blue line would be excluded. This means that the entire viable parameter space is almost excluded!

Gravitational waves have hence an immense potential for particle physics!
---
Take-home message
Primordial black holes consist in a potential candidate for dark matter, provided that dark matter contains another component, like a WIMP. This multicomponent dark matter setup yields the production of gamma rays visible in the entire universe. Such gamma rays are however experimentally excluded.

On different lines, there are options for the potential observation of primordial black holes in a close future, thanks to gravitational-wave detection.

Consequently, observing a handful of primordial black hole could potentially entirely rule out the WIMP hypothesis (and thus a plethora theories extending the Standard Model and featuring a WIMP), as this would imply the existence of experimentally-excluded gamma rays.

Let us thus keep an eye on future gravitational wave observations!

PS: This article has been formatted for the steemstem.io front-end. Please see here for a better reading.
---
SteemSTEM
SteemSTEM aims to make Steem a better place for Science, Technology, Engineering and Mathematics (STEM) and to build a science communication platform on Steem.
Make sure to follow SteemSTEM on steemstem.io, Steemit, Facebook, Twitter and Instagram. Please also consider supporting our witness (@stem.witness) or delegating to @steemstem (for a ROI of 65% of our curation rewards).