A novel idea to probe specific classes of potential dark matter particles was recently suggested in this scientific article. It consisted in giving a second life to medical and nuclear waste as dark matter detectors. Before moving on with the details, let us come back a little bit on dark matter.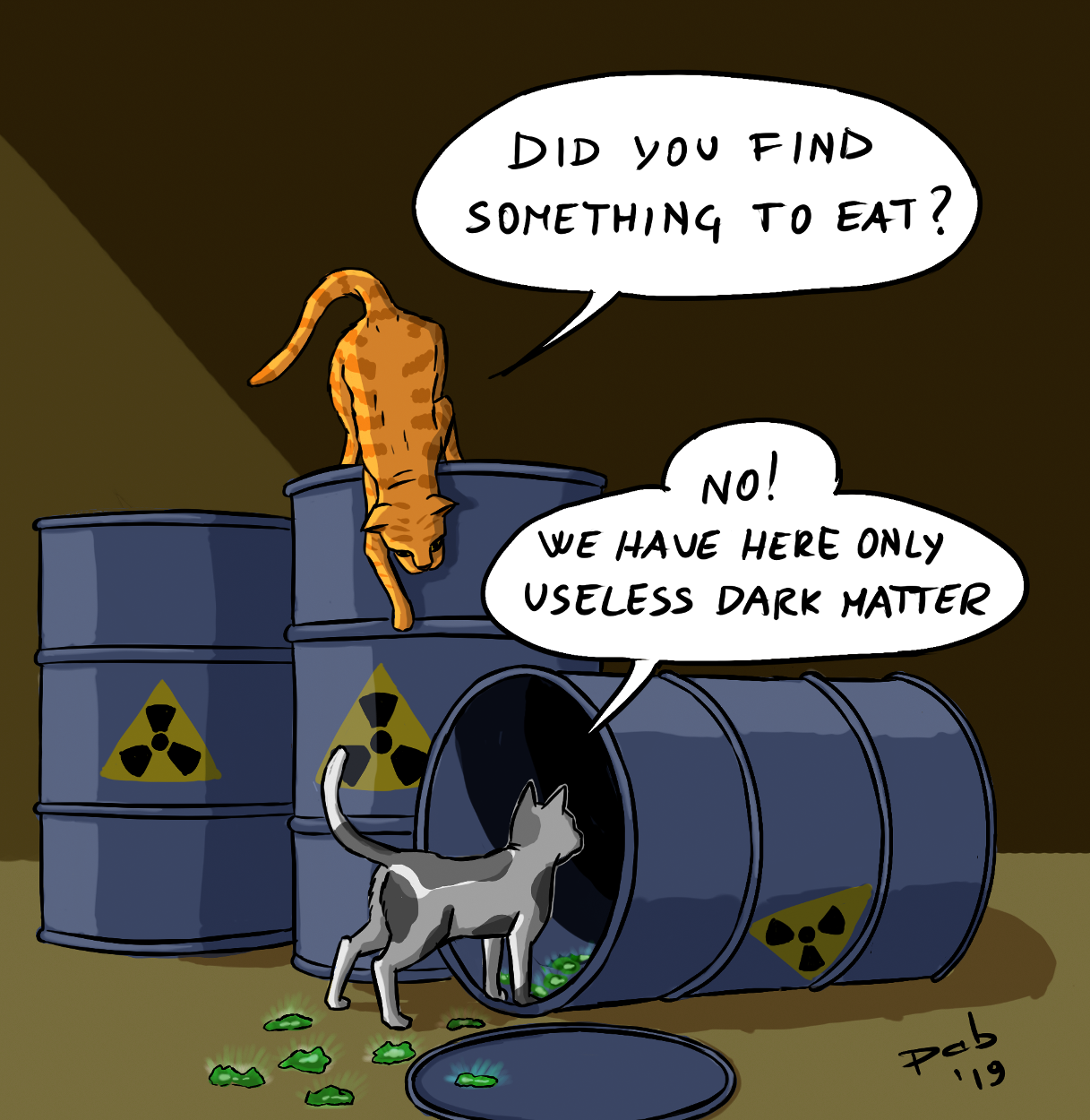 [image credits: @pab.ink]
Detecting dark matter
Dark matter is probably one of the most searched for beasts in (astro)particle physics today, as it is indirectly evidenced by many cosmological observations. It however still escapes direct detection so that its true nature remains unknown.

This has led to the development of a plethora of theories featuring a particle playing the role of dark matter. In many of these theories, dark matter is expected to be observable on Earth in experiments relying on its very rare interactions with normal matter.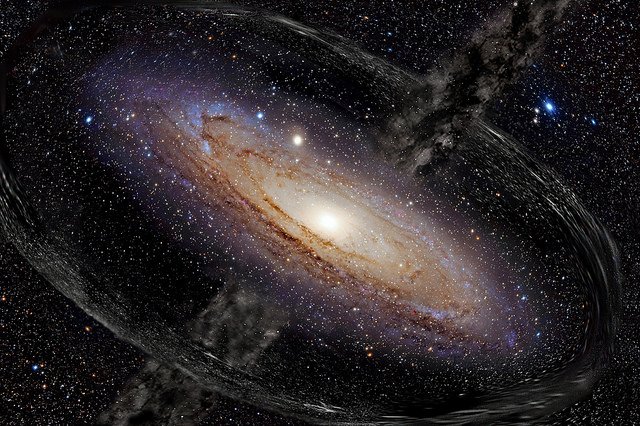 [image credits: Maxwell Hamilton (CC BY 2.0)]
In practice, we wait for dark matter to hit one of the atomic nuclei of the detector material, which is then recorded to derive the properties of dark matter.
Dark matter particles must however be energetic enough to dump energy in the detector.

Dark matter can however be quite different so that these experiments would be significantly less sensitive. For instance, if dark matter is more strongly interacting, it could deposit all its energy in the atmosphere before reaching any ground-based detector (see e.g. here).

The newly introduced idea proposes to rely on an opposite mechanism. Instead of looking for dark matter depositing energy into normal matter, we could consider normal matter supplying energy to dark matter.
---
Recycling waste!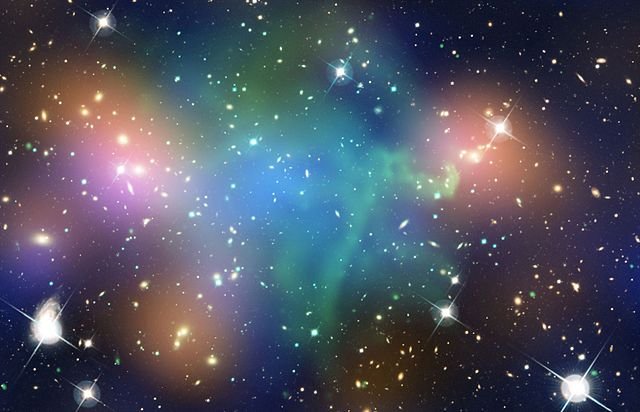 [image credits: Chandra @ NASA (public domain)]
In order for nuclei to provide energy to dark matter, we need a detector made of atomic nuclei lying in an excited state.

When hit by a dark matter particle, such an excited atomic nucleus is de-excited, and release energy that is transferred to dark matter.

One could then directly observe the nuclear decay, or use standard detectors as dark matter has become more energetic.

However, where to find excited nuclei in large enough quantities to make a dark matter detector? The answer is simple. Nuclear and medical waste contains a large amount of long-lived nuclear isomers that are patiently waiting to be given a second life.

Dark matter is an option for their new life: these isomers could be packed close to an existing dark matter facility and then provide a mean to implement the new detection idea.
---
Could this work?
To illustrate the expectation of this new dark matter detection method, we can pick up a class of dark matter model and see how it is covered, as shown below.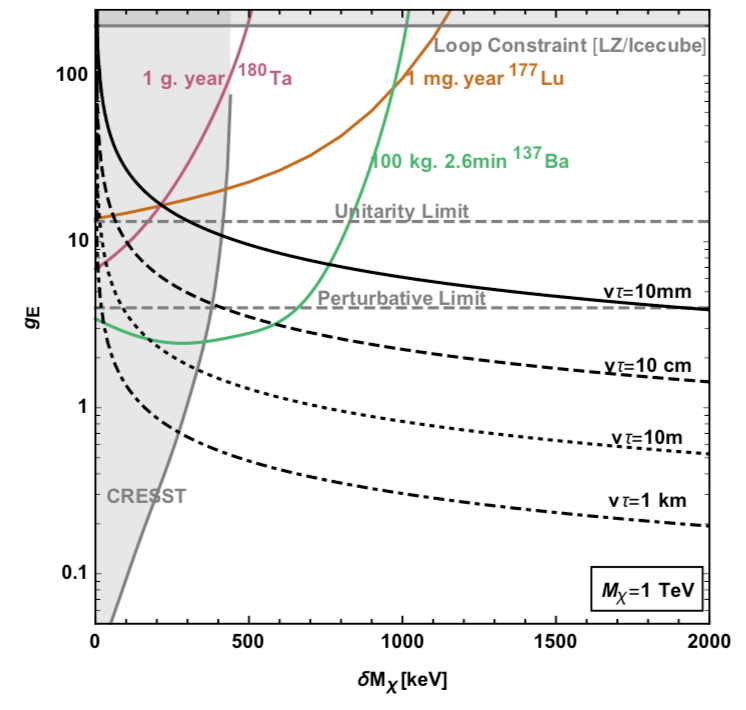 [image credits: arXiv ]
The two axes of the figure represent the two free parameters of the model. The grey areas are configurations excluded by current experiments. The three coloured curves consist in what the new method could do.

Anything above these curves is expected to be excluded by three isomers, i.e. 180Ta (very abundant in nature), 177Lu (remnant of cancer treatments) and 137Ba (nuclear waste).

As can be seen from the figure, nuclear waste give access to many new configurations not reachable by standard techniques.
---
Take-home message
I discussed today a novel method for probing dark matter. It relies on the transfer of energy from an excited atomic nucleus (as available by giving a second life to nuclear and medical waste) to dark matter, making it easier to detect with standard techniques in cases where they would otherwise fail.

Whilst all of this lies at the theoretical level at the moment, it would be interesting to put it in place experimentally. But for that, we need to wait… at least a bit!
PS: This article has been formatted for the steemstem.io front-end. Please see here for a better reading.
---
SteemSTEM
SteemSTEM aims to make Steem a better place for Science, Technology, Engineering and Mathematics (STEM) and to build a science communication platform on Steem.
Make sure to follow SteemSTEM on steemstem.io, Steemit, Facebook, Twitter and Instagram. Please also consider to support our witness (@stem.witness) or to delegate to @steemstem for a ROI of 65% of our curation rewards.