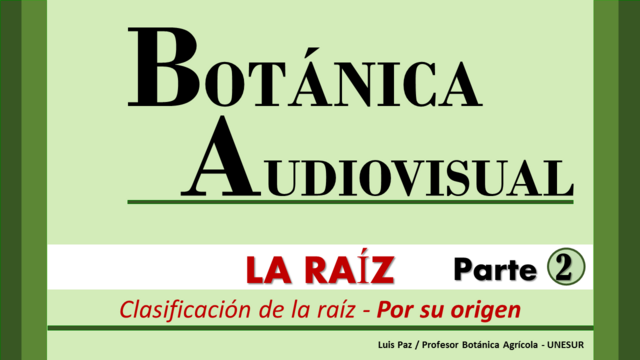 ---
¡Saludos estimados amigos, seguidores e integrantes! de la plataforma Steem.
En este aporte sobre BOTÁNICA AUDIOVISUAL, estaremos abordando lo relacionado a la clasificación de la raíz que muestran las plantas vasculares, en esta oportunidad sobre los tipos de raíces de acuerdo a su origen. En el video, se mostrarán los tipos de raíces a saber; normales o pivotantes, y las raíces de ascendencia adventicia que producen los especímenes en los tallos a nivel de nudos, o en los ápices de las láminas foliares.
---
REFERENCIAS BIBLIOGRÁFICAS CONSULTADAS:
---
[1] Lindorf H., Parisca L., Rodríguez P. Botánica clasificación, estructura y reproducción. Universidad Central de Venezuela. UCV. Colecciones Ciencias Biológicas. Caracas. 2006;584.
[2] Font Q. Diccionario de Botánica. Editorial Labor, S.A. 2012;1243.
[3] Schlichting C., and Levin D. Phenotypic plasticity: an evolving plant character. Biological Journal of the Linnean Society. 1986;29:37-47.
---

---
▶️ YouTube