New research results have shown that the human brain is much more complex than one had ever imagined. The exact way in which the brain enables us to think and develop consciousness has long been one of the most fundamental unsolved mysteries of science.
We can say that the brain is the most complex object in the universe that we know. It is estimated to possess up to 86 billion neurons and all of which are interconnected to form the vast neural network that enables us to think in the first place.
Now neuroscientists from the Blue Brain Project in Switzerland claim to have discovered that the structure of the human brain is indeed so complex that it cannot even be limited to three dimensions.
"We've found a world we never imagined. There are tens of millions of these objects in a small spot of the brain even with up to seven dimensions. In some neural networks we have even discovered structures with up to 11 dimensions,"
said neuroscientist and study leader Henry Markram.
To perform their mathematical tests, the team of scientists used a detailed model of the neocortex. The neocortex is the part of our brain that developed most recently and the part that is involved in some of our higher-level functions such as cognition and sensory perception.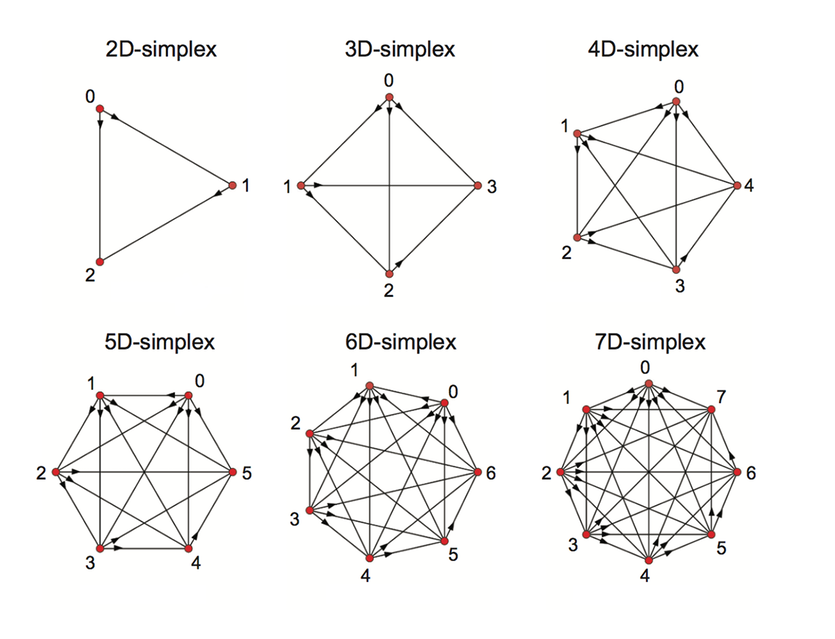 Diagram representing groups of neurons and connections between them that, topologically speaking, make up multi-dimensional 'cliques'. source
As Science Alert writes, algebraic topology provided scientists with the mathematical tools to recognize details in the neural network. This is true both in close-up view, at the level of individual neurons, as well as in a larger scale with the brain structure as a whole.
By combining these two planes, the researchers were able to identify high-dimensional geometric structures in the brain formed by accumulations of closely interconnected neurons, whch are groups, and the empty spaces, which are cavities, between them.
After developing their mathematical frameworks and testing some virtual stimuli, the researchers were able to confirm their results even in real brain tissue from rats.
However, how these 11-dimensional structures work in detail to generate consciousness remains unclear. It is even conceivable that the three-dimensional limitations of our own consciousness may prevent us from ever finding the answer.
Despite the many research successes we have had in recent years, we seem to be repeatedly shown that we are still quite at the beginning of understanding the human brain and that we have only scratched the surface.