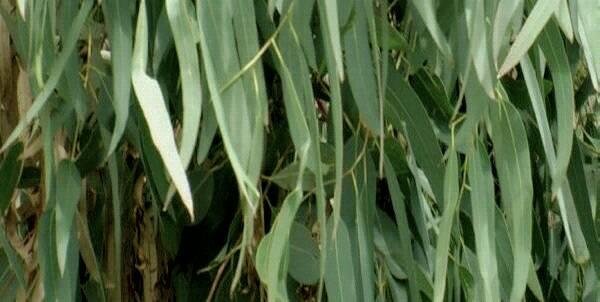 Image Source: Personal
My apologies to all my followers...
Greetings!! After 10 days without net connection, here I come back with this refreshing post!!!
The Eucalyptus (Eucalyptus globulus) is a tree belonging to the Myrtaceae family (Myrtaceae), originally from Australia. It is a tree that can reach a considerable height (40-70 m). It has one or several main trunks, of light beige color, with a tendency to detach its bark. The younger branches have a flexible appearance, the leaves grow in groups that fall in the form of "bunches". Its leaves are dark green or grayish, elongated and pointed. The Eucalyptus tends to develop its foliage at a great height of the ground. Its fruits are also presented in the form of bunches with very small black berries without pulp.ⁿ
Its leaves have a fragrant oil, with a camphoric and mentholated odor, widely used in pharmaceuticals due to its therapeutic properties.
In Vitro, eucalyptus oil has shown numerous properties, due in part to its large content of terpenes, the main one being Eucalyptol (systematic IUPAC name: 1,3,3-trimethyl-2-oxabicyclo [2.2.2] octane.
It should be noted that terpenes are a family of unsaturated hydrocarbon compounds, derivated of the isoprene (2,3-dimethyl-1,3-butadiene). Several fragrant compounds present in nature are derived from: Limonene, Pinene, camphene…
A large number of works are presented proving their properties: it has been found that eucalyptus oil is antiseptic, astringent, rubefacient, sedative and slightly anesthetic in topical use. Stimulates the bronchial epithelium, this is the reason it is also used as an expectorant and mucolytic. Eucalyptus oil can be obtained in the laboratory or in the form of infusion at homes.
-Laboratory obtention of the Eucalyptus Oil:
50 g of washed leaves were collected and poured into a 500 ml Florence flask. They were steam distilled to avoid the decomposition of thermosensitive compounds. The oil was separated from the water with a separatory funnel, and dried with anhydrous sodium sulfate. 1.5 g of the absolute oil were obtained.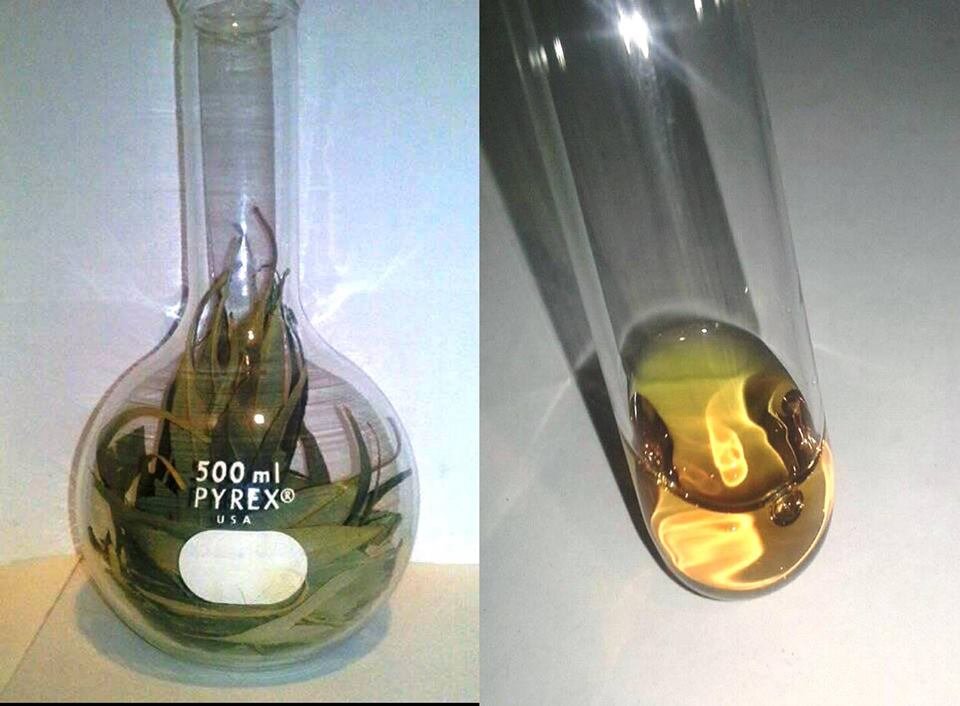 Image Source: Personal
-Eucalyptus infusion:
Boil a cup of water, and even boiling it, add 5 washed eucalyptus leaves. Turn off the heat after 10 seconds of boiling. Let stand for 5 minutes, sweeten with honey or sugar.
Likewise, performing inhalations of eucalyptus leaves boiling in water, can be of great help to treat conditions such as asthma, colds, respiratory system infections; thanks to the mentioned antiseptic and expectorant properties.
It should be noted, that the absolute eucalyptus oil, as well as its preparations, must be performed by qualified or pharmaceutic personnel, and respecting the doses recommended by it: the eucalyptus oil is metabolized by the liver, therefore, it is toxic in large quantities producing alterations in hepatocytes. Its continuous or indiscriminate ingestion is not recommended for the same reason.
However, there is no risk to prepare a refreshing, comforting and safe eucalyptus infusion when your health or you wish it!
Regards !!!
NOTE ⁿ: Botanical terminology was not used to better understand the description of the plant.
References:
-E. Guenther, The Essential Oils, 1964
-Fresquet Febrer JL. Eucalyptus globulus and medicine. 1995
-Gabriela GS, Joao CNA, Jesus MLR, Paula D.Terpenoids and other constituents of Eucalyptus globulus. 1997
-Diccionario Enciclopédico. Ed. Nauta. 1995.