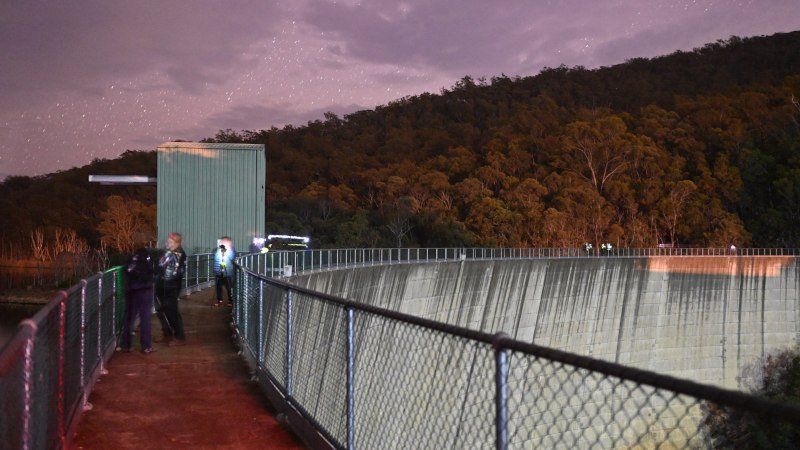 Photographers attending the Nikon/Camerahouse lined up on the dam wall to take photo's of the night sky
On the evening of June 1, I was fortunate enough to attend an astrophotography course at Lake Moogerah, Queensland, sponsored by Nikon Australia and Camerahouse. Although I had my own Olympus camera, Nikon brought along a nice range of camera bodies and lenses, including the new Z-Series mirrorless system, so I had the opportunity to try out the Nikon system for the night. This was my first time using a Nikon, let alone a Z-series, but it was probably enough time to get a basic impression on the camera's suitability for Astrophotography.

In the foreground are a couple of Nikon Z6 and Z7 series camera bodies, as well as Nikkor Z 14-30mm f/4 S, NIKKOR Z 24-70mm f/4 S and Nikkor Z 35mm f1.8 S lenses. In the background are the Z-F lens adapters, as well as older "F" lenses and out of the frame Nikon DSLRs
The Z Mount
Nikon entered the full-frame mirrorless camera market last year with the introduction of the Z mount. Mirrorless cameras, in case you were wondering, do away with the mirror and prism used in a conventional SLR where light from the lens is diverted to an optical viewfinder. Instead of an optical viewfinder, an electronic viewfinder feeds live images straight from the sensor. This approach allows camera designers to make the camera significantly smaller and lighter. There is an additional advantage in that the lens can be moved closer to the sensor providing more freedom for lens designers so they can produce lighter and better-performing lenses.
Full frame and Astrophotography
It's not always a given than Full frame is best for Astrophotography, it depends on the targets and optical systems you will be imaging with. Be aware that many telescopes are not even able to fully illuminate a full frame sensor, so you will end up only being able to use the center of the image. You need to check the telescope specifications to ensure that corrected image diameter is at least 43mm.
First Impressions Nikon Z7
I was loaned a Nikon Z7 which sports a 46 Megapixel Full frame sensor as well as 5-axis in-body stabilization. I also decided to couple it with a Nikkor Z 35mm F1.8 S lens. This combination is actually surprisingly light and tips the scales just over 1kg. Even though I had never used a Nikon previously it didn't take too long to work out how to to use the camera's basic functions including setting focus point, adjusting aperture, ISO and exposure. There is also a mobile app, Nikon Snapbridge, that allows remote control of the camera over wifi, but I opted to just use the self-timer mode or the "Time" mode. There is also a built-in intervalometer as well, but I didn't have time to try that.
The Good
Most people will be interested in image quality, and I'm glad to report it is superb. I did some cursory comparison's with my 20 Megapixel Olympus Micro Four Thirds camera and as expected there is a big jump in image quality in favor of the Nikon. The degree in which the image quality will be superior will depend on the application, but for Nightscape photography this means it is possible to obtain cleaner images with shorter exposures. I also felt the 35mm f1.8 Nikkor lens performed well, although I because all my shots were on a tripod and there was a small amount of trailing it was difficult to evaluate edge-to-edge sharpness. But I did note the 35mm had excellent color correction with no ugly purple fringing about stars.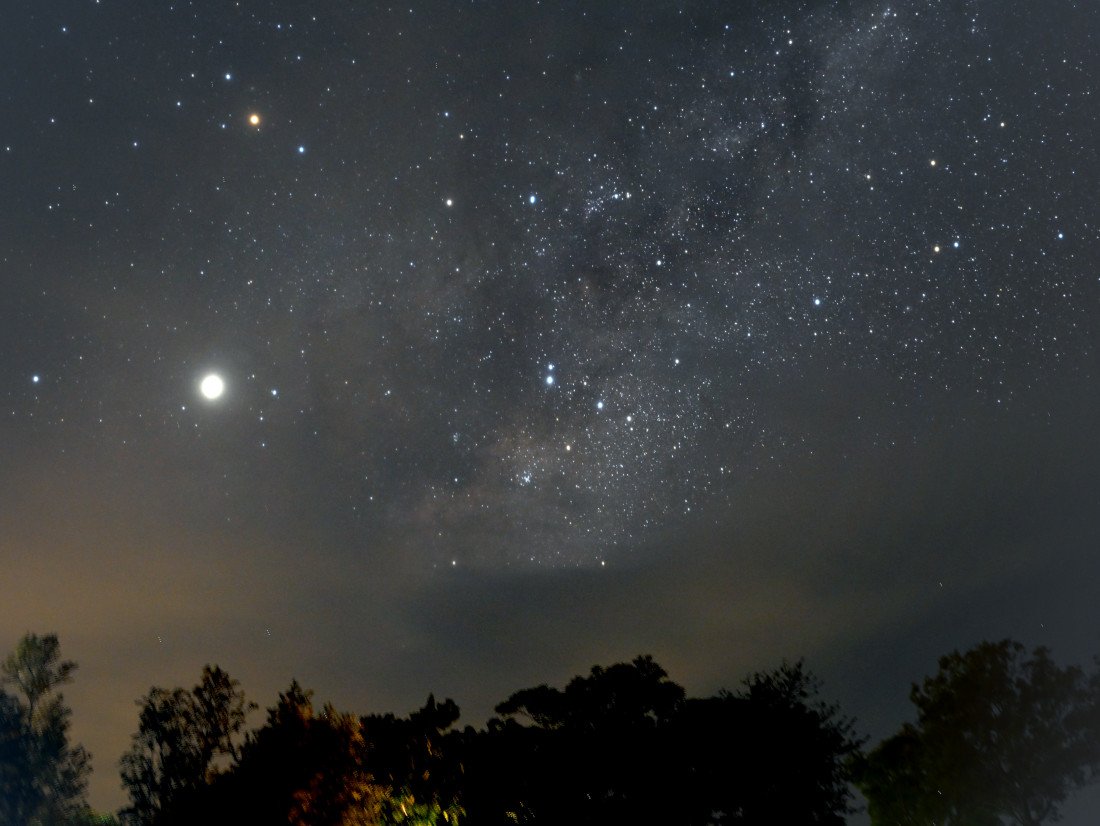 Jupiter, Antares and Milky Way. 3 x 15-second exposures at ISO3200. Aligned manually and stacked in Gimp 2.10. Nikon Z 7 + 35mm f1.8 lens @ f2.5. Link to larger image here
Again using my Olympus as a reference, here are some comparison shots between a 20MP MFT camera and the 46 MP Full frame Nikon. This not meant to be a definitive test, but gives some idea of image quality.
Comparision #1 - Rescaled for web viewing
When rescaled for web viewing the Nikon holds up nicely at high ISO's, here ISO5000 equivalent looks smooth. Meanwhile, the Olympus image at ISO2500 is starting to show some slight grain but still looks acceptable. Keep in mind the Olympus image was shot at much shorter equivalent focal length, so this means that detail around the dam wall and trees is further reduced.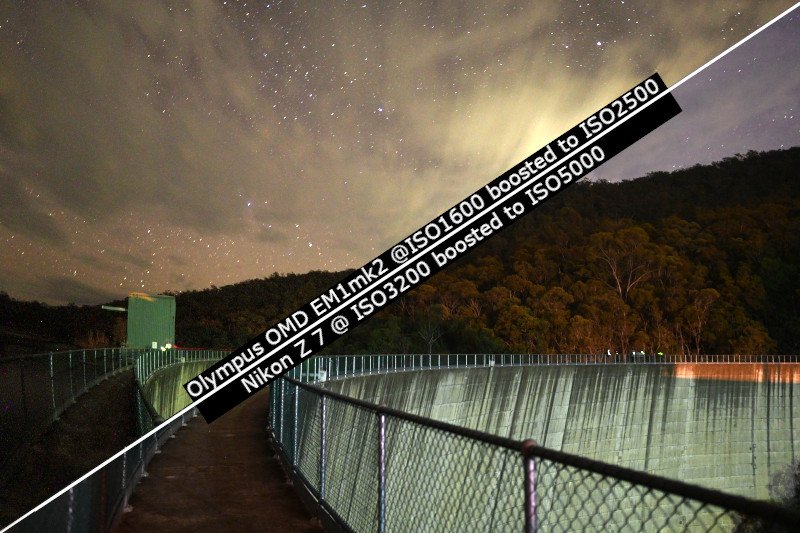 Composite image, with the upper left half of the image being the Olympus and the lower right half being the Nikon. The original 20 Megapixel Olympus and 46 Megapixel Nikon images have been rescaled to 800 pixels across to represent web viewing.
Comparision #2 - Pixel Peaking
In this comparison, a 100% crop from the Olympus image is shown, but the Nikon is rescaled to the same resolution (20 Megapixels) of the Olympus and then cropped 100%. This creates a more accurate size/size comparison as gives some indication of how large poster-sized images from each camera would compare.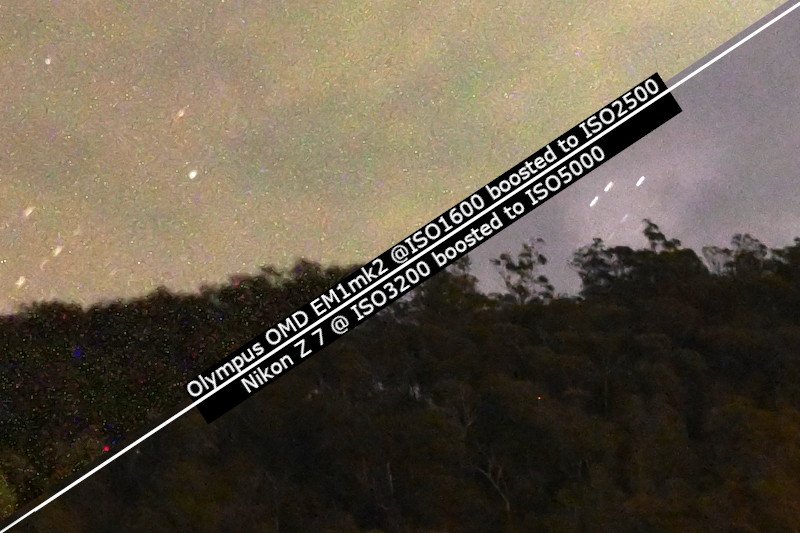 *Composite image, with the upper left half of the image being the Olympus and the lower right half being the Nikon. An 800pixel wide crop of the Olympus image is shown, while the Nikon image has been rescaled to 20 Megapixels and an 800pixel wide crop is obtained. *
Here is another crop processed the same way.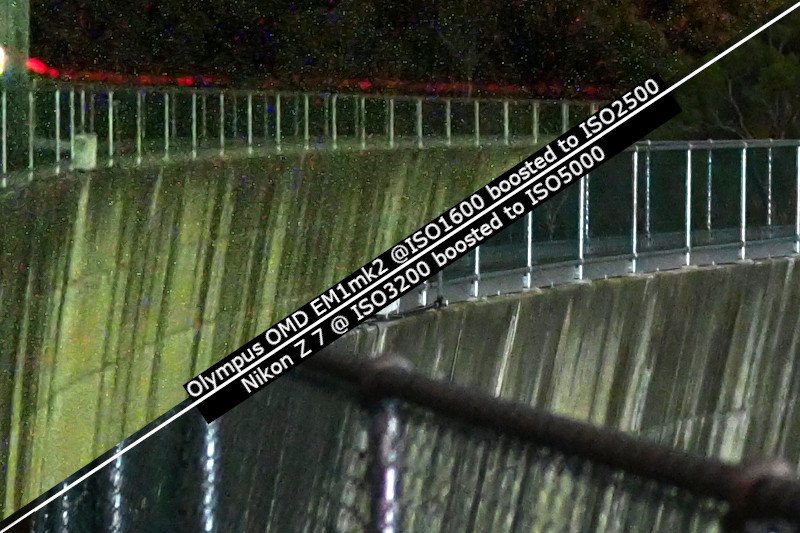 The Not So Good
Lack of liveview boost meant that the camera preview looks almost completely blank for at night. This makes it very difficult to compose images, although brighter stars are visible so at least manual focusing works fine. To work around this I found I had to take multiple short exposures at high ISO to get framing correct.
Finishing the night
I regret handing back the Z7 too early because as soon as I did the cloud effected skies suddenly cleared up better than they had been all night. Not to waste the opportunity I got the Olympus out with the 8mm FishEye lens. This is the fastest aperture Fish Eye lens I am aware at f1.8 and is perfectly useable at this aperture provided you correct the distracting purple haloes around bright stars.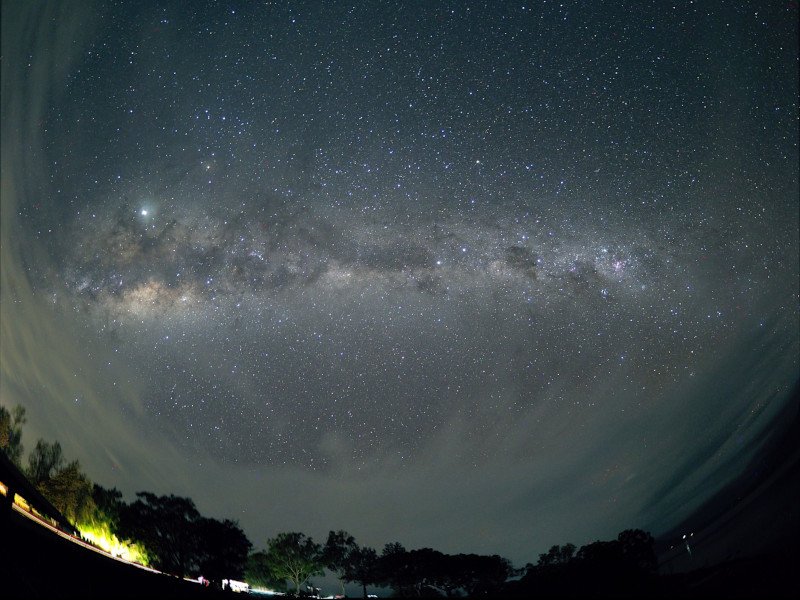 Milkyway spans horizon to horizon. 5 exposures 30 seconds each at ISO1600. Camera Olympus OMD EM1mk2 + 8mm FE lens @ f1.8. Purple fringes have been suppressed using a desaturation mask. Here is a large version.
Would I buy a Nikon Z?
I was really impressed with the Nikon, and if I was just doing Nightscapes this would be near the top of the list although I would probably evaluate the Canon RP and Sony A7iii beforehand. At the moment I use a Micro Four Thirds system which I will continue using because the lenses and bodies are lighter and more compact (great for travel) and the costs are about 60% of equivalent full frame offerings.
Further Reading and References
D Bracaglia, R Butler, R Sanyal. "Nikon Z7 Review".