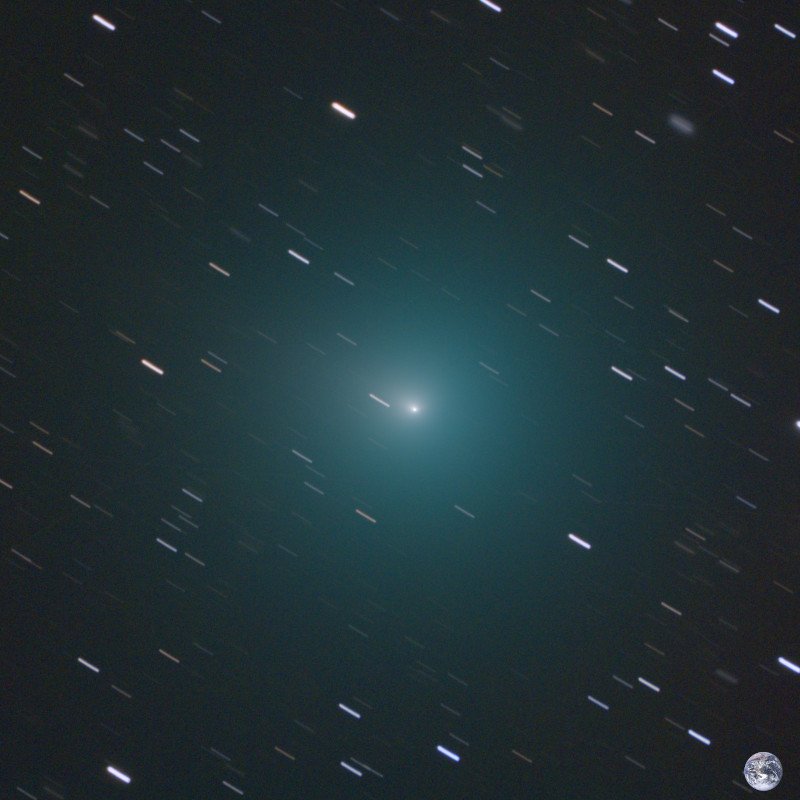 Comet 46/Wirtanen. Nov 12, 2018. 360 x 15 second exposures combined. Telescope Celestron C14HD. Camera QHY183c. Earth (in right-hand corner) is shown to scale relative to the comet. Image Credit: Author
Just recently I mentioned Comet Wirtanen was approaching the earth in December, you can read about it here. In recent days, I've managed to get some clear sky to view and image Comet Wirtanen, and the comet is getting larger and brighter. I was able to see the comet in binoculars from my suburban location although it appeared faint, like a small ball of "barely there" mist. It was not something a casual sky watcher would find or even see if shown. One of the tricks for viewing faint astronomical objects with your own eyes is to use a technique called averted vision where you center your vision, so the object of interest is off to one side. It takes some practice and of course a genuinely dark sky helps.
The title image was obtained on November 12, with details given in the caption. For a sense of scale, the relative size of the earth is superimposed at the bottom right of the image. One dramatic feature is the large glowing green coma caused by "Swan band" emission from Fluorescing diatomic carbon. I suspect the slight yellowing of the central core may from dust being released near the nucleus (the dust reflects sunlight so is essentially yellow-white).
Photographing with a Standard Camera
If you fail to see the comet, you can always try imaging it using a camera on a tripod with a standard lens. I tested this out on November 12, with this setup which is an Olympus OMD EM1mk2 and a 12-40mm standard zoom lens on a tripod. Even though the Olympus OMD EM1mk2 is a very nice camera, it is not particularly good for low light.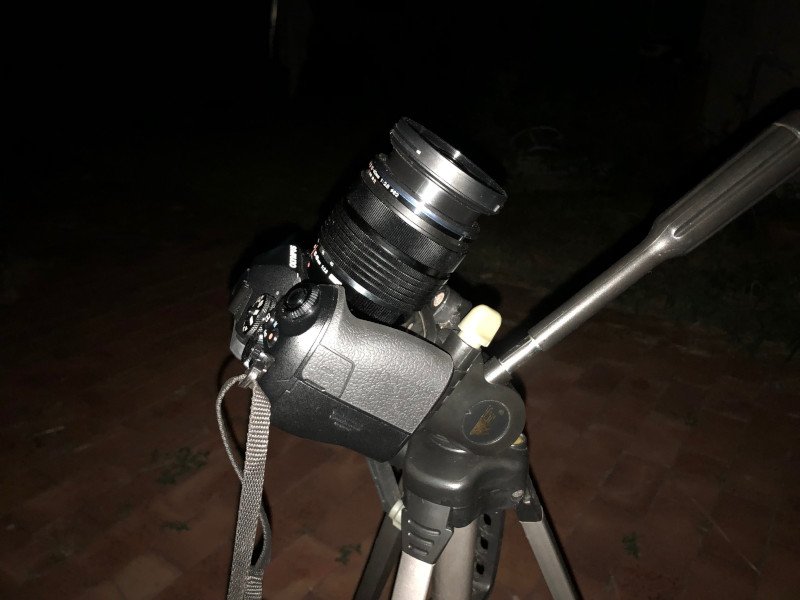 Setting the camera in manual mode, 10 second exposure and ISO1600, and the lens to 25mm f2.8, here is the result (a 800x500 pixel crop around where the comet is). Self timer mode was used to avoid camera shake. I did have the camera in jpeg mode, which is a bit of a cardinal sin in astrophotography, but it does simplify the process.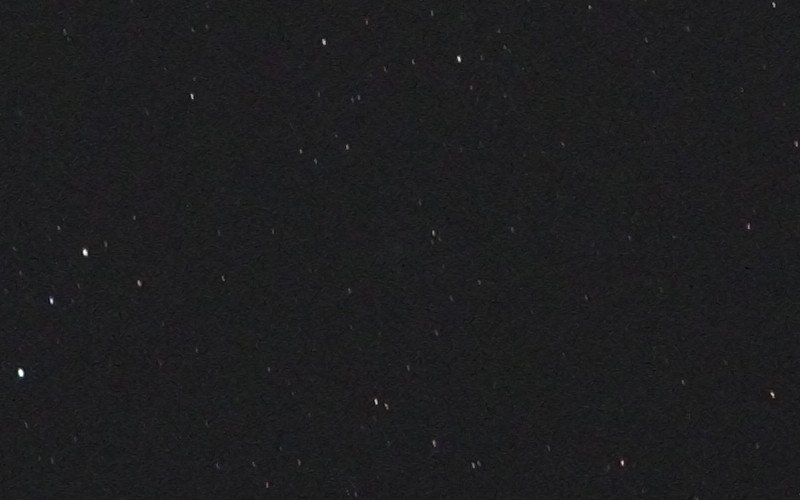 Although hardly anything is visible, a trick is to use photoediting software to stack multiple images. So after taking 8 successive images of 10 seconds eachs, I was able to combine them using layers in Gimp, a free photoediting software package. Each layer was set to "Add", and was manually aligned so the stars matched. Without this alignment we would see star trails in the image, which we want to avoid. Here is the result and now you can see the comet in the center. It is small but remember this is at just 25mm focal length, which is the focal length you'd use to take family portraits.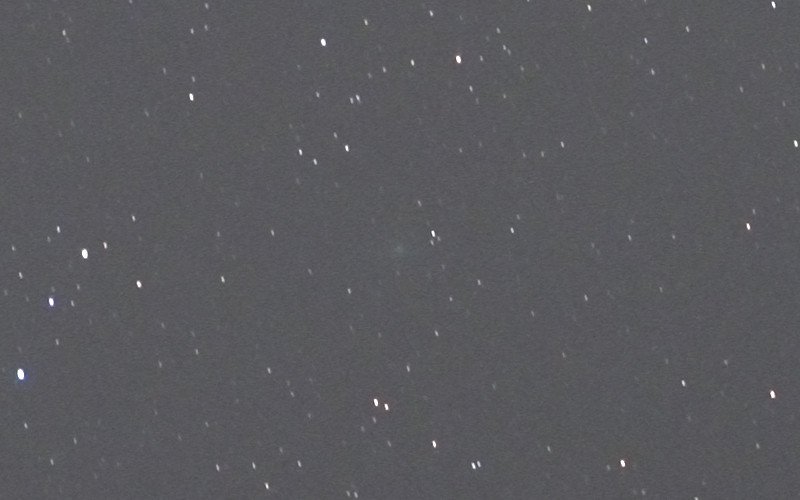 Finally, boosting contrast shows the comet better. The purpose of showing these images demonstrates it is possible to photograph this comet without any special astronomy equipment.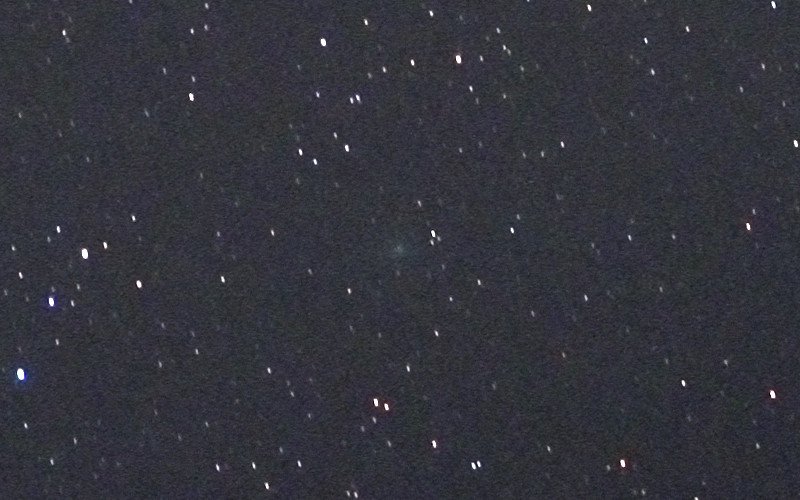 Closing Words
December is fast approaching, and for the first 2 weeks there will be a good opportunity see this comet. Similiar or better opportunities to see a comet happen maybe every 2 years or so, so if you get a chance have a look!
NOTE: All images above are the authors.

SteemSTEM is a community project with the goal to promote and support Science, Technology, Engineering and Mathematics on the Steem blockchain. Please come over and check out the new steemstem application at https://www.steemstem.io/
If you wish to support the steemSTEM project you can:
Contribute STEM content using the #steemstem tag | Support steemstem authors | Join our curation trail | Visit our Discord community | Delegate SP to steemstem
Convenient Delegation Links:
50 SP | 100SP | 500SP | 1,000SP | 5,000SP | 10,000SP | 50,000SP