G'day Team,
Well, off the back of my surgical rotation it's been difficult to do anything but eat, sleep, surg and study (repeat!). But with the relatively recent death of Aretha Franklin, I noticed a few of my friends chatting her cause of death, and thought I'd write a quick post on the disease that is Pancreatic Cancer and why it's so insanely deadly.
The Pancreas
It's probably best to think of the pancreas as the digestive factory of our body, as it's responsible for producing many of the enzymes which break down proteins and lipids in our gut so they can be absorbed in smaller sizes.
This means the pancreas is home to some of the more potent and dangerous chemicals that our body produces, enzymes which can digest food, can also digest... well US! In order to stop this from happening, these enzymes are produced and released in an 'off' state along with a protein which is capable of switching them into the 'on' state. By doing this the body makes sure the enzymes are only active once they reach our gut, where they can get to work digesting our food without digesting parts of us along the way.
The pancreas has other important roles too, including the production of insulin and other hormones which regulate our metabolism and control other gastric and behavioral hunger responses. But for today it's the digestive component of the pancreas that we're really interested in, as it's this process that makes the pancreas such a deadly organ to have a problem with.
---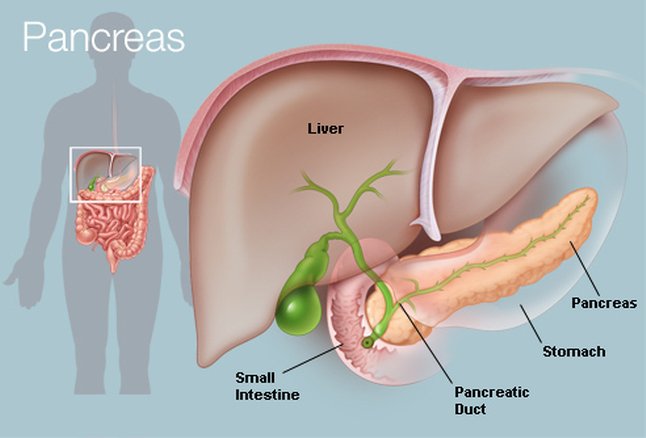 Image Source
---
Pancreatic Cancer
First thing first, pancreatic cancer is deadly! The latest statistics on cancer in Australia (my land) say that if you're diagnosed with cancer your chances of being alive in 5 years time are 69%. If you're diagnosed with pancreatic cancer your chances of being alive in ONE year are just 20%, with only 5% making it to 5 years.
So why is pancreatic cancer so deadly?
Well, there are reasons that any cancer can be especially dangerous... they might spread (metastasize) easily, they might be resistant to chemotherapy, they might be located in places that are hard to operate in or are vital to life function. But one of the often overlooked aspects of how deadly a cancer is, is at what stage people are usually diagnosed. For some cancers, like pancreatic and ovarian cancer, people can go for a long time, and develop large and late-stage cancers before they get signs or symptoms of any disease. By the time they're diagnosed it's often too late. Pancreatic cancer is:
Generally diagnosed late
In an anatomically vital location
Hard to operate on
Does not respond well to chemotherapy
By the time it's caught pancreatic cancer is often large enough to be impeding on local structures that are vital for life, specifically the bile duct system. Once this discovery is made the only real option for cure is surgery, and surgery on the pancreas is very deadly in its own right! Cancer in the pancreas can kill in many ways, but perhaps the two most important are caused by loss of the digestive assistance that the pancreas offers (which weekends and debilitates patients) and progression to pancreatitis.
Pancreatitis
Pancreatitis is an inflammatory condition of the pancreas, where we see the barriers between enzymes and activating proteins break-down resulting in an auto-digestion of the pancreas. There are many causes from pancreatitis (ranging from obstructive gallstones to commonly used medications such as steroids), but perhaps the most deadly is pancreatic cancer.
Pancreatitis is so deadly because the inflammation that it causes is so intense that it's capable of spreading around the body, in a condition called Systemic Inflammatory Response Syndrome (SIRS). SIRS is not a disease in itself, but the result of intense or widespread inflammation in the body, which is caused by the spread of inflammatory cells throughout the body where they trigger responses in areas that are otherwise healthy. The result is abrupt and often deadly damage to organs all throughout the body, the most common of which is the lungs.
When SIRS damages the lungs to the point where they start to leak water and are no longer capable of performing their respiratory function we enter Acute Respiratory Distress Syndrome (ARDS). With no oxygen getting into the blood and often no medical effectively combat the ARDS, patients have a very high mortality rate.
While pancreatitis is definitely one of the main causes of death in pancreatic cancer patients, it's not the only one. And it's important to understand that even the procedure to remove a section of the pancreas that can potentially cure pancreatic cancer has a very high (as high as 50%) mortality rate.
Thanks
Thanks for reading team. I hope everyone learned something useful! I'm glad to be back writing and I'm hoping over the next few months I'll have more time to spend writing too :)
Thanks
-tfc
---
Resources