Welcome to STEEMTOWN
Today I'm very excited to introduce a new collaborative art project. This architectural experiment will use Steemit stories, comments and upvotes as building blocks to model a community reflective of Steemit culture. Post by post, the "Internet's Small Town" will be built and powered through your ideas, feedback and participation.
Introducing V.1
Here is the very first phase of STEEMTOWN, below…
Each building and landscape element was inspired by a family of posts (outlined below.) These photographs, quotes and stories inspired their own design logic and manifested themselves as 3D characters within the Town.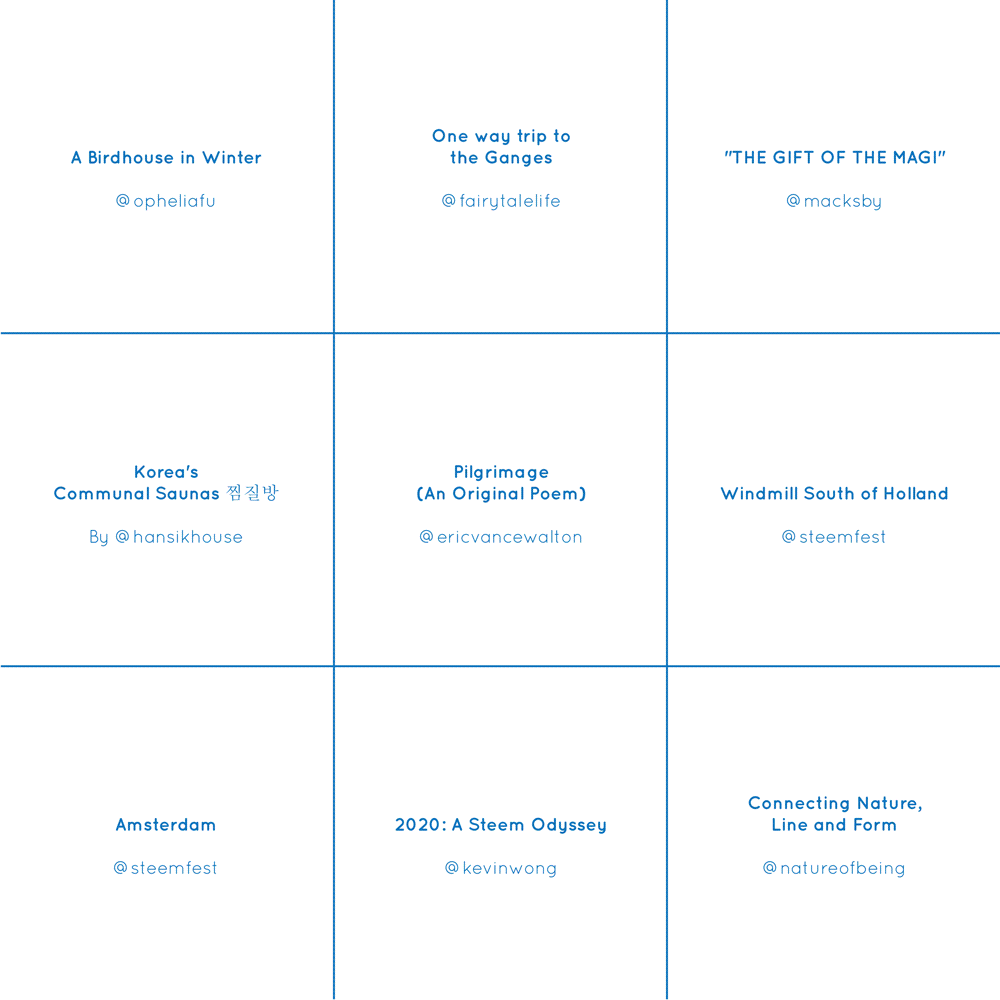 How To Play + Participate
Every week, a new phase of buildings will be added to the Town. Each new addition to STEEMTOWN will be derived directly from your comments! Post an image, link, poem in the comment section below. Here are a couple of examples...

Posting an image or a story isn't the only way to play! Your critique is also important! With each post, Steemit commenters can contribute ideas for future growth, renovation, or even petition for a deconstruction. (Maybe more on that down the road…)
For now, there's a lot of room for future development! As the Town matures we will be making / polling community decisions on zoning, infrastructure, preservation, public and private uses. STEEMTOWN will be treated as a living, breathing art-project within a digital canvas, always subject to change.
Let's see where this blue-tinted wild west takes us!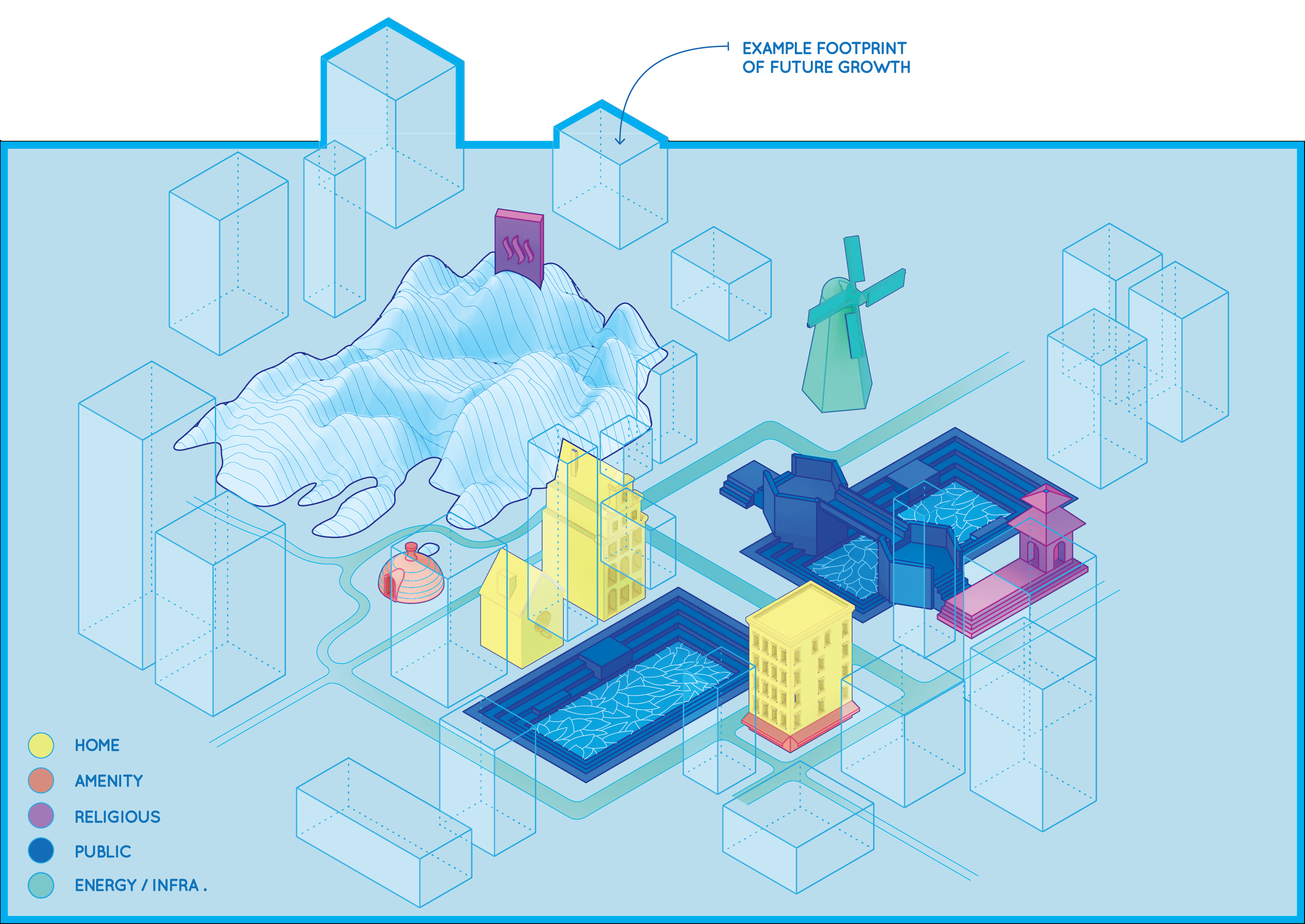 STEEMTOWN on Peerhub
Over the next few days I'll be opening a Peerhub page where you can use the local tinder to trade for a STEEMTOWN high-quality print or postcard. As the Town grows it will be exciting to see the "postcards" evolve. I'm also testing each building as a 3D printed model. (Results in progress.) As more buildings are added you could potentially collect and build a 3D printed Town all your own!
For the first 3D print test I thought it only appropriate to model a classic "Amsterdam Canal House" representative of our community's first global meetup at Steemfest. This building sits in the center of STEEMTOWN and serves as a symbolic keystone for the first phase. (Below)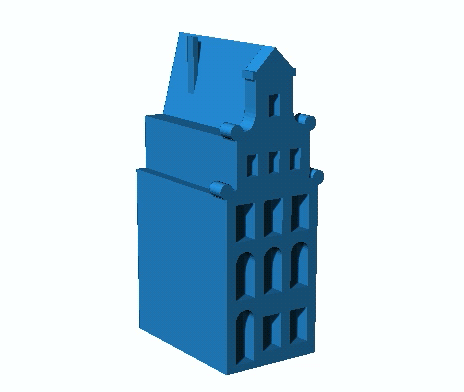 A Steem-Powered Project on Placemaking
Through STEEMTOWN - I hope to engage in a broader dialogue with fellow Steemians about their own sense of place and placemaking. My past collaborative projects (with designers from @hitheryon) have explored ways of using art and architecture as a means to engage others with identity and geography. These types of game-structured conversations are a fascinating way of learning more about what a person defines as his or her "community"... It's a way of us connecting to one another through the geographies we are deeply tied to and knowledgeable of. In a world of links, likes, upvotes and IP addresses, it's exciting to find ways of bridging the digital divide and connecting with those on the other side of the screen.
With your comments, STEEMTOWN will evolve week by week. Over time, the Town will inherit a new kind of language in architectural-storytelling… where buildings coalesce into neighborhoods that embrace a visual identity entirely native to this platform.
So, what kind of community do you want to see? A utopia, dystopia? Comment with ideas… and let's get building!

---
A huge thank you to the first generation of STEEMTOWN residents:
@fairytalelife @kevinwong @everlove @macksby @opheliafu @ericvancewalton @hansikhouse @natureofbeing @steemfest
---