So you say you love the Steem Blockchain?
Are you a big fan of @Utopian-io?
Do you think @Steepshot is the Dapp we were all waiting for?
Are you certain @Oracle-D is the perfect Platform to build communities?
Is @Tasteem, @Fundition and @Dsound one of your favorite platforms to engage and interact on the Steem Blockchain?
Can´t you get enough of all the cool features @Steemhunt, @Musing, @DTube and @Partiko offer to the Steem Ecosystem?

There are so many Dapps and communities out there and I´m sure that you love some of them (if not all)...
Well, here is you chance to speak up!

---
Log into your Twitter account and click the next link:
The question Justin Sun is asking is "What is the best decentralized community platform?" and, if you replied YES to any of the questions above then...
What are you waiting for to reply to him that the best decentralized community platform is STEEM?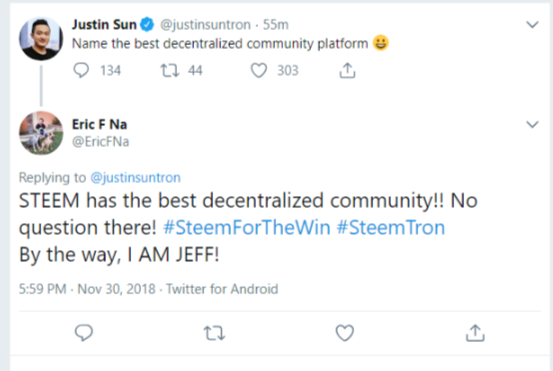 I already did it, why haven´t you?
And yeah, you already know my Twitter username (beware, it´s very politically incorrect).
So, go reply to Justin Sun from TRON and let him know that STEEM is the best decentralized community platform in the cryptoverse!!

---
Whoever replies to this tweet and posts a screen capture here in the comments will get a vote from me.
Remember to use the #SteemTron, @oracle-d will also upvote everyone who replies to the tweet and posts the screen capture on the comment section of this post
Hey, let´s shill Steem TOGETHER, please Resteem this post so more people find out about it and they can also reply to the tweet!