Today's Steemvoter Guild Promotion Post is:
Introduction to Exchange Listing Promotion Guilds: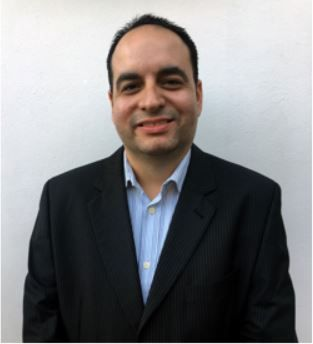 @thecryptodrive here; CEO of @steemvoter and buildteam.io. Steemvoter.com is a public curation bot service, allowing non-tech users to program auto-votes to repeatedly support their favourite content creators effortlessly. Steemvoter.com is one of the most influential services on Steem, catering for millions of votes in our economy. Its revolutionary revenue model requires non-premium users to donate a maximum of one vote per day towards our own company and @buildteam umbrella group posts.
In addition, we offer our members the opportunity to opt-in to the Steemvoter Guild, and donate an additional daily vote to authors and initiatives of our choosing.
As part of our social responsibility we elect, to use generally only around 25% voting power on our users' daily payment votes and we exempt smaller accounts from the daily votes to minimise "vote count bloat".
Our biggest challenge has been to create regular posts that are worthy of the reward which our users' votes are able to generate and equally for the Guild Vote, finding worthy content that does not create contention when they are upvoted with the power of the guild vote is also a challenge and as a result we have been using less and less daily votes to the detriment of increased revenue that could be realised by BUILDTEAM token holders, developers and team members.
I believe we have come up with a solution that will benefit the Steem community exponentially and achieve our agenda of regular daily upvotes acceptable to the community.
Introducing - Steem Exchange Listing Strategic Promotions
In the last month or so I have been in contact with Ned Scott about listing Steem and Steem Dollars on more exchanges to boost the visibility and global accessibility of Steem. One of these exchanges is the fiat-crypto gateway Quionex.com and sister crypto-crypto exchange Qryptos.com.
I was able to arrange an email introduction between the Quionex team; Mario Gomez Lozada (CTO), Katsuya Konno (CFO), Ken Mazzio (Chief Compliance Officer) and Ned Scott (Steemit CEO), with the intention of having Steem and SBD listed on Qryptos and Quionex.
One of the hurdles in listing Steem is finding the motivation required for the exchanges to list Steem, we think we have now found the solution.
Steemvoter Guild votes are extremely powerful and are able to give a target post high visibilty on Steem and possibly set it to trending, depending on competing posts. In addition they provide a content monetisation incentive.
I was intrigued to see that in the Quionex email newsletters, they often link back to their Steem blog page and was surprised to see that their official account @quoineliquid has been posting on Steem for nearly 3 months, religiously! However, I was dismayed to see that their posts receive virtually no visibility or support in terms of views and upvotes.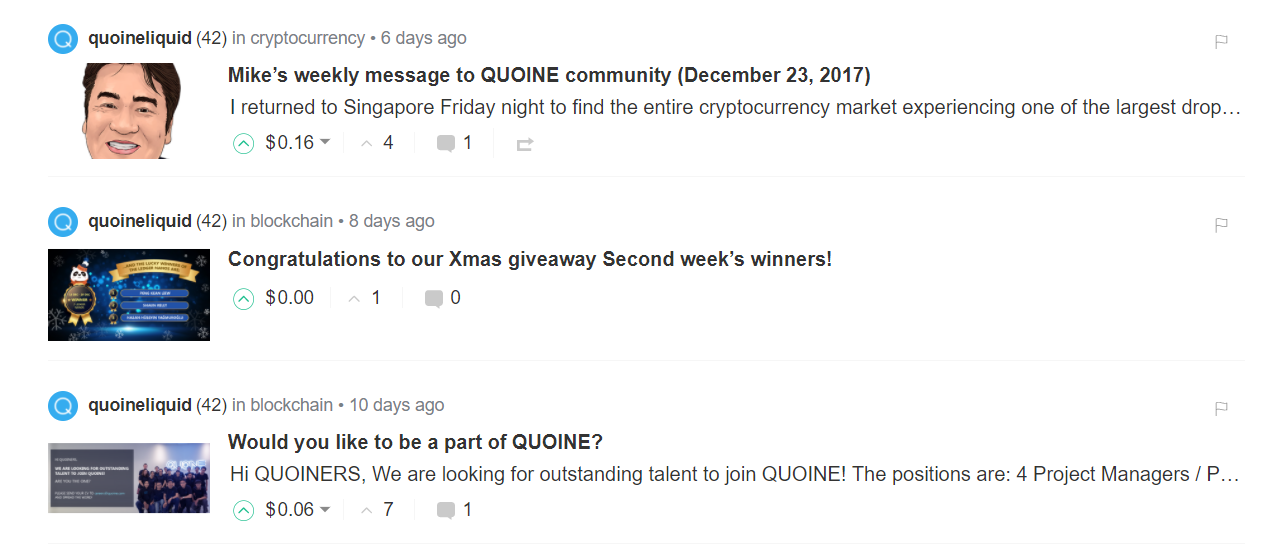 Their latest post which is our guild post of the day only had one vote in the first 4 hours, which was their own vote.


This is not at all acceptable, and there needs to be better curation of strategic industry partner Steem accounts which can help create alliances for the Steem blockchain.
As a new year strategy, @buildteam and @steemvoter will endeavour to become strategic marketing partners on the Steem blockchain for crypto exchanges and other strategic industry partners. Our goal is to assist in listing Steem on as many credible exchanges as possible, and offering marketing and monetization incentives for the Steem community to be taken seriously.
I also welcome media partners to contact me @thecryptodrive on Steem or on Discord, for cross-exposure for our allied exchanges, for buildteam and Steem in return for similar exposure for the media partner on the Steem blockchain.
---
Join Steemvoter.com today and click the "guild" opt-in check box to donate a vote to supporting the growth of Steem and making a 10 Dollar Steem valuation a reality.
---
Join our Discord chat
Get support and connect with us and other Steemvoter fans!

---
Steemvoter.com is a @buildteam project by @thecryptodrive (witness) @cryptomancer and @reggaemuffin (witness)
---
This is a @steemvoter subscription payment post. Thank you to Steemvoter customers for allowing us to use your Steem accounts to upvote this post by virtue of your free subscription to the Steemvoter.com bot service. @steemvoter is proudly a @buildteam subsidiary and sister project to @steemsports and @minnowbooster.