You may have read the title on yesterday's post about the attacker, in this issue we will explain the situation.
The @anonymous account, created on 25th March 2016 by someone long in this community, recently started downvoting our posts, this 144 000 SP account has weighed in on our posts but did not stop there. The account started downvoting every one of our comments as well and since we only have 6000 SP they would get hidden, this was done automatically with no abatement in sight.
One could argue that the downvoting of our posts were to distribute rewards but the act of censoring our comments was taking away our voice deliberately in an act of malice.
Fortunately, we were able to defend ourselves with a defensive script which auto-commented from our account every few minutes in order to drain the voting power of the account and render its downvote useless.
It kept on downvoting our comments indiscriminately and we therefore increased the frequency of our defensive comments to every 22 seconds until the @anonymous account was drained to around 0.6% voting power and we left it idling, auto-commenting at a greater interval overnight until the account stopped attacking our comments when the operator eventually realised.
Below you can see that this account relentlessly downvoted our comments as fast as we could put them out: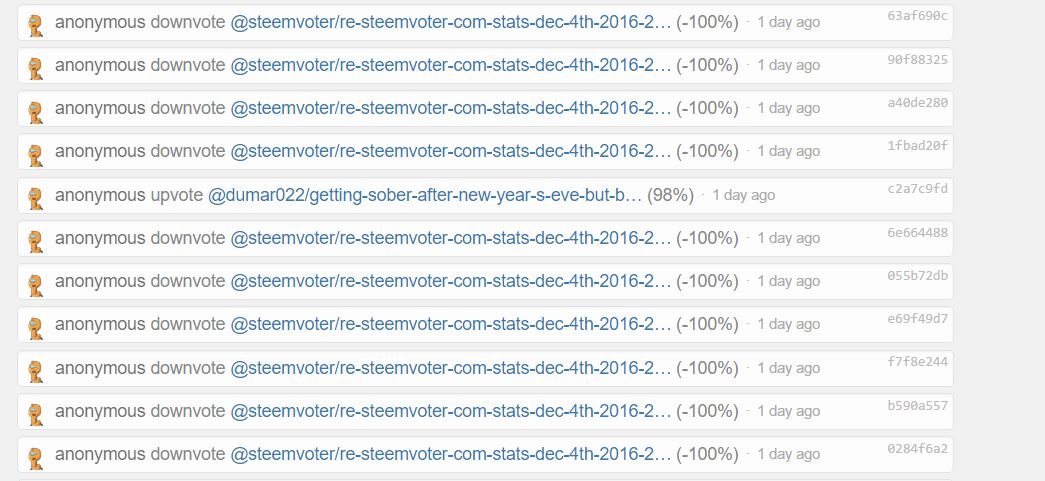 Here you can see what our comments looked like from the front-end:


Now imagine a scenario where a non-tech user got abused in this way, having their comments downvoted by a bigger "bully" account, they would simply have no voice and their rights stripped from them by malice. This is a great concern going forward, a few people decided it would be a good idea to flag some projects and top trending posts but they have no idea what they have just awakened and what we can see coming, it will be "flag-maggeddon" before the end of 2017 and a wasteland of a platform.
We made peace with witness @clayop in chat but we do need to highlight an issue of concern that this situation brought to our attention. @clayop flagged our post which fair enough, the argument is that he wanted to distribute rewards more fairly, but in addition to this he claimed allegiance to the Korean community in comments and some time later another Korean member, witness @abit "nuke-flagged" our post with his main and secondary account, @adm , in solidarity to the first Korean community member.
Here we have situations of gang activity, where it isn't sufficient to just downvote and move along, but others have to be called in to downvote as well, this was the same with the smaller accounts who incited other accounts and most likely summoned @clayop who was helping them downvote the @steemsports project simultaneously. The interesting thing is that our @steemvoter community managed to withstand nukes from three whale accounts, and several other anonymous and troll accounts and only half of the rewards pool was affected, which shows when we stand together we are truly powerful.
All of the above situations are very concerning, especially to community members who can't defend themselves. The comment censorship is a real issue and so is the fact that there are 100 plus whale accounts with people with a finger on a "nuke button", and all it takes is for one to have too much Tequila on a Sunday for mayhem to ensue, especially when new whales come onboard whose intentions we will not know. Competing Bitcoiners could be looking to destroy our platform and create a whale account for this very reason.
Aggrieved parties could try reach out to whales in chat for help but other than @smooth, @fuzzyvest and @nextgencrypto who would be likely to reply and assist, we don't know of who else would even be contactable at short notice, let alone sending an email to support@steemit.com which could take weeks for a response, if one is even given.
In countries where crime is rife, security businesses are often necessary to improve on the work of the police or lack thereof.
Marc Godard is a highly competent CTO of Equibit as seen in his profile on their team page, http://equibit.org/team/ and no doubt we could find other tech savvy community members that we can consult with as well.
We thus propose a security service where we defend the community from potential attackers, firstly by providing passive defence strategies and early warning systems that could be enabled in a user front-end like Steemvoter, with defensive comments posted at intervals, and increased as multiple auto-flags are detected to neutralise the attacker like we did.
Secondly, active measures employed as counter attacks to abusive accounts, which would be a separate Security Guild which can be an opt-in on Steemvoter as an easy gateway to set this up, where civilian accounts would load themselves in as individual cartridges to form a bigger nuke to ward off abusive accounts.
The use of such active defence strategies would have to be much more controlled than a standard upvote guild and get clearance from two posting keys on the software, one from a Steemvoter member and another from a responsible community member, several members can be on standby incase a particular one is not available for quick response to the community. In a sense it would be a multi-sig version of @steemcleaners, with a call to action on abuse issues and not content policing.
Ëach situation would have to be assessed on its merit and action taken accordingly to the severity and whether action is warranted or not or just a warning given.
A triage upvote could also be given to the aggrieved post that was downvoted out of malice or no sufficiently good explanation given that is not apparent. The triage upvote could be administered by just one authorisation from a Steemvoter owner as an immediate band-aid, whereas the reactive flag would need to have a community member okay the action as well.
This is a good topic for discussion and hope it stimulates some constructive and non-trolling talk around this topic. Trolls will be downvoted -- just kidding -- they will get a warning first -- haha!
Steemvoter Upvote Guilds will be revealed in tomorrow's final part of our three part news post series.
---
Steemvoter is a public curation bot with an easy to use interface, it truly is a bot for the people, making automatic curation on Steemit easy with just a few clicks.
This is a payment post! Thank you for allowing us to use your accounts to upvote this post! Anyone not signed up for SteemVoter.com is welcome to do so or just vote this post to help the project.