Paid Services
We have quite a bit of news to disseminate this time, a lot has happened in the past few days. 2017 is definitely going to start off with many new aspects to Steemvoter.com.
The biggest change will be regarding the offering of paid premium services which commence on the 15th of January 2017, where users can opt to upgrade to 500 rules for only 3 SBD per 30 day cycle, instead of the current model which allocates the number of rules based on the size of your Steem Power holdings and requires users to give us permission to take a daily vote on our content for payment.
We will also be adding trails, which is a follow-my-leader style voting option where you can mimic the votes of other Steem accounts, we would like to provide the option to exclude comments from the trails so you only vote on the main posts.
Users who pay for the premium services will be removed from the daily payment post roster and your vote will no longer be used by us in that regard. We ask then that the community respects the wishes of the remaining accounts using the free services and to kindly not interrupt our payment model, thereby censoring the choice of our users to receive our services with their vote.
Larger accounts that already qualify for the maximum rules can also use the paid option purely to remove themselves from the daily payment post should they prefer, or they are welcome to remain on the daily payment post model instead if such users feel they would prefer to contribute more that way and also increase our posts' visibility in the process.
3 SBD will give you 30 days worth of services and may take 24 hours to activate, we will send out a notification 7 days before the end of the active service period as a reminder to top-up your services. If you prefer, you can also pay several months up-front for convenience and to hedge against any price increases, no increases are foreseen at this point, but depending on the adoption of the paid model and the viability of the balance of the free user payment posts in the face of future attacks we might have to revise pricing.
We urge users who wish to pay upfront, to please pay in multiples of 3 SBD, for example, 9 SBD if you want 3 months of premium features.
New Features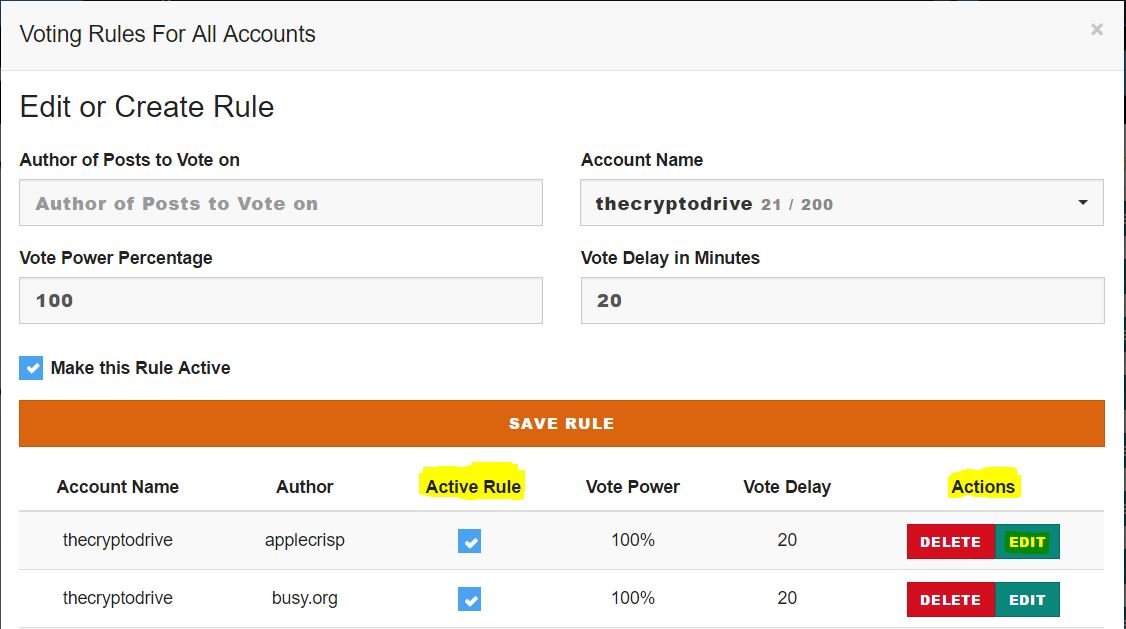 You may have noticed that the rules page has been enhanced, firstly by being expanded to a larger, more comfortable viewing size and secondly, an "Active Rule" checkbox has been added to allow users to temporarily suspend voting for certain authors without having to delete them entirely.
An "Edit" feature has also been added to allow you to change the "Vote Power" and "Vote Delay" values.
Also in case you didn't already know, the list of rules list is sortable by "Account Name" , "Author", "Active Rule", "Vote Power" and "Vote Delay", simply by clicking on the respective column name by which you wish to sort.
---
This has become a rather lengthy post, so Part 2 will be posted tomorrow with details of the upcoming Steemvoter curation guild and details about the "Anonymous" attacker.
---
Steemvoter is a public curation bot with an easy to use interface, it truly is a bot for the people, making automatic curation on Steemit easy with just a few clicks.
This is a payment post! Thank you for allowing us to use your accounts to upvote this post! Anyone not signed up for SteemVoter.com is welcome to do so or just vote this post to help the project.