DECLARATION OF WAR
By the powers vested in me as 'Secretary & Commander and Chief of TEAM AUSTRALIA', on this day; being the 20th Day of June, in the year of our Lord, Two Thousand and Seventeen - notice is hereby served to STEEMIT that the Nation of AUSTRALIA is now formally at WAR with the rest of the STEEMIT WORLD!
TEAM AUSTRALIA is now the ultimate power in the STEEMIT. In a committee of the joint chiefs, sponsors, executives, ambassadors and members it was unanimously decided that it is 'time we used it.'
With the rest of the world a disheveled mess,TEAM AUSTRALIA has set forth a new mission: to corner the flow of STEEM and conquer the world!!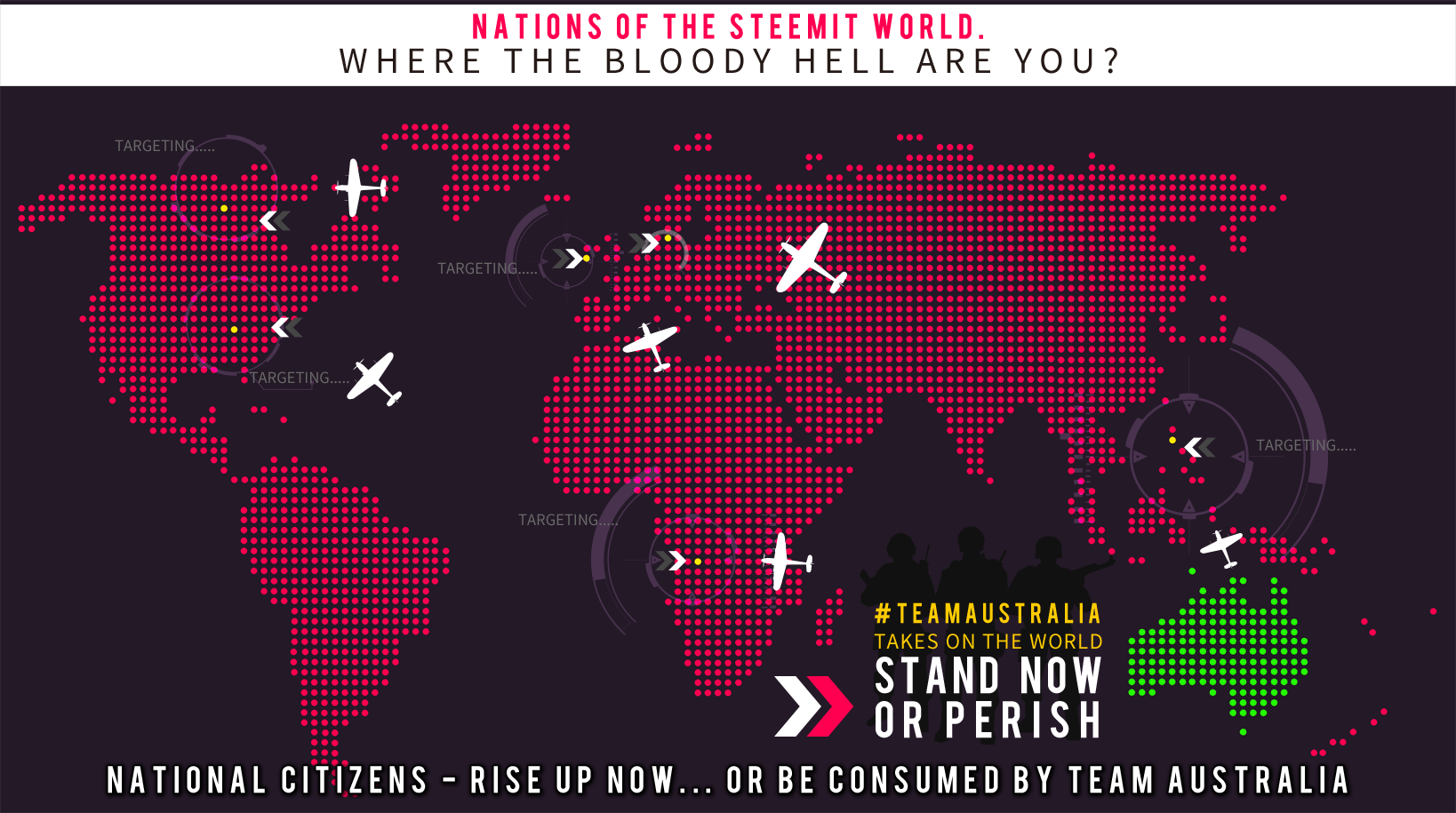 Officials bearing witness to this Earth shattering event included:
Team Australia Official Steemit Witness: @ausbitbank
Team Australia Sponsors: @trafalgar; @crypto-investor; and, Handsome Stranger.
Executive Manager of Youth Development: @crypticus
Executive Managers of Marketing: @bearone; @marcfrvncis; and, @pvtrickheaton.
Celebrity Commentator: @joshsigurdson of World Alternative Media.
An Inquiry into the Nature and Causes of Steemit Warfare
Let history never say that TEAM AUSTRALIA was cruel, callous, calculating or deceptive in its domination of the world that is STEEMIT. Our battle plan is as follows:
WE will dominate you in color challenges.
WE will destroy you in daily challenges.
WE will obliterate you with our pretty flower photos.
WE will astound you with our historical and geographical knoweledge.
WE will amaze you with our Australian culture.
WE will resonate upon you with our music, literature and theatre.
YOU will submit to our foods, our creatures, our oceans, our architecture and our wide brown land.
However, there is one thing us Aussies despise... and that is a 'BULLY'. We are always the 'underdog!' And we always barrack for the underdog!! And at this very moment - the rest of you aren't even in the race.
As it would also be very 'Un-Australialian' of us not to give you a fighting chance, we offer you a 10 day armistice.
Nations of the World you have a mere 10 days to mobilise your forces. Come 1 July 2017 the battles begin!
Stand up now as proud citizens of your NATIONS; or, be lost forever in the annals of blockchain history.
The call-up:
TEAM UK - where the bloody hell are you? @tremendospercy
TEAM GERMANY - where the bloody hell are you? @thatgermandude
TEAM USA - where the bloody hell are you? @stackin @swenger @nedspeaks @imagin8orr
TEAM PHILIPPINES - where the bloody hell are you? @jeanelleybee @dreamiely
TEAM NEW ZEALAND - thought you clowns would have been all over this?? @biglipsmama
As parting gifts - (not like it will really matter) - you may forge your teams in #teamaustralia; and, our 3 new and extremely talented marketing managers will get you moving with new logos, banners and wartime paraphernalia.
Be sure to check out their latest blogs and up-vote - you really do want their services. You REALLY do!
https://steemit.com/teamaustralia/@bearone/teamaustralia-logos-and-graphics-downloads-and-customise-requests-here
https://steemit.com/teamaustralia/@marcfrvncis/hey-teamaustralia-here-s-some-free-designs-and-banners-to-use
https://steemit.com/teamaustralia/@pvtrickheaton/i-quit-my-full-time-job-for-cryptocurrency-steemit-teamaustralia
This is the beginning of 'STEEM WARS'.
With thanks to @bearone for today's images.
End.