SteemWatch is the notification center for Steem. I would like to announce some thrilling new features today, long awaited by some I believe.
After publishing the previous SteemWatch newsletter, people reached out requesting SteemWatch to support Telegram and Discord for delivering notifications. Since I've heard people requesting these features before, I decided to bite the bullet and implement it. So, to make the long story short, SteemWatch is now able to send notifications using Telegram and Discord. All you need to do is to visit the notifications section in the SteemWatch web application and follow the step-by-step guide in the relevant section. Yay!
Telegram
I am using a bot to integrate with Telegram. It is called SteemWatchBot.
Linking with SteemWatch
You don't really need to talk to the bot manually, you will be redirect to it after clicking Enable button in the SteemWatch web application, Telegram section. The linking process uses Telegram deep linking mechanism, so by the time you click Start in Telegram, your account is already linked with SteemWatch.
Bot Commands
There is not much the bot can do at the moment, although I am planning to add /disable, /enable, /status and /unlink commands to the bot to be able to control the SteemWatch notifier from Telegram itself. Everything that is possible in the SteemWatch web application considering the notifier settings should be possible to do using a bot command.
Demo
Telegram demo time now!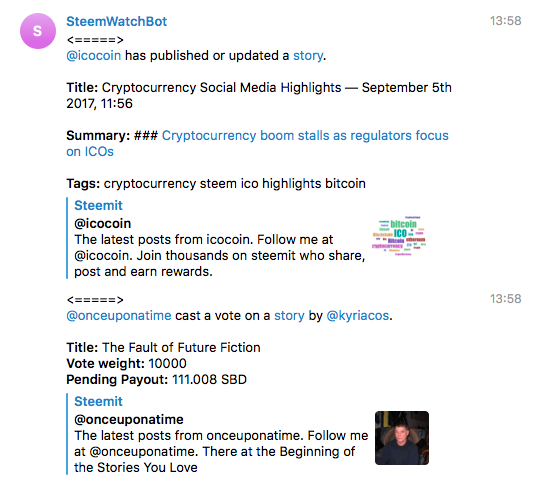 Discord
I am again using a bot to integrate with Discord. The bot is called SteemWatchBot#1634 and its client ID is 353626156995444736.
Linking with SteemWatch
To link with SteemWatch, you need to add the bot to your server and then try talking to it using a direct message. It will tell you everything you need to know.
The linking process is under the hood very similar to the one with Telegram. You have to tell the bot about a secret token that the bot then uses to link your Discord and SteemWatch accounts together.
Bot Commands
This bot is actually fully implemented, unlike the Telegram one. Here is the bot help: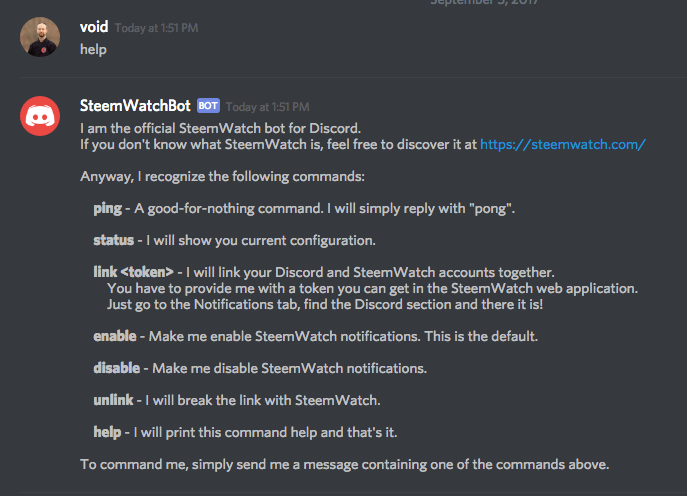 Demo
Discord demo time now!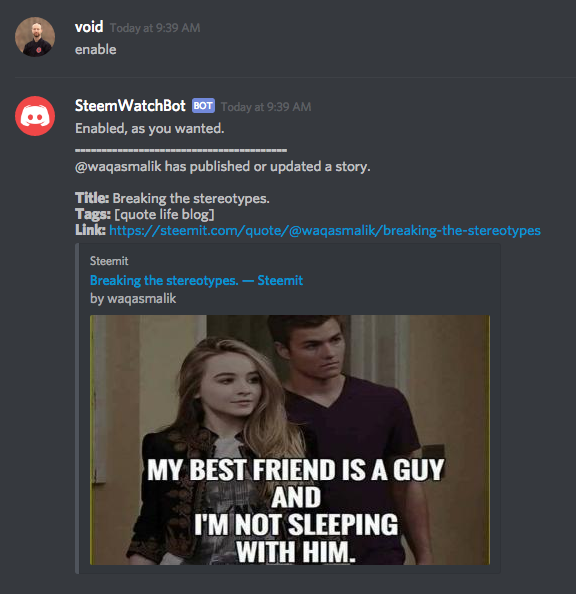 What is Next?
I still need to finish the Telegram bot and I will probably polish the notification formatting a bit more. Any input here is welcome.
The next big thing is to split the event emitted when content is published into two separate events, one for content created, the other for content edited. People have been complaining that they are often interested in the created event, not so much for the edited one, particularly when they are being mentioned in the post.
To split the event is not so trivial, so I cannot really estimate when that will be done.
I also noticed that SteemWatch is sometimes lagging behind the last produced block by minutes or even hours. I will also try to do something about that.
Support
Upvote and resteem. Spread the word about SteemWatch please!