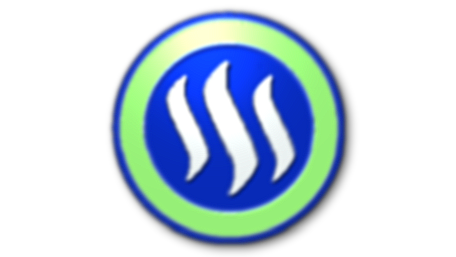 [EN]
---
This post is intended to cover the server costs for SteemWorld.org and to enable me to continue my development in the future.
In case you missed the first part:
SteemWorld ~ Weekly Support ~ #1
[DE]
---
Dieser Post ist dafür gedacht die Serverkosten für SteemWorld.org zu decken und mir in Zukunft weitere Entwicklungen zu ermöglichen.
Falls du den ersten Teil verpasst haben solltest:
SteemWorld ~ Weekly Support ~ #1

What a week
I think the same header as for last week fits to this one too. The phase of capitulation might soon be reached. The market feels dead, the number of BTC sellers is reaching moons and many short time investors were hit by a hard bear punch. What a wonderful day this is, I tell you. All the weak hands have been cleared and we now have the possibility to buy STEEM for under a dollar.
What could be better than that? Never forget: One STEEM is still one STEEM no matter how deep the journey will take us. It's the last test and it's testing all of us to the fullest. I won't let me bring down by these temporary market moves and to be honest, I'm glad that it happened exactly how it went. Markets need to cool down after a huge rally to be able to reach new highs. As long as there is SP in my account I can pay part of my bills with temporary Power Downs.
There is no better blockchain than Steem and after reading the post about the upcoming Hardfork 20 I'm even more impressed than ever before. Steemit and all the other involved freaks out there are doing a great job! I could never understand why people call them 'stinc' and at the same time use their products every day. Many don't have any clue about what exactly is happening in background and tend to jump on trains of the dumb masses without knowing the real destination.
What a positive impression their childish behaviour may leave to external investors. Please come to Steemit. I don't like it, but I'm always here to talk badly about genius developers and the team. The front-end is by far not all what they are working on and maybe the decision at the beginning to use ReactJS for building a social media site plays an essential role too...
I hope that we all can work together more and we will concentrate on the good things, the things that lead us to spend our time here daily. Thank you for all the votes and comments which I've received in my last post! I'm no longer able to vote each of them as I normally do because my VP would go to zero, guys :) If I should have missed a question and you didn't receive an answer from me, please try again in this one.
I wish you all a wonderful week!
---
Updates
I'm still in the process of optimizing my code and I'm glad that the page is now loading three to four times faster already. I hope that I will soon find some time to tweak it for mobile devices and for implementing a responsive design for phones and small tablets.
Performance
A few new settings for improving the performance are already there but I need to change some more things, so that no more lagging will occur on older machines.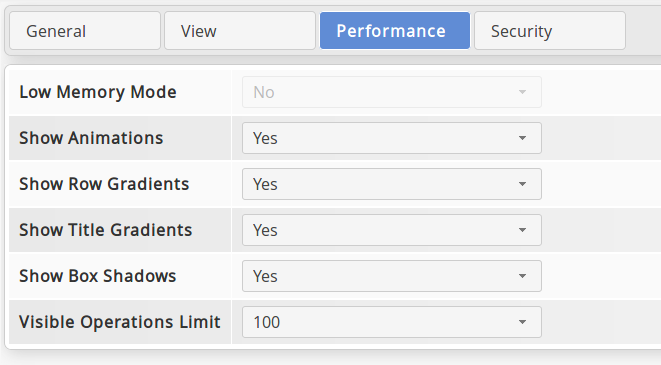 ---
Security
As I'm really paranoid regarding security on the internet, I've added an image filter for images that are coming from insecure domains. Sources with tracking parameters will be converted before they are being added to the page document ( 'image1.jpg?param=123&tid=xyz' becomes 'image1.jpg' ). I hope other front-ends will do the same, but I'm not so sure about that. If you are wondering why I don't use any markup for content like incoming comments etc., now you know.
It's interesting to see how many people still use 'http://' image sources...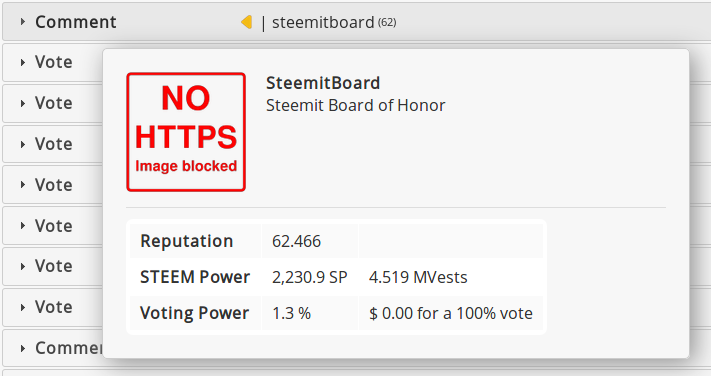 If you don't want to use the new security feature, you can deactivate it in settings:

---
Power Down & Withdrawal Routes
New buttons in the Account Balances section: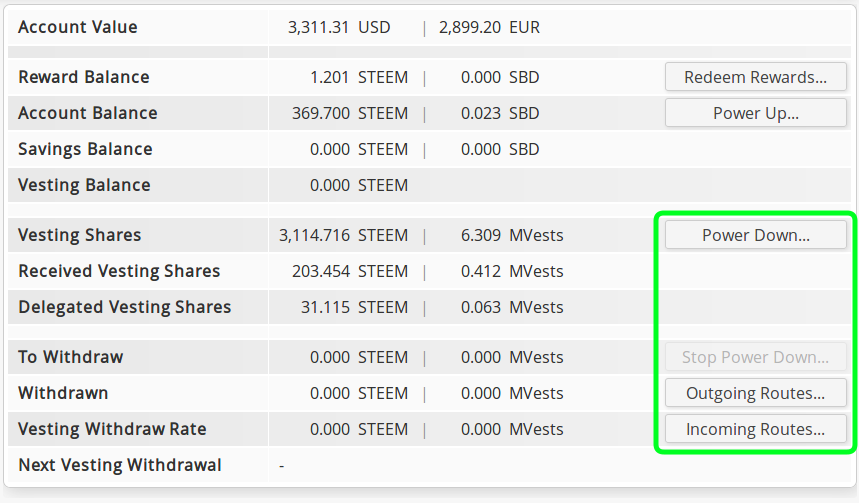 Starting a Power Down: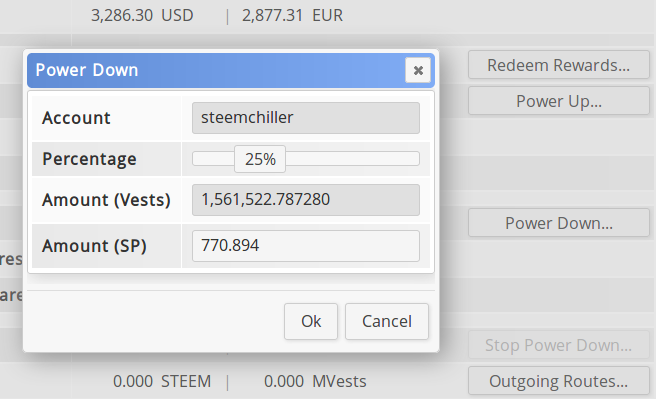 The 'Stop Power Down' button will be enabled when a Power Down is active: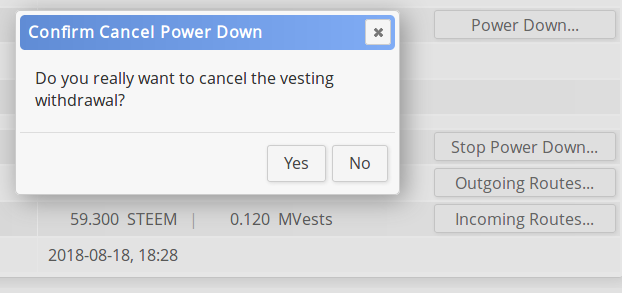 ---
Most people might not know this Steem feature, but it is possible to define routes for vesting withdrawals. When you make a Power Down you can add routes to other Steem accounts, so that they will receive a portion of the withdrawal. When the option 'Receive Vests' is active, the target account will receive vesting shares (SP, without conversion) instead of liquid STEEM: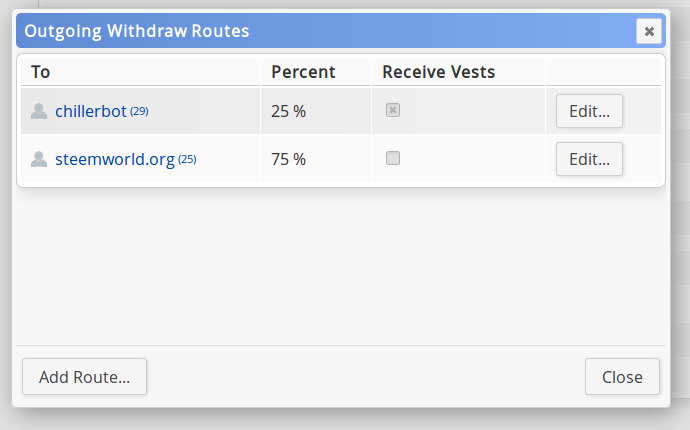 By clicking the 'Edit' button you can directly edit the desired route. The available free percentage will automatically be calculated and the maximum range for the slider will be set: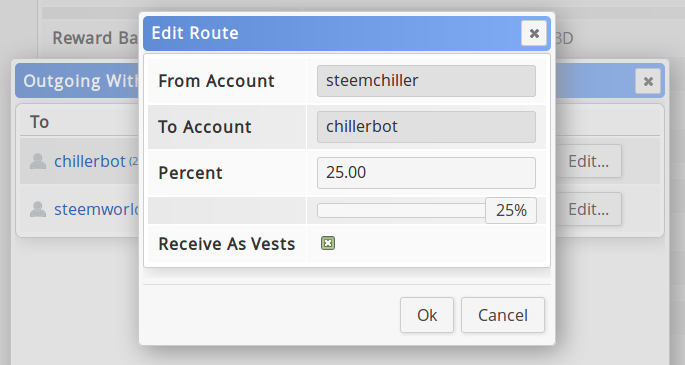 Add new route: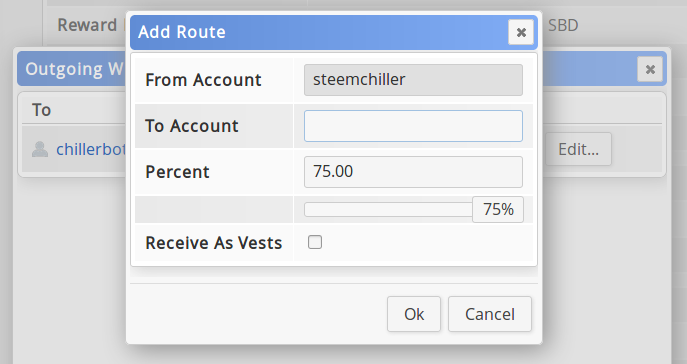 Show incoming routes: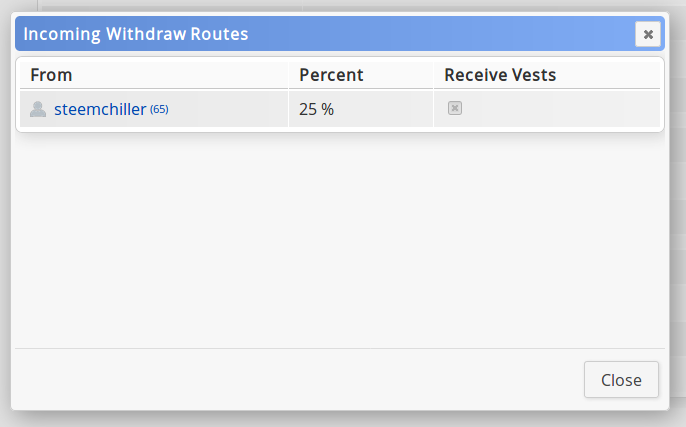 ---
Small changes
New setting for minnows to see all amounts with three decimal places: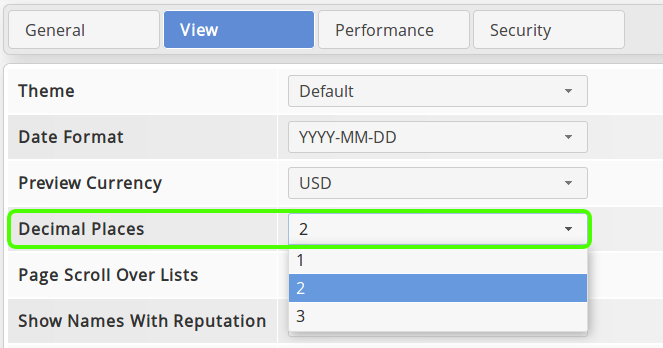 The 'Add Delegation' button is now in the Delegations section:

I hope that I didn't forget to mention any important changes here. As always, a very busy week...
Links
---
EN  |  What is SteemWorld?
-> Welcome to SteemWorld.org!
DE  |  Was ist SteemWorld?
-> Willkommen auf SteemWorld.org!
Thank you for supporting my work!
---
Positive thoughts create a positive world. It all begins with connecting our thoughts with emotions. We are the creators of our world.
Much Love,